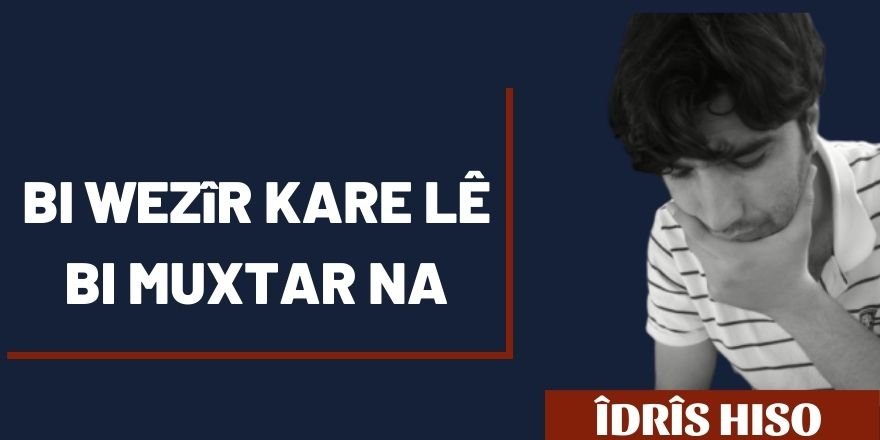 Idrîs Hiso: Bi wezir kare lê bi muxtar na
.
D Elî Werdî, pirofêsorê Iraqî yê bi nav û deng dibêje " xelkê Iraqê di navbera şaristanî û koçeriyê de dualî bûne û hîn herdû hêl wî dikşînin, her hêlek bi alîkî ve , loma mirovê Iraqî lingekî wî li bajêr û yekî din li biyabanê dijî , ew ne şaristanî ye û ne jî koçer e" .
Helbet ne tenê mirovê Iraqî li Rojhilata Navîn wisa ye , lê dibe ku mirovê Iraqî ji xeynî xwe bêhtr wisa be .
Ev heye qederê nîv salê ye ez li devera Berdereş dijîm , belkî ev diyarde xweş tê xuyakirin, nemaze ku ev dever ketiye bin bandora dewletê bêhtir ji deverên kurdistanê yên din, û xelkê vê devrê ketine bin bandora rêjîmê bêhtir ji xelk û deverên din.
Ez dê behsa mirovekî bikim , min ew naskir paşî ku demekê li vî gudnê hinekî mezin, û jêre dibêjin bajarê (BERDEREŞ) mam
Ev mirov ji gundekî din e nêzîkî Berdereş e , navê gund Zimzimok e , dema min ew naskir , ji bo min got: "heger te pêwîstî bi çi hebe bo min bêj ". û çinku ez perestar im wî, ji min re got :" te çi bivê ji wezareta Tendrûstî ez amade me her tştî bo te bikim , ez û wezîr gelekî dost in , ew bixwe hevalê min e"!!
Min sipasya xwe bo wî eşkerekir û min soz dayê heger ez pêwîstî tştekî bûm ji wezaretê , êdî ez dê ji wî re bêjim .
Roj çûn û hatin ez pêwîstî kaxetekê bûm ji lay muxtarekî ji devra Berdereş bo ku em karibin malekê kirêbikin .
Min jî bê dudilî berê xwe da dostê xwe , û min jê re got:" ji muxtarê gundê te, min kaxetek divê , ji bo vê babetê" .
Hevalê min yê ku destê wî dirêj in heta ku dighên wezareta tendrûstî û wek wî gelek caran digot ne tenê ya tendrûstî na heta bi wezareta navxo jî , lê hevalê min vê carê ji min re got" bi xwedê bira ez vî tştî nikarim ji muxtarê gund bixwazim , ez û wî ne gelekî dostin û ev kaxet îşê wê zehmet e , lê heger te tştek ji lay wezîr divê ez amademe …".
Min jê re got:" na sipas te kêmanî nexstê… gelek sipas …"!!
Mirovê koçer ticarî naxwaze bo te bêje ez nikarim, çimkî hest dike ku ev kêmanî ye , loma heger te li hin deverên Kurdistanê an li Iraqê dît ku gelekan destê xwe li sînga xwe da û got bihêl ser min gelekî kêfxweş nebe, ew dibêjin çinku ew di hişê xwe yê ne şiyar guman dike , fermanberên hikûmetê wek axe û şêxê eşîrê ye , çi demî be tu kare pê re baxive û danîşe , anjî gumandike wezaret mîna oda muxtar e tu kare her rojê, êvarê here lê qehwê vexwe, herwiha heger ji te re bêje na, hest bi şermî û fehêtbûnê dike. lê di rastiyê de hikûmet, wezîr û wezaret ne wisa ye … loma gotina wî mîna gotina dostê min nakunce li gor tştê ku heye li ser erdê .
Kaxetên hikûmetê bi hewcî imze û muhra ye , bi du peyvan ji zilamekî pêk nayên.
Li Başûrî kurdistanê mirov rastî gelek mirovan tê , destê wan dighên cem wezîran, li nikarin bi muxtarên gundê xwe.
.
Têbînî: (Ev gotar berî çend salan hatiye nivisandin, û li ti devereke din nehatiye belav kirin)
Berdereş 20-5-2014
Önceki ve Sonraki Haberler