Lîstika şanoyê ya koma Teatra Jiyana Nû; 'Bêrû' li paytexta Rûsyayê Moskovê di 17'emîn Mîhrîcana Navneteweyî ya Şanoyê de di kategoriya lîstikên biyanî de xelata Grand-Prîx ango 'Xelata Mezin' wergirt.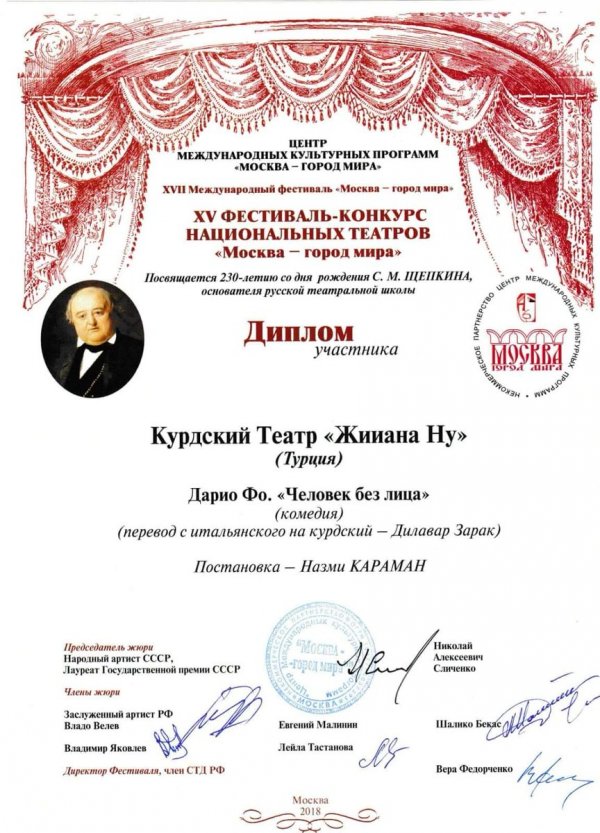 Li gor nûçeya Çetin Altunî ya di e-rojnameyê de; her sal di mehên adar û nîsanê de ji aliyê Navenda Bernameyên Çandî ya Bajarê Moskovê Mîhrîcana Şanoyê ya Navneteweyî tê lidarxistin. Li gelek welatên cîhanê komên şanoyê ji bo vê mîhrîcanê tên vexwendin. Komên şanoyê yên Fransa, Ukrayna, Tirkiye, Ermenistan, Gurcistan, Lîtvanya, Polonya, Îsraîl, Yewnenistan û gelek welatên din tên vexwendin. Ji bo mîhrîcana îsal 42 komên şano hatin vexwendin.
Ji bo hemû lîstikan jurî tên diyarkirin û piştî ku lîstika şanoyê tê lîstin jurî dicive û lîstikê dinirxîne û piştre qirarên xwe ji juriya giştî re dişînin. Her wiha juriya giştî jî têkildarî lîstikên hatine lîstin û nirxandinên juriyan lîstika herî serkeftî diyar dike.
Juriya mîhrîcanê ji gelên cuda pêk tên. Lê ger jurî ji kîjan gelî be nikare bibe juriya lîstika şanoyê ya wî gelî. Mînak Şaliko Bêkes di juriyê de cih digire lê dema lîstikeke kurdî dinirxînin nabe juriya wê lîstikê. Yan jî cihûyek jurî be nabe juriya lîstika cihûyan. Juriya giştî her sal ji bo lîstika herî baş 'Xelata Mezin' diyar dike.
Îsal lîstika 'Bêrû' ya koma şanoyê ya Teatra Jiyana Nû ji bo mîhrîcanê hat vexwendin. Bêrû' di 7'ê nîsanê de li Mala Hunerê ya Lunaçerskiyê hate lîstin û juriyê îsal di kategoriya lîstikên biyanî de 'Xelata Mezin' da lîstika 'Bêrû'. Lîstika 'Bêrû' li gelek bajarên Kurdistan û Tirkiyeyê derket pêşberî şanohezan û gelekî hat ecibandin.