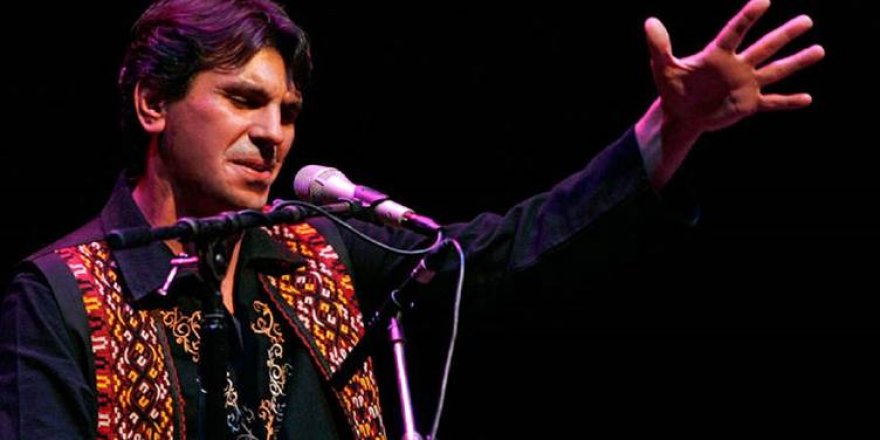 Miço Kendeş: Muzîka me ya resen di rewşeke aloz de ye
Miço Kendeş yek ji serkevtirîn hunermendê Kurd e, û ew ketiye li pey muzîka resen a Kurdî û bi kedeke mezin gelek stranên çar perçeyên Kurdistanê berhev kirine û bi dengê xwe ye zelal û bihêz di navbera muzîka klasîk û nûjen a Kurdî de bûye pirek.
Hunermendê Kurd Miço Kendeş diyar kir ku muzika Kurdî ya resen di rewşeke aloz de ye, ji bo parastin û nûjenkirina folklora Kurdî hewceyî bi hemî Kurdên têkildar heye û got: "Tîmek bo danhevê, yê din bo nûjenkirinê, hindekên din bo tomarkirin, pêşkêşkirin û arşîvkirinê. Pêwîstîya me bi kesên pispor hene ku wek Béla Bartok mal bi mal, gund bi gund û kolan bi kolan bigrin heta folklora me dokument bikin bi şêweya xwe ya orîjînal."
Miço Kendeş di vê hevpeyîna bi Rûdawê re, behsa rewşa muzika Kurdî û kar û xebat û projeyên xwe dike.
Tu çima ewqas ji medyayê dûr î?
Min ti caran xwe ji medyayê dûr nexistiye, hew tenê ez bi dûv medyayê de nabezim. Min ticaran ji medyayê re negotiye NA û xwe veneşartî ye.
Em dizanin tu li bin tesîra dengêjan de mayî, bêtir tesîra kîjan dengbêjan li ser te heye?
Dengbêjên ku bandora wan li ser hunera min hene gellek in û ji çandên cûda ne weke Kurd, Tirk, Ereb, Faris û çend aliyên din jî. Lewra zehmet e ku ez bikaribim çend dengbêjan binav bikim. Bi giştî ez dikarim bibêjim ku tesîra dengbêjên strana kurdî ya resen li ser min bi xurtî hebû, ji Seîdê Hemo, Mişoyê Bekebûrê, Şeroyê Biro, Meryem Xan bigre û ta digihe Miradê Kinê û Cemîl Horo...
Li Rojavayê Kurdistanê astengiyên afirandina huner û muzîkê yên ji ber rejîmê çi bûn? Û niha çi derfet li Rojavayê Kurdistanê çê bûne?
Yek ji astengîyên sereke di dema rêjîmê de ew bû ku derfetên ziman û hunera Kurdî gelek bisînor bûn û kurdek çiqas bibeziya û şareza bûya nedikarîbû dûr biçe û bigihe armanca xwe ya hunerî. Rê li pêş wî dihatin bendkirin. Hunermendê Kurd di bin rêjîmê de herdem baskokirî bû û di bin tirs û şert û mercan de hunera xwe berdewan dikir. Ji ber vê pirr hunremendên bi talent û jêhatî dest ji hunerê berdan bi egera astengiyên rojane.
Ji ber ku ez niha li Rojava najim û amarên rast di dest min de tine ne, dê ne di cihê xwe de be ku ez raya xwe li ser rewşa hunerî ya Rojava bidim.
Çûyina te ya Ewropa çi tesîr li ser muzîka te kir?
Çûna min bo Ewropa û jiyana min li wir bandoreke gelek erênî li ser muzîka min û şêweyê jiyana min bi tevahî kir. Ji dengbêj û kesekî wendayî û bê armanc, ez ber bi xwendina muzîkê û avakirina projeyeke muzîkê ve çûm. Min grûpek ji her çar perçeyên Kurdistanê ava kir û me karekî berbiçav kir, hem li Ewropa û hem jî li tevahiya cîhanê. Min du salan gîtar xwend. Piştre min çend korsên teknîka dengê opera xwend û çend korsên piano jî birin. Dengê min hêdî, hêdî vegeriya ser hêza xwe. Ez spasdarê Ewropayê me û deyndarê wê me, bi taybetî Swîsera û Fransa herdu welatên min.
Behna xerîbiyê ji piraniya stranên Kurdî tê. Kurd bi dehan salan di bin tesîra hestên xerîbiyê de jiyan weke hûn dizanin. Qedexekirina ziman, xerîbî ye, koçberiya bizorê ya navxweyî, xerîbî ye, deskrîmînasyon, xerîbî ye. Eger em bên ser min, ji ber şert û mercên hatina min bo Ewropa, min xwe ti caran xerîb nedît. Xerîbiya di stranên min de wek a hemî kurdekî ye, giradayî dîroka min a kesane ye weko kurdek.
Weke ku tê zanîn di nav malbata te de hejmarek dengbêj hebûne, di dema zarokatiya xwe de çi bandora malbata li ser muzîka te çê bûye û te çend sûd ji wê wergirtiye?
Di dawîya salên şêstan û destpêka salên heftêyan de Kobanî bi nişteciyên xwe rengareng bû, piraniya xelkê bajêr Kurd bûn, lê Ermen, Turkmen, Cihû û Ereb jî hebûn. Lewre mirov dikaribû bi çar-pênc zimanan stran û muzîk bibihîsta. Bê guman rola dapîra min a ku bi dehan destan û çîrokên Kurdî ezber kiribûn di perwedeya min a hunerî û dewlemendiya xeyala min de hebû. Apê min Mistê Kendeş dengê wî pirr xweş bû û gellek stran ezber kiribûn. Bav û dayîka min ne muzikar bûn, lê ji muzîkê hez dikirin. Dayîka min carcaran stranên Meryem Xanê di berxwe de digotin. Min du salan li Dibistana Ermeniyan xwend û bi saya wê ez fêrî hinek stranan bûm. Malbata min, di dema zaroktiya min de, ti caran pişgirîya min nekirin di warê muzîkê de. Bavê min li dijî wê yekê bû ku em bibin muzîkar, digot 'kurê min tê ji birçîna bimrê' ez ji we venaşêrim gotina wî hinek rastî têde hebû. Atmosfer bi giştî ne li alîyê me bû, lê muzîk ji her astengiyan serişktir bû. Li dawiyê muzîk biser ket.
Em dizanin du birayên te, her yek Baran Kendeş û Zeîm Kendeş ên dahênera muzîka Kurdî li gor temenên xwe zû ji nav me bar kir, gelo ew saxbûna dê niha çi bandora wan li ser muzika Kurdî heba?
Bê guman dê bandoreke wan a erênî li ser muzîka Kurdî hebûya, ji ber ku Baran awazjen, dengbêj û nivîskarê gotinên stranan bû û Zeîm jî biziq pirr bi awayekî nûjen lêdixist û lêkolên li ser muzîkê dikir. Herdû jî welatperwer û ji kurdên dilpak bûn. Bi nerîna min pêkanên her kurdekî ji bo Kurdistaneke paşerojê pêwîst in. Bi hebûna wan dê du kurdên dilsoz bo muzîka kurdî xebat bikirina û bi wan dê dinya xweştir ba û dilê gelek kesan şad bikirana. Her ku şarezayekî Kurd kêm dibe du dijminên Kurdan zêde dibin. Hezar mixabin…
Di festîvalên navnetewî yên tu beşdar dibin de guhdarên cîhanî çawa pêşwazî li muzîka Kurdî dikin? Pêwîst e ku em muzîka cîhanî têkilê nav muzîka Kurdî bikin, da ku bibe muzîke navnetewî?
Ev yek dimîne li ser çi babetê muzîkê em bi navê Kurdistanê ji biyaniyan re pêşkêş dikin. Kesên biyanî ji me hêvî nakin ku em ji wan re sêmfoniyan pêşkêş bikin û ne jî muzîka ku ew baş nas dikin. Lê tiştê ku guhdarê biyanî ji muzîka Kurdî hêvî dike ew e ku em bikaribin bi rêya muzîkê wî bibin Kurdistanê an welatê Kurdan. Tiştê ku ji muzîkvanên kurd tê xwestin muzîka xwe ya resen bi rengekî akadîmîk û zanistî ji biyanîyan re pêşkêş bikin û hemî pêkanên xwe têxin xizmeta vê armancê. Eger yekî biyanî tenê navê Kurdan bibihîse, dê ev yek xaleke erênî be bo doza Kurdan û dîroka wan. Heta ku muzîka Kurdî cihê xwe di nav muzîka cîhanî de bigire, piştgiriyeke siyasî, aborî û diplomasî jê re pêwîst e. Helbet em dilsoziyeke Kurdistanî ji aliyê hunermendan ve paşguh nekin. Kesên li pereyan digere bila ji xwe re karekî din bike.
Ji bo parastin û pêşxistina folklora Kurdî çi pêwîst e, erka gelê Kurd çi ye erka hunermendan çi ye?
Destek bi tena xwe nikare çepikan lêbixe. Teyrek jî bi tena xwe refekî çê nake, lewre bo danhev, parastin û nûjenkirina folklora Kurdî em bi hewceyî hemî Kurdên têkildar in. Tîmek bo danhevê, yê din bo nûjenkirinê, hindekên din bo tomarkirin, pêşkêşkirin û arşîvkirinê. Pêwîstîya me bi kesên pispor hene ku wek Béla Bartok mal bi mal, gund bi gund û kolan bi kolan bigrin heta folklora me dokument bikin bi şêweya xwe ya orîjînal.
Tu rewşa muzîka kurdî ya resen çawa dibinî û bi te paşeroja wê çawa dibe?
Bi nerîna min eger wisa berdewam bike, ji vir heta çend salan nema ti kes dê bikaribe strana Kurdî ya resen bistirê. Strandina strana Kurdî ya resen gelek zehmet e û teknîkeke deng a taybet jê re dibe. Di demên bihorî de nifşekî radestî nifşê bi dûv xwe dikir, lê di van rojan de nema ev tradisyon an urf maye. %80 ji yên ku stranên kevin dibêjin nerast dibêjin çi ji alîyê gotinan de be û çi ji alîyê teknîka deng de be. Strana me ya resen di rewşeke aloz de ye. Divê şêwaza stranbêjiya Kurdî li fakulte û dibistanan werin xwendin.
Straneke Kurdî çawa dikare hem resentiya wê were parastin û hem jî bê nûjenkirin?
Miço Kendeş xwest bi deng û dîmen bersiva vê pirsê bide û ev jî bersîva wî ye:
Te pêştir komek ji muzikjenên çar parçeyên Kurdistanê pêk tê çê kiribû, niha ti projên ji bo her parçeyên Kurdistanê hene?
Ev pirs gelek girîng e, ez ji zû ve li benda vê pirsê bûm bi taybetî ji dezgheke ragihandinê wek Rûdaw ku bandora wê heye û dengê wî tê bihîstin. Keko, em bikin nekin, civandina her çar perçeyên Kurdistanê li ser projeyekê, mijara wê çi dibe bila bibe, ne hêsan e. Me di sala 2002an de dest bi avakirina vê porjeya kurdistanî kir û ev yek ji xewnên min ên kesane bûn. Hingê me tenê pişta xwe bi pêkanên xwe yên kesane girêdabû û bi saya hejmarekê ji dostên Kurdan ji ewropiyan. Ezmûneke nû bû. Ev proje ji alîyê biyaniyan ve bi coş û erênî hate pêşwazîkirin û me bi dehan konser li seranserî cîhanê dan. Lê mixabin yên ku di ahengên me de amade dibûn %90 biyanî bûn û ti navtêdan an piştgirî, çi siyasî be çi aborî be ci manewî be, ji alîyê sazuyên Kurdî yên fermî wernegritin. Berevajî hinek partiyên Kurdan xwestin projeyên alternatîv û li kêleka me û bi alîkarîya kesekî (ez navê wî nabêjim) ji endamên grûpa me ji xwe re ava bikin. Wisa hem grûpa me lawaz kirin û hem jî ya wan bi ser neket. Em bi her awayî zerardar derketin û tenê muzîka kurdî û kurdan ziyan wergirtin. Hêvîya min ew e ku rayedarên Kurdistanî ji nû ve vê projeyê vejînin û ez amade me alîkar bim bê şert û merc. Ne girîng e ji biyaniyan re partiyên me nas bikin an grûpa me ji kîjan perçeyê Kurdistanê ye. Tiştî balkêş bo wan ew e ku grûpeke Kurdistanî bikaribe wêneyeke şaristane li ser miletê kurd bide.
Ji ber ku di roja îro de Herêma Kurdistanê statuyeke wî ya fermî û navnetewî heye (tiştê ku li her sê perçeyên din hîna tine ye), lewre dikare, mebesta min Herêma Kurdistanê ye, roleke mezin di vejandina vî grûpî de bilehîze, çi di warê piştgirîya siyasî an aborî an jî deplomasî de be. Berî çend mehan ez bi navê Herêma Kurdistanê di festîvaleke navnetwî li Hindistanê amade bûbûm, ti kesî, bi taybetî rojnamevanan, ji min nepirsîn ka ez ji Rojava me an ji Bakur im. Tenê di bin navê Kurdistanê de bû. Li gor agahiyên min endamên grûpê hemî amadene bibin alîkar.
undefined
Li gor hinek agahiyên bidest me ketine, te zêdeyî 500 stranên folklorîk berhev kirine çima heta niha te belav nekirine an tu dê belav bikî?
Rast e, min demeke dirêj li ser berhevkirin û ezberkirina folklora Kurdî kar kir. Dîsa em vegeriyan pirsa piştgirîyê û pêkanan. Bi dîtina min, pêkanîna projeyên wisa welat, dezgehên fermî û sazî pê radibin, ne kes.
Em dibînin ku destan û edebiyata klasîk a kurdî yek ji serektirîn stûna muzîka te ye, sedem çi ye tu dikarî behsa têkiliya edebiyat û muzîk bikî?
Beşekî mezin ji dîroka Kurdan di edebiyata wan a devkî de ye. Destan, serpêhatî û stranên Kurdî arşîva jiyana bi sed salan a miletê Kurd e. Min herdem edebiyata kurdî dişopand û dişopînim. Ligor min wêje û muzîk pişta xwe bi hevdu xurt dikin û dost-biratîyeke mezin di nav herduyan de heye. Piraniya dostên min nivîskarin.
Alieyeke te yê neteweyî jî heye, di berxwedana Kobaniyê de ku bajarê te bi xwe ye jî te jî stranek li ser çêkir, tu dikarî behsa wan hestên xwe bikî?
Ez deqe bi deqe bi berxwedana Kobanî re bûm û min bûyer ji nêzik ve dişopandin. Min dilop bi dilop hêstirên kobanîyan damalandin. Pirr serbilind im ku li Kobanî sembola berxedanê ji dayik bûme û mala ku ez lê jidayik bûbûm bi ya Kobanîyan re wêran bû. Min bi dehan nameyên navtêdan û piştgirîyê ji lehengên Kobanî re şandin û çavên wan maç dikim.
Projeya te ya şairên Sofî, eleqeyek mezin dît, taybetmendiyên wê projeyê çi bûn?
Ev proje li ber dilê min giranbuha ye, ew sembola tolêrans (tasamuh), dilpakî û aştîxweziya Kurdan e li hember miletên derdora xwe (ez gotina dagirker bikar nahînim ji ber ku hikûmet dagirker in ne milet). Min di vê projeyê de sofîyên Kurd, Tirk, Ereb û Faris li hev civandin û gengeşîyeke mirovane, hunerî, muzîkî û wêjeyî di nav wan de çê kir. Heryek ji wan sofiyan bi zimanê xwe û herçar bi eynî meqam qesîdeyên xwe dibêjin ligel semaya sofî. Ev proje bangeke hunerî ye bo aştiyê û aramîyê li herêma ku Kurd lê dijîn. Em û miletê derdora me tiştên ku me nêzikî hev dikin bêtirin ji yên ku me ji hev dûr dixin.
Tu dikarî bi kurtî be jî, behsa kar û xebata xwe ya ku niha pêve mijûl bikî?
Bo debara jîyanê ez karê wergerê dikim (Tercuman im bi Kurdî, Erebî, Fransî û Îngilîzî). Li milê muzîkê jî wek hûn dizanin nexweşiya koronayê dinya pûç kirîye, lewre ez li malê projeyên xwe amade dikim û li ser muzîka xwe kar dikim. Carcaran jî hevpeyvînan bi rêya Skype didim.
Rudaw
Ev nûçe 215 caran hatiye xwendin