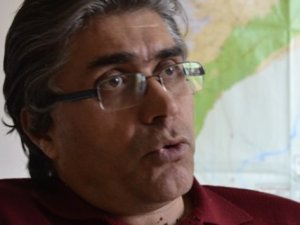 Heta ku gotin ne 'Kurdistanî' be çareserî nabe
Özçelik di derheqê avakirin, siyaset, nêzikahî û mebesta wan a 'azadiyê' û herwekî din di warê hilbijartin û tifaqan de, di derheqê pêvajoya heyî de jî pirsên me bersivand
Di serî de em dixwazin hun hinekî PAK'ê bidin naskirin. Çima PAK? Çavkaniya PAK'ê çi ye? Referansa PAK'ê ji dîroka Kurdistanê de çi ye?
Partiya Azadiya Kurdistanê ji navê xwe jî diyar e ji pewistiya azadiye ji bo gelê kurd, ji bo civaka kurd, ji bo siyasetmedarên kurd pewistiya azadiye ji bo hemû pêkatiye Kurdistanê. PAK ji pêwîstiyekê derket holê. Tiştê me hesapdikir û jê zêdetir tesira PAK'ê di nav civakê de derket. Me got dengê ku ji me re bên dengên kesên di sindoqê de bêbiryar in. PAK partiyeke nû ye lê kadroyên ku bi dehan salan de dinav têkoşîna Kurdistanê de her yekî bi awayekî cihe xwe girtî ne. Ji ber vê yekê jî PAK hêza xwe ji dîrokê distîne. Du salan xebatên me dewam kirin. Me di 27'ê Nîsana 2013'an li Amedê komisyona diyalogê çêkir û 6 mehan piştî wê me hewldana Partiya Kurdistanê çêkir. Me salekê xebatên xwe domandin û di18'ê Cotmeha 2014'an jî me PAK avakir. PAK'ê di roja ewil de tiştek tespît kir, me got 'ew guhertinên li cîhanê di civata kurd û Kurdistanê de û siyaseta kurd û Kurdistanê de gelek bandor kiriye.' Ev guhartin di aliyê siyasete de dixwest ji xwe re rêyekê veke. Ew ê di gelek mijaran de ji hev cûda bûn. Piştî ew guhartinên li cîhanê û pewistiyên ku îro li Kurdistanê derketin gelek nêzî hevbûn ji ber wê me tespitek danî û me got pewistî bi partiyek azadiyê, demokrasiyê, edaletê ku bikaribe ewil di nava xwe de wê pêk bîne û paşê bikaribe projeyeke li Kurdistanê pêk bine. PAK'ê got; 'îro pewistiya civaka Kurdistanê bi hemû pekaninên xwe partiyek dikare bibe hemû pekateyê Kurdistanê pewistiyek wisa lazim e, yanî partiyek olî yan mezhebî ez dibêjim ne li gora Kurdistanê ye. Miletê kurd û hemû pekhatiyên kêmnetewe gelên ku li Kurdistanê dijîn, em partiya wanin jî. Em ne partiyek şexsî ne. Ji gelek kevnoşopiyan kadro hene di nava me de. Em dibêjin êdî li ser wan kevnoşopiyan parti avakirin ne li gora îroya Kurdistanê ye. Divê em li gor pewistiya civata xwe ya Kurdistanê bernama xwe ava bikin. Mafê çeresareya milletê kurd esasa me ye. Me di bernama xwe de bi sê awayan dewletbûn îfade kir. Me got: 'dikare fedaralî jî be, dikare konfedaralî jî be, dikare serbixwebûn jî be.' Li gor şert û mercan em dikarin vana binin pêş. Çawa iro li Başûrê Kurdistanê dewletek federe heye û hikumeta wan heye, parlementoya wan heye. Em dikarin li Bakurê Kurdistanê jî li gel Tirkiyê li ser vê bingehê şîrîkatiyekê pêk bînin. Ji ber wê me got; yê fedaraliyê jî diparezin ê konfedaraliyê û serxwebûnê jî diparezin dikarin di nava partiyê de cih bigirin. Eger mirov bi aweyekî bijmere mirov dikare partiyeke islamî hebe, partiyeke çepgir hebe, partiyeke wek em bêjin azadîxwaz û Kurdistanî dikare hebe. Yanî sê çar merkez iro hebin û yên nezî hev bin jî xwe li wan merkezan bicivînin em dibêjin ji bo Kurdistanê çêtir e. Ji ber wê jî PAK jî ji roja derketiye gotiye em ne berdewamiye filan derêne. Em li gor ihtiyaciya miletê xweyî iro em li gor we derketine. İro li Bakurê Kurdistanê em berdewamiya xebata ku 200 sal ji bo azadiya Kurdistanê hatiye meşandin em berdawamiya wê ne. Em dibên çewa ku Şêx Said, Seyit Riza, Qazî Mihemed, Mele Mistefa Barzanî yê me nin. Em berdawamiya wan in. Çawa ku dibêjin ew dor û berê ku rexistinên ji 70 e heta 80 ye bi sed hezaran însan rexistin kirin. Xistin nava tevgera Kurdistanê em dibêjin ev sî sal e li Bakurê Kurdistanê ji bo vî miletî gencên me çûne ji bo azadiya miletê Kurdistanê şehit bûne jî yên me ne. Ji ber wê jî em berdawamiya vê ne û vê kedê bi giştî dibînin. Em li wê jî xwedî derdikevin bi vê manê jî Partiya Azadiya Kurdistanê ferqekê dixe û dibêje ez vê xebata giştî xebata xwe dibînim.
Dema mirov dibêje Kurdistan, yan parçeyek tê qabûlkirin, yan jî parçeyek tê fêhmkirin. Di gotina 'Kurdistan' de mebesta we çiye? Ji bo çar perçeyan projeya we çi ye?
PAK ji bo azadiya Bakurê Kurdistanê bi rê ketiye. Em wek partî bingehên rexistinbûna xwe li Bakurê Kurdistanê dibînin. Em dibên welatê me bê iradeya me û bi awayekî neheqî navneteweyî û heremî hat perçekirin. Kurdistan welatekî çar perçe ye, kurd milleteki çar perçe ye. Ji Sykes Picot heta niha ji Lozanê heta niha rastiyek heye ku perçeyên Kurdistanê êdî di nava xwe de şeklekî taybet girtine. Ji ber we jî 4 dewlet in û li her dewletê sîstemek û hiqûqek çê bûye. Em dibêjin her perçe xebata xweyî esasî ji bo rizgarkirina perçeyê xwe divê bikin. Lê divê danûstendin, piştgirî, hevkarî, diyalog û bi awayekî rexistin hebe ku her çar perça jî bên cem hev. Ew naye wê manê ku em ê rabin her li Rojava an Rojhilat yan jî li Başûrê Kurdistanê beşa xwe deynin em ê li hember partiyan bixebitin. Partiyên Başûrê Kurdistanê birayê me ne. Di xebatên wan de em ê hemû piştgiriya wan bikin. Em ê rexneya xwe jî li wan bikin. Lê em naçin mûdahaleyî karê wan nabin. Em dibêjin ew hene, ew têra xwe dikin û tiştê em bikin rexne, pêşniyaz e. Lê divê di nav her çar perçayan de koordinasyonek hebe. Her çar perçe li gor wê şert û şûtê wê heye lê dive bi konferansek be, bi dezgehek be, carna dibên Kongra Netewî mirov dikaribe ji bo konferansekê be dinav her çar perça de çê bike ku problemên heyî yên her perçeya cûda cûda tesbit bike û li gor wê jî mirov bikaribe çawa alîkariya hev bike. Mesele alîkirin e. Divê kurd alî hevdû bikin, nekû rê li ber hevdu bigrin. Ji ber wê jî PAK, partiya azadiya Bakurê Kurdistanê ye. Lê her sê perçeyên din jî welatê me ye. Dewleta Başurê Kurdistanê dewleta me ye. Bakur, Rojhilat, Rojava welatê me ye. Milletê kurd gelê Kurdistanê milletê me ye. Li ku dere serê wan biêşe wê serê me biêşe.
Kurdistan û azadî dû peyvên ku ji dirokê hete niha, pir hatine cem hev. Ji navê partiya we diyar e ku hun azadiya perçeyekî dixwazin. Hem ew û hem jî beşdarbûna hilbijartina, sazkirina li gor qanûnên Tirkiye nakokî nîn e. Nezelaliyek li holê nîn e glo?
Azadî, xwe iderekirina gelê Kurdistanê ye. Azadî statû ye, azadî dewletbûne. Gava dibên azadiya Kurdistanê, li Kurdistanê bi awayekî azad em dixwaazin xwe bi xwe idare bikin fikra me ev e. Ji ber wê manê jî îro em dibêjin pirsa kurd û Kurdistanê ne ew pirse ku li Tirkiyê di çerçoveya hemwelatiyê Tirkiyê de mafê çandî, demokratîk, komara Demokratîk an mesela peymana welatên Ewrûpayê ya çareseriya xweser e. Meseleya kurd û Kurdistanê ne ew meseleye ku bi wan şêweyan hal bibe. PAK, ji bo vê jî mûcadele dike lê pirsa kurd û Kurdistanê bi vê hal nabe. Derketina me yek jê jî ev e ku em dibêjin pirsa kurd û Kurdistanê ne pirsa demokratbûna Tirkiyê ye, demokratbûna Tirkiyê wê feyda wê li me bive lê pirsa welatekî û milletekî ye. Li cîhanê ev mesele çawa hatibe çareserkirin ew ê ya me jî wisa be. Hûn jî dizanin HDP bernameya xwe daniye û dibêje Tirkiye welatê me yê hevbeş e. Dibêje komara demokratîk, dibêje milletê demokratik. Ev siyaset xelet e. Ev siyaset ji aliyekî ve jî ew keda 200 salî ye. Ji ber wê em dibêjin Kurdistan heye. Milletê kurd heye û Kurdistan welatekî gelê Kurdistanê ye. Pêkhateyên Kurdistanê yên etnîkî, olî, mezhebî, civakî bila li waleta xwe bi awayekî azad xwe îdare bikin.
Meseleya dewletbûne an jî çareserkirina pirsgireka esasî ya Kurdistanê, dema mirov dawa wê bike û bi qanûn, yasayên Tirkiye'yê partiyekê ava bike ew nabe nakokî? Di mejiyê mirov de tiştekî ne zelal dernakeve holê?
Niha di vê meselê de pirsa we baş bû ku em jî hinekî fikrê xwe li ser vê meselê derxin holê. Niha PAK ji roja ku em derketine me gotiye em dawa meşrû ya milletekî, welatekî dikin. Ji ber wê jî em ê xwe bi tu qanûn û esasên dezgehên ku hebûna me red û inkar bike, em ê xwe pê sînordar nekin. Em dawa miletekî diparezin lê em ê dawa milletê xwe welatê xwe di dezgehên qanûnî de jî biparezin û em ê bibejin ku ji bo mafê azadiya ramanî rexistinbûne ji bo qebûlkirina gelê kurd û welatê Kurdistanê, Tirkiye wek dewlet mecbûr e ku rê ji me re veke. Îro bi qanûnên 40 welatên Ewrupa peymanên navnetewî imzekrine. Ewrupa jî vî heqi dide PAK'ê da ku miletê kurd gelê kurd karibe partiya xwe ava bike beyî ku şîddete bi kar bîne. PAK jî dibêje em bi rêyên sivil û demokratik bi girseyî em ê xebatên xwe bikin, em şîddetê bikar nîn in û madem wiha ye dewlet divê PAK'ê jî qebûl bike û milletê kurd, Kurdistanê qebûl bike. Niha dibên Tirkiyeyîbûn. Em Tirkiyêbûnê rast nabînin. Em şirîkatiya Tirkiye'yê û Kurdistanê rast nabînin. Em nabin Tirkiyeyî. Em nabin tirk. Gotin yek millet, yek dewlet, yek welat yek al. Ev siyaset xitimî. Pûç bû, îflas kir. Ger em bixwazin li ser esasê wekheviyê siyasetekê bikin em hazir in. Lê em Tirkiyêyîbunê wek tirkbûn dihesibînin. Ji bo çi em ê milletê xwe, welatê xwe deynin alîkî
We hemû serlêdan û bernameya xwe we tev bi kurdî teslim kir?
Belê… bernamê bi tirkî û bi kurdî ye. Niha rast e. Em bi xwe wek PAK dengê welatekî û milletekî ne. Em welatek û milletek in divê wî hesabî bi me re bikin. Nêrina me ya dewletê, parlementoyê û hilbijartina jî esasê xwe ji vê fikra me distîne. Niha serdozger dozek li me vekiriye. Ji ber ku di tuzika me de Kurdistan, azadbûn, dewletbûn tê parastin, ew dibe sedema dozê. Ew doz di asta ku em parastina xwe bikin de ye. Ji me daxwaz dikin ku em vana biguhirin. Lêm naguhirin. Piştî ku me parastin kir û ew guhertin qebûl nekir wê doz biçe Dadgeha Qanûna Esasî û ji wir jî wê biçe Dadgeha Ewropa. Ew demeke dirêj e û bala me jî ne li ser vê ye. Ew bo me meseleyeke biçûk e.
Li Kurdistanê mirov dikare bêje di warê ideolojik de di warê siyasetê da dareke du çiqulî heye. PDK û PKK. Gelê Bakûr jî ji aliyê van herdû guliyan ve hatiye birêxistinkirin û li ser bingeheke hişk îdeolojîk ew pêkhatiye. Bo we birexistinkirina gel û guhertina nêzikahiya gel zehmet nîn e? Hunê vê rewşê çawa biguhirin?
Beriya ku em PAK'ê daynin jî ev minaqaşe hebû. Dipirsîn; hûnê çawa rêyekê vekin. Di salên 70'yî de dor û derên kurd û Kurdistanê rêxistinên xwe avakirin û bi rê ketin. Wê çaxê gava te digot ez kurd im pir zehmet bû. Wê demê pêwistiya kurda tespit kirin. Îro mafen me ne ew e ku em bi Tirkiye'yê re tekîliyê deynin. Em xwe ji kesi bilindtir jî nabînin kêmtir jî nabînin. Wek hemû milleten dinyayê heqe me jî heye ku em jî cih bigrin li dinya yê. Ev rastiya ernîgarî, netewî ye, etnik e û dîrokî ye. Milletê kurd û Kurdistane PAK'ê îcad nekiriye. Lê wek her miletan, em bi şexsiyeta xwe bi hebûna xwe em dibêjin mafê me ye. Em amade ne ji cihekî dest pê bikin. Belkî îro dewletbûn nebe le divê Tirkiyê milletê me, welatê me qebûl bike ûli ser vî esasî em birekevin. Bila ev ked vala neçe. Di civata Kurdistanê de pirrengî û pirdengî hewce ye. Ew civata ku yek deng û yek reng be xwe pûç kiriye. Welatên ku yek partibin diçin diktatorî ye. Li Bakurê Kurdistanê azadî pewîste. Em ne çep in. Ji bo azadiye milleten me hewceye em bi kesi re dijminatiyê nekin. Kê dest daye me em ê spasiya wan bikin. Dewleta Başûrê Kurdistanê bi yekîtiya kurdan çêbû.
Tekiliya we û Başûr çawa ye?
Li Başûrê Kurdistanê em dewletbûne diparêzin. Çi deskeftine kê heye ya ew me ye. PAK xeteke din e. Hewce ye ku em piştgiriya hev bikin. PAK xwe bixwe îdare dike. Bi îmkanen xwe, bi kadroyên xwe û bi siyaseta xwe. Bi vê mana yê jî em ferqa xwe ya esasî datînin. Piştî avakirina PAK'ê jî em çûn Başûre Kurdistanê me tekîliya xwe nû kir. Bi gele Rojava re jî tekîliyên me hene. Lê em ne partiyeke bi patînaja Başûr in. Sedî sed em bi îmkan û derfetên xwe tevdigerin.
Di pêşerojê de hilbijartin hene. Hûn ji bo tifaqê çi difikirin?
Di meha Adarê de civîna PAK'ê heye û emê di vê civînê de biryara xwe eşkere bikin. Em ê bi berfirehî kûr û dûr bifikirin lê niha me biryarek nedaye. Em wek PAK'ê çûn partiyên siyasî hemûyan. HDP jî hat serdana me. Teklîfa tifaqa hilbijartinê li me kirin. Me û HAK-PAR, PDK Bakur, PDK-T, KADEP em her pênc partî li hev civiyan. Ka em dikarin çi bikin û çi nekin. Em pêşî prensîban tesbît dikin. Em parlementoyê red nakin. Her platform û her cihekî bala milletê me li ser be dive bala me jî li ser be. Em ê xwe ji vê dûr nexin. Em ê siyaseteke çawa bikin ew ê di civîna meclîsa me de diyar bibe. Em ê heya hefteyekê zelal bikin.
Di nava HDP'ê de derdor û partiyên Tirk yên cûrbecûr hene. Po tifaqeke bi HDP'ê re ew astengiyeke bo we?
Niha ji me re çep û rastî ne pîvane. Hewceye di civaka Kurdistanê de çep û rast jî hebin. Mesela tifaqê de em zedetir li ser prensibên HDP'ê rewşa wê, siyaseta wê binerin û em ê li ya xwe binerin û em ê bidin ber hev. Dive em bersiva wan bidin. Me ji wan pirsî hûn dibêjin em partiya Tirkiye'yê ne lê em jî Partiya Kurdistanê ne hûn çawa jii bin vê siyasetê derdikevin. Lê tiştek heye, niha HDP li hêviya hilbijartinê ye. Îro mesele ne ew e. Îro ji 550 parlamenteran 120 kes ji wan kurd in.Eger 50-60 parlementerên te hebin gerek bibêjin ku em milletek in, hûn mecbûr in me qebûl bikin. Mesele ew e ku em ê çi bikin mesele ne ketina parlementoyê ye. Ez herim parlamentoyê ez ê çi bikim ez neçim ez ê çi bikim. Teqrîben 17 milyon kurd henin. Û bila tevahiya wan dengê xwe bidin HDP'ê û bila 200 kes bibe parlamenter dîsa ji nabe çareserî. Heta ku tu bi gotineke Kurdistanî û kurdewarî tevnegerî, ku 500 parlementer jî yê tebin fêyde nake. 
Mustafa Özçelik pir nayê nas kirin em hineki behsa jiyana te bikin?
Ji malbateke kurd û Kurdistanî ji Mêrdînê û ji Dêrika Çiyayê Mazî me. Heta sınıfa 5'an min li wir xwendiye. Piştre em hatin Stenbolê û ez li Stenbolê mezin bûm. Lîse û zanîngeh min li wir xwendiye. Di doza kurd û Kurdistane de em gelekî xebitin. Di heman demê de endezyar im jî. Heta demekê min karên xwe yên taybet jî dikir lê di warê siyaset û kurdistanê de fikrên me, berhevbûnên me hebûn. Me xwest ku em bo Kurdistanê tiştekî bikin û me berê xwe da siyasetê.
(BasNûçe) / (r.s)
Ev nûçe 1917 caran hatiye xwendin