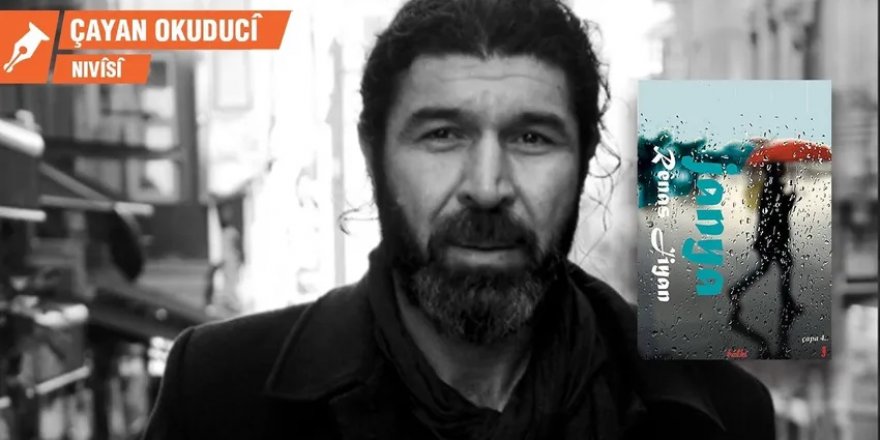 Çayan Okuducî: Şûrê Rênas Jiyan: Janya
.
Rênas Jiyan di berhemên xwe de tiştê ku hêma kiriye, çiqas di nav êş û kulan de jî bijî; ewê di dawiya dawiyê de xwe dîsa bi êşê xwe derman bike.
Janya ziman e. Janya êşa zimên e. Janya zarok e. Zarokek wek sebiyê welatê xwe ye. Gedeyek ji temenê xwe bêhtir jiyaye, wek ewladên axa bindestan. Janya şûr e. Janya bi şûrek şexsî ve xwe gîhiştandiye hestên ciwanan û civatê. Janya bi hestên dilşewat û bi hêrsa serdema xwe ve di helbestê de mazin bûye. Janya xwe berdaye nav rihên kaotîk, ji binî rabûye ser linga û xwe daye ber kolanên bajar û bajarokan. Janya şûrê dem û dewrana xwe ye. Janya îmge û metaforên nûjen in. Janya di hişek kaotîk de û bi dilek tofanî rijiyaye ser rûpelan. Janya bi dengê xwe yê xweser, li ser hebûna xwe bi eks û kul rabûye.
Janya di destê ş'ir de wek ciwanek îfleh nebû ye, ne mekan têra dilê wî dike ne jî hal û wext pirsên wî dibersivîne! Janya şûrek ji xwe bawer bi êş û jan ve hatiye tûj kirin. Janya şûrek bi êşkêşiyên welatê xwe bi şev û roj li hemberî mêtingeriyan hatiye weşandin. Janya şûrek bi evîna hezkiriyên har û dîn hatiye honandin. Janya bi eşqa sewdaserên av û deştan liberxwe daye. Janya şûrek li dijî feodalizmê ji kahura/qama xwe hatiye kişandin. Janya şûrek li dijî asîmîlasyonê jehrkujiyê hêma kiriye. Janya bi dînamîka civata xwe hatiye neqiş kirin. Janya ji bîrên ol û mîtosan ve bervî jor ve kişiyaye. Janya hîn jî di qada helbestê de xwe diweşîne. Janya li pey felsefa hebûna ferdbûnê ve diçe û di navxwe de atmosferek rabûn û ketinek diafirîne. Janya dengek nerm û agresif e. Janya bi rihek serkêşiyê ve bervî cîhan û çiyayan va bask dide… Şa'r Rênas Jiyan rêyek be, destpêka wî jî Janya ye. Janya axek be, naveroka wî di qada hêviyên qusandî de hêviyek hema dike…
JANYA BERSIVA XWE BI HIŞÊ XWE YÊ KAOTÎK DAYE
Rênas Jiyan nivîskar, helbestkar, rexnegir û xwedî nivîsên ceribandinê ye. Di sala 1974an de li Qoserê ji dayik bû. Wek di biyografiya xwe de jî aniye ser ziman "zarokatiya" wî de zimanê heq û helal qedexe bû. Hê ji ziman qedexeye. Çi ji destê serdestan tê, ji bo zimanek tune bikin heta dawiyê dikin. Lê bersiva me ewê çi be û bi çi awayî û şiklî be? Janya, bersiva xwe; bi şewaz û forma xwe, bi agresifiya xwe û bi hişê xwe yê kaotîk daye. Helbestkar Rênas Jiyan sala 1999an de bi navê Janya[1] pirtûkek da weşandin. Pirtûka ku destê min de ye çapa 4/çaran li pişt xwe hiştiye.
Emê "Janya" bi du alî ve binirxînin: Yek bi aliyê ezmûngerîtî/eksperîmantalîzm/deneysel yên din jî bi hêla êşa felsefeyê. Êşa ku di mantiq de hatiye avakirin/strukturalîzm. Êşa modern û nûjen. Êşa ku Friedrich Wilhelm Nietzsche daye destnîşan kirin. Emê ji Nietzscheyê gellek îstîfade bikin û carna bervî "estetîka romantizm" a Hegel ve jî herin. Dîsa emê ji Schopenhauerê; li ser angaşta jiyanê "êşa gerdûnî"ya wî bibîrbixin. Janya bi sê beşan pêk hatiye: Kul, Jan û Êş. (Li gorî ferhenga kurmancî-kurmancî hersê peyv jî di eynî wateyê de daye destnîşan kirin). Lê di helbestan de ev hersê peyv rengê xwe guhartiye. Wek li ser laşek sê fîstan hatibe pêçandin. Di pirtûkê de bîst û sisê/23 helbest em dixweynin. Di beşa yekem de helbesta bi navê "Kul" di beşên din de jî bi navên cûda dewam dike, ji bo vê helbesta me yê ewil em dikarin bêjin bi teknîka robarî ve hatiye honandin. Di her beşê de bi van navan em -helbesta Kul/1/2/3- dixweynin "Bê/1, Stêrka bêçirûsk/2 û Neyê/3".
BI AHENG DI HEMDÊ XWE DE DIMEŞE
Di serî de û bi xwendina ewil em xwe digîhijinin helbestek ezmûngerî yê. Ezmûngeriyek ne bi tirsî û ne jî bi wêrekiyek bêhempa dibînin. Yanî meriv wek li ser benek bimeşe, ne bi lez û bez ne jî dicihê xwe de mayîne pêşva dixe. Ezmûngeriyeke ku ahengî/hevsengî yê em di forma wî de dibînin. Piştî "Janya"yê, 14 sal pişt re Rênas Jiyan pirtûkek din bi navê "Diêşiya" da weşandin. "Diêşiya" dewama ezmûngeriya "Janya" ye. Ezmûngeriya şa'r "Diêşiya"yê de dewam dike û bi wêrekiya xwe jî bi forma modern leystiye. Ceribandinek ûslubî jî di bin helbestan de carna serî derdixe û bilez vedikişe konê xwe. Bi sebir û li ser benê tenik ji xwe bawer bi aheng di hemdê xwe de dimeşe. Me li jor gotibû Janya "zarok"e, bi vê mûnesebatê me anî ser ziman. Carna emê li ser ezmûngeriya şa'r serî li "Diêşiya"yê jî bixin. Şa'rê me yê nemir Arjên Arî bo pirtûka xwe ya "Erotîka"yê jî wisa gotibû; "Dewama Erotîkayê di pirtûkên din de xwe dişopîne". Hin helbestkar û nivîskar henin bi dehan pirtûkan dinivîsin lê her berhemên wan dewama pirtûkên din de tê û dijî. Bi min ev helbestkar û nivîskar di hemû berhemên xwe de temamiyek bi dest dixe. Wek di nav temenekî de qad bi qad bervî gîhiştandinê ve çûndinek dirêj nîşanê me dide.
Helbesta me yê ewil "Bê(Kul-1)" ye. Ev helbest di serî de rengê xwe yê zayendê dide xuya kirin. Di risteya duyem de cinsiyeta/zayenda helbestê eşkere dike. Helbest ne notr/nealîgir e, helbestkar li pey kirdeye bang dike; "li min vegere/ Kulê…", dibê. Kirde du kesayet di xwe de veşartiye, hem bi hêla cinsiyetê ve derî daye destnîşan kirin hem jî bi keseyata veşartî ve ezmûngeriyek sivik daye pêş, lê ne bi forma bi wateya xwe daye pêş. Derheqa kirdeyê de di destê me de tenê mêbûna wî heye. Lê meriv dikare bêje ku kirdeya me ya "mê" di bingeha xwe de welat/ax/esman/av û êşa gîştî û şexsî dihewîne. Bindestî bi sembola "Dê" ve hatiye honandin, ax jî di ş'ir de zabûnê hêma dike. Şa'r di hevpeyvînekê xwe de çawa behsa ax kiriye em bi hevre bixweynin; "Ax" girîng e, lê gava ku laşê mirovî dibe ax û dibe Kurdistana wî êdî mesele diqede, li kû be qet ferq nake. Mesele ewe ku tu dikarî goştê xwe bikî welatê xwe yan na. Eger ez bîra xwe jibîr nekim û ez di çûyinê de bibim kulmek axa Kurdistanê -ez ax bim elbet ez axê jî bîr nakim!- ez li kû bim jî tu pirsgirêk çênabe. Erê ez li welêt dijîm lê ez ne li welêt im jî… Helbestkar di welatan de najîn welat di helbestkaran de dijîn. Ez di Kurdistanê de najîm Kurdistan di min de dijî…"[2]. Wek Enel-heq'a Hallac-î El Mansûr ji dil û bawer e. Ev hezkirinek dûr û dirêj, hezkirinek ji serî heta binî bi êş û eleman va mezin bûye. Du êş, kul, gazin û du kirde em ji helbesta ewil derdixin; "/her ku ez li wêneyan dinêrim/rûyê min bi dizîka li wan tê xêzkirin", "lê tu bi dev û lêv, stû û rû/pêk tê ji senfoniyên çirçirkan ên nîvê şevên havînê/".
SEMBOLÊN WELAT: HÊJİR, DÎLAN Û NEWROZ
Jixwe di helbestê de em leqayê kirdeya tekane û kirdeya ku li bin xwe pirhejmarî hewandiye tên. Emê bi risteyên helbestê jî nêrina xwe bi keys bikin; "ji min re bîne/"yadê" gotina ewilî a zarokan/ hêjîran/dîlanan/newrozan". Kirdeya pirhejmar di bingeha xwe de bi sê sembolên welat xwe digîhijine me: Hêjîr, dîlan û newroz. Di dewama helbestê de; "di nava destên min de can bide/naxwazim ji bilî min ti kes li ber te nekeve/ez ê li ber te bikevim". Di van risteyan de nêrîna şa'r derdikeve ortê. Ev risteyên hezkirina bi şewqî û doneyên hestê şa'r dide destê me. Şa'r bi hezkirinek gellek kûr xwe gîhiştandiye "xweperestbûnê". Tenê ji xwe re dixwaze, nahêle êş û hesret bê parve kirin, kul û derdê "Kulê" naxwaze bi destek din bê aş kirin; "ji bilî min bila ti kes li ber te nekeve". Ev riste jî li ser hestên helbestkar gotina me rast dike.
Di helbestê de sembolên olî, oldarî jî em dixweynin, ev sembola me jî "qurban", "qurbanî", "qurbanbûyîn" e. Şa'r xwe wek qurbanî hêma dike; "şev di êşa law de xelîl birahîm(im)/roj di êşa bav de simaîl(im)/êvar qurban". Şa'r gellek li ser felsefê û mîtosên olî hûr biye. Em di pirtûkê de gellek caran leqayê mîtosan û olên semavî tên. Li gor dîroknasên antîk; Li gireva Gîrîtê "qurban"a yekem însanek bû. "Vlazaki-Andreadaki, Zanîngeha Teknîka Gîrîtê; li gor hesabên wan bi pîvana Richterê di navbera 6.5 û 7.5an de êrdhêjek bi navê "tofana mezin" dide destnîşan kirin, antîk Kydoniayan de bo dilê xwedêyan xweş bikin, qurbaniyên însan dane teşwîq kirin" [3]. Şa'r ji mitosên olî zêdetir îstifade kiriye û aniye bi êşa xwe ve girêdaye, bi rojana xwe ve girêdaye; "morîk rêz kirine min li gerdena xwe". Ev riste de îmgeya "morîk" delîla xwequrban kirinê ye. Helbestkar bo "Kulê" amadeye xwe qurban bike; "ji rehên laşê xwe yên tijî "xwê"/amede kirine min ji te re 'benikên tayê' ". "xwe" û "benikên tayê" pişta armanca me jî rast dike.
HELBESTKAR EYNÎKEK DAYE BERXWE Û XWÎNERAN
Di dawiya helbestê de şa'r bi "kulê" re dikeve pirsan. Risteyên pirsan bo têkiliya xwedî berhem û xwîner re wezîfeyek pirrê dibîne gellek caran. Bi temamiya helbestê de sê risteyên pirsê henin û helbest her ku diçe/diherike, hêviya şa'r jî kêm dibe bo hatina "kulê". Di helbestê de û helbestên din de gellek caran dawiya helbestan bi reştariyek, defresîfiyek bi dawî dibe, hêvî di helbesta şa'r de carcarna serî rake jî hebûna wî qut e, şerpezeye. "ka te ji hechecîk û hejîran hez dikir, kulê?.../ka te neynûkên wan nedida bi malê dinê?" û risteyan dawî "tu li kû ma?". Wek me xwend, şa'r ne hêvîdar e ne jî bêûmûd e, tirsa xwe di pirsan de hiştiye. Helbestkar eynîkek daye ber xwe û xwîneran. Bi helbestên şa'r çawa ku şa'r êşa xwe yê bêderman digere em jî êşa xwe gellek caran dibinin. Kaosa civatê, tengasiya ferd em bi veguhestinek bi helbestî digîhijin tehma helbesta kaotîk, ê bihêrs, ê dilnerm, ê dilşewat, ê berxwedar û fedakâr tê dîtin.
Li gor felsefeya Arthur Schopenhauer, mirov di bin bêkontrola îradeyê de di nav hareketekbûna wê de; şaristaniyan, êşan û nebaşiyan hildaye. Çimkî îrade her tim dixwazê, bo jiyanê zêdetir bi ber talepkariyê ve xwe diqelîbîne. Ferd, di bin kontrola îradeyê de di nav gelşeyî yê/problemê de li dijî wê dilovanî û parastina hestên êşa radixe ber wî; hinek be jî dikare ji hedê wî derdikeve û xwe wek ferdek dide qabûl kirin. Îrade, bo Schopenhauerê zindanê ferd e, di nav civatê de tê helandin, prototîpek îradeya civatê di ferd de diqewime. Vêga em dezge û saziyên Kurdistanê dinêrin îradeya ferd bi îradeya civatê ve hatiye pelçiqandin. Dîsa em li ser tevgerên welat çaxê hûr dibin; çi femenîst çî polîtîk û çi saziyên sîvîl be em îradeya ferdî; bi derbekirina civatê xwe dide xuya kirin. Ji ferd re kesayetiyek tê çêkirin, ev "çêkirin" bi aliyekê jî wek fermanek dibe û tê qebûl kirin. Em îro neçin dûrî ve ji rewşenbîran bigrin heta nivîskaran ji wir em herin qada helbestkarên. Îro ferdbûna wan di bin weşenxaneyan û civatê de hatiye asteng kirin. Gelên bindest zêdetir di bangora civatê de dimînin û hunera xwe wek dilê xwe nikarin derxin ortê. Wek şûre demoklatosê li ser hunermendên kurdan bandora civatê diheje.
Helbestkar Rênas Jiyan -bi taybetî- jî di pirtûka xwe ya "Janya" û "diêşiya" de êşek gerdûnî/döngüsel em dibînin, êş xwe nû dike, qalikê xwe yê kevnar ji laşê xwe xelas dike; ev jî me digîhijine destnîşandina Schopenhauerê. Me li jor gotibû Kul, Jan û Êş wateyên wan derdikeve eynî derî, lê reng û şêwaza wî xwo diguherîne. Friedrich Nietzsch, li dijî Schopenhauerê derket. Red bûna Nietzschyê li hemberî "êşa gerdûnî" nebû, li dijî "bêjiyanê" bû. Jiyan muhîm û qîmet bo Nietzschyê û ji bo wî meriv bi êşan digîhijê û xurt dibe. Rênas Jiyan jî di berhemên xwe de tiştê ku hêma kiriye, çiqas di nav êş û kulan de jî ferd bijî; ewê di dawiya dawiyê de xwe dîsa bi êşê xwe derman bike. Li pey şopa felsefaya Nietzschyê xwîner bervî deriyê hebûna pozîtîzmê ve diçe. Rênas Jiyan, gelo hebûna xwe bi pozîtîzmê ve girêdaye? Belê, bêşik êşa nûjên bi pozîtîzmê ve honandiye. Pozîtîzma şa'r: Li ber agresîfbûna berhemên wî û êşkêşiya wî astengbûnek hêma nake, ji ava pozîtîzmê ji xwe re deriya vedike û em xwe digîhijinin destnîşaniya "êşa gerdûnî"ya Schopenhauerê. Di helbestên Rênas Jiyan de em bêşik "êşa gerdûnî" dixweynin û hîs dikin.
MERIV DIKARE BERHEMÊN HUNERMENDAN JI WAN BIQETÎNE?
Emê li ser helbesta "Fişargo" bisekinin û beşa yekem li pişt xwe bihêlin. Helbesta "Fişargo" de şa'r deriyê hişê xwe û çi di hindirê şa'r de qewimiye, em ji risteyên wî derdixin û doneyên wî yê hundirî jî bi dest dixin. Ev helbest, xwîneran bervî helbestek derûnî ve dibe. Forma helbestê bi rastnivîs û bi forma helbesta modern ve hatiye honandin. Li ser du linga rabûye. Çaxê em temamî li ser helbestê hûr dibin, helbest tehma "name"yê di bingeha xwe de dihewîne. Ev name em dikarin bêjin "ji xwe re"ye. Gelo berhemên hunermendan kêm-zêde "ji xwe re" nameyek nîne? Berhem ji jiyana şa'r/nivîskar niqutiye li ser rûpelan. Bi salan gengeşiyek di nav rexnegiran de diqewime, meriv dikare berhemên hunermendan ji wan biqetîne?
Helbesta "Firaşgo" de "min û ez" ketine nav şerek dijwar. Bûyerên helbestê şerek navxwe destnîşan dike. Şerê egoyê û dilnermiyê em dibînin. " 'MIN'a min 'EZ'a min xesandiye, qut dibim, teng dibim…". Ev risteyên ku me xwend delîla du kesayetiyê jî dide me. "Min"a şa'r û "Ez"a şa'r di destpêka helbestê de bo şerrek navxweyê bi dengê xwe bilind dike. Şa'r di pêşiyê de xwîner amade dike bo çûndina helbestê. Risteyên ku vêga emê bixweynin dê armanca me jî bîne cî. "(…) dînbûnên min biaqil bibin, şîzofreniyên min bibin zilamên qerase, tu yê jî dev ji min berdî…". Ev hevoka ku me xwend şerê navxwe ya "min û "ez" e. Risteyên me xwend me dibe matematîzanê mezin John Forbes Nashê, jiyan û zehmetkêşiya wî bibîr dixe[4]. Li ser jiyana wî fîlmek jî heye, di fîlmê de herî sehneya balkeş ev bû: şîzofreniyên John, mezin nedibûn, lê şa'r di helbesta xwe de îhtimalek dide mezin bûna "şîzofreniyên" xwe. Ev riste bo şaşwazkirina helbestkar li ser xwîner bandorek dihêle, çimkî em zanin ku lehenga şîzofrenan mezin nabin. Ev îmge, îmgeyek xas e, îmgeyek ters e û kevneşopiyê serûbinî dike. Di helbestê de çar caran risteyên dubare em dixweynin, bi forma du riste xwe ji helbestê qetandiye, bi serê xwe ye. Risteyên dubare "xwerexne" yê li dar dixe, ka em guh bidin helbestkar; "ti rûyê min nemaye ku ez li rûyê te binêrim(dubare)", "di qirna karesatan de qîrînên min qir bûne(dubare)", "niha dem, bahoza destên vala(dubare)", "dipeyivim, devê min gola xwînê(dubare)". Xwerexneya şa'r, em dibînin ku çiqasî dijware. Şa'r ne ji xwe ne jî ji dewra xwe raziye; "şerûd im/şerpeze me/min xwe anî…/gurî me/bi sipî me/min xwe anî…/ÇİYAYÎ me/çewisî me/min xwe anî…".
Di helbestê de em gellek mekan dibînin, ji mekanek derbasbûna mekanek din şa'r dîrek derbas dibe, vêga emê çend riste bixweynin. Çawa û bi çi awayî derbas dibe; "aliyekî min cemsera bakur: tîr(êj)/aliyekî min cemsera başûr: kevan(î)/di rojhilata ekwatora xwe de di xwe de cit dibim/hecz dianîne ser serhildanên min", "/di 1925an de xwîna min dihate daliqandin", "lehengên mîtolojîk vebêje ji min re ji homeros". Şa'r bi lez û bez derbas dibe ji mekanek mekanek din. Ev derbasbûn ne tenê di helbesta "Firşargo" de dibînin, em dikarin bêjin di her beşî de tê xuya kirin ev derbasbûnên dîrek û tûj. Di navbera deman de çûndin û hatin ji aliyekê ve jî sembolist e. Risteyên ku me li jor xwend sembolbûnê jî hêma dike. Di beşa yekem de dengek bilind seh dikin. Helbesta "Semîramîs" bi forma şanoyê hatiye nivîsandin, ev şano-metn bi olî û mîtosan re têkîliyên xurt daniye. Meseleyên rojane û polîtîkaya serdestan jî daye îfşakirin, ev metna şanoya helbestî de em şopên "Faust"ê dibînin. Goethe di Faustê de hem cîhaniya xwe yê hindirî eşkere kiriye –temamî nebe jî şopên jiyana Goetheyê em dibînin- hem jî mirov/bûnê wek sembolek daye pêş, di "Semîramîs"a şa'r de mirovek bindest xeberdaye. Mirovek ji xwedêyan re, ji zilmê re, ji erk-an re serî rakirine honandiye. Ev berhem berhemek êrîşkare. Di Janya yê de şano-helbesta "Semîramîs" cihek wî taybet heye û bi ûslûba xwe ji tehma/behna şanoyê têqez xurt tê xwîner. Îmgeyên beşa yekem: mirin, êş-kul-derd, xwedê, gor, goristan, ziman, qurban-î, ol, mîtos, sing, şûr, xwîn-gol û qîrîn e. Ev îmgeyên ku me xwend zêdetir dane pişt hevûdin. Îmgeya me ya sereke jî: Êş e.
HELBESTKARÊN 90Î LI "NÊÇÎRVANIYA ÎMGEYAN" BÛ
Dixwazim hinek behsa helbesta 90/nodî bikim. Di helbestên nodî de çi bi tirkî çi bi kurdî be em dikarin bi dilek rihek bêjin ku li pey îmgeyan bûn. Nêrin û nivîsandina helbesta nodî li ser du lingan radibû ser xwe. Yek "problema hebûnî" ya din jî "nêçirvaniya îmgeyan" bû. Helbesta nodî epîstemîk bû. Helbestkar çiqas îmge bidest bixistana, ewqas xwe xurt dihesibandin. Di wateya helbestan de aloziyek li pêş bû. Îmgeyên helbesta li ser hev dikirin wek dîwarek, wate jî her tim bervî hebûnê ve dişemitî, ev şemitandin di wateya helbestan de belavbûnê derdixist meydanê. Ji bo vê jî helbestên nodî geremolek, jihevketinek, derbasbûnên tûj û şaşwaziyek li ser xwîner dihîşt. Rênas Jiyan jî nifşê salên nodî ye. Ger em berhema Rênas Jiyan "Janya" baş fem bikin, li ser helbestên nodî divê em hûr bibin. Helbesta kurmancî di nodî de di bin bandora helbestên tirkî de bû(çapbûn, belavkirina pirtûkan, polîtîqayên serdestan, aborî). Gelo çima helbestên nodî ewqas bi bandor bû? Çimkî salên nodî de li ser axa welatê me de şerek qirêj û kaosek sîstematik bi destên serdestan dihat meşandin. Di civatê de çi biqewimiya, hunermend jî bi tesîra wê risteyên xwe rêz dikirin. Ji bo wê em nikarin berheman ji hunermend veqetînin. Di beşa me ya duyem –Jan- de derheqa helbestên nodî de Janya gellek done dide destê me. Tu dibêy qey Janya panaroma salên nodî xêz kiriye, wêneyan raxistiye ber me.
Gelo me ji Janya fem kir? Janya çi hêma kir ku me ewqas jê hez kir? Gelê me çima bêşert û merc ji Janyayê re got "erê"? Piştî nod û nehan zarokên ku ji dayik bûn, navên wan çima Janya laîk dîtin? Dengê Janya çaxê hat guh, me çima wek muzîka orkestrayê seh kir? Ev pirsên ku me pirsî, hemû bersivên wan dîsa kaotîka civata me de veşartiye. Tehlîla Janya, nirxandina risteyan, dahûrandina helbestan me dibe sosyolojiyê, psîkolojiyê, aboriyê, mêtingeriyê. Salên nodî de ez zarok bûm. Gellek tişt li ber çavên me zarokan de diqewîmiya. Kuştin, hezkirin, berxwedan, îhanet, tisrbûn, eşqên ku nedihatin ser ziman, feqirî, kaos, şer, îşkence, hindakirin, întihar, hêvî… Ev peyvên ku me xwend bo min salên nodî hêma dike. Çaxê cara yekem min bi dest xwendina Janya kir hemû wêneyên salên nodî li ber çavên min zindîbûn, ketim nav bîranînên xwe yê baş û nebaş! Berhem ji aliyek ve dem û dewrana xwe tomar kirin nîne?
Helbestkarê Çînî Mîng Dî, bi helbestkarê Polonî Adam Zagajewskî re sala 2011an de hevpeyvinek çê dike. Ev hevpeyvin gellek balkeş bû, Zagajewskî jî du zimanî bû û berhemên xwe îngîlîzî û polonî xwend û nivîsand. Ev hevpeyvîn li ser têkîliya helbest û zimanê zikmakî bû. Mîng Dî, pirsek li ser Czeslaw Miloszyê dipirse, bersiva Zagajewskî; "Dengê wî gellek bibandore, bi hêz û pirhejmarî bû: Bi tabîra amiyane em dikarin bêjin ku bi gellek dengên jêrî re axivî. Ji xebatên wî dersa ku em jê derdixin, pirsên ku ji dema te hatiye pirsîn û herî giring; bersivên dema xwe nefikirî be û bersivek xurt dananîbe ortê nikarî helbest binivîsî. Di nav helbesta sermest de seatek etîk heye"[5]. Rênas Jiyan ji dema xwe pirsên xurt û bersivên di cî da daye an na? Bersivên şa'r têra wî nekiriye, ji risteyên wî em dikarin vêya derxin; her tim dikole û digere. Tehlîla civata xwe bi helbesta xwe mezin kiriye. Bo vê jî berhema ku derxistiye meydanê gel hezkiriye, qebûl kiriye, çimkî civat xwe di helbesta Janyayê de dîtiye. Di helbesta Janyayê de xwîner dengên xwe yê jêrîn-pirdengî seh kiriye. Xwîner tengasiyên ku di helbestan de hatiye hêma kirin û xwestekan nêzikî dilê xwe kiriye.
DILÊ KU DI NAV AGIR DE DIŞEWITÎ BI DESTÊ HELBESTKAR HAT NEQIŞKIRIN
Vêga em ji helbesta Janyayê risteyan bixweynin. "Sarincên ku ji baranên derengmayî, hatibûn damezirandin, bi derbeke neşterê ya dirinde şolî bûne…". Ev riste di pêşiyê de dengên jêrî dide me. Li ser ferd ve di binhiş de dengê pirhejmarî tê seh kirin û em dikarin bêjin ku di pirtûkê de dengên pirhejmarî hema hema hemû helbestan de ji xwe re cîh dîtiye. Dewama helbestê em bixweynin; "Barûyên ji evînên nukleerî, di serdabên ku ji krîstalên rokoko hatibûn kemilandin, qîtik-qîtikî bûne… ji xewnên bêxwedî xeyidîme, pekiyame û hatime janya, ji nalînên min re vokalîstiyê bike". Xwîner bi van risteyan tehma lîrîzmê heta ku tu bêjî tehm dike. Şa'r heta tu bêjî zorê daye lîrîzmê, meriv ji lîrîzma Rênas bi rastî jî gellek têr dibe. Dîsa emê vegerin salên nodî… Di salên nodî de evîndar û sewdaserên welat, wek şa'r jî di helbesta xwe de daye destnîşankirin "Nukleerî" bû. Hema carek bes bû dîtina hezkiriyan, bi saetan li quncikek dihat sekinandin ku rûyê evîndara xwe carek bibîne. Ji bo vê jî Janya li ser dilê ciwanên wî demê tasek ava sar bû, dil û hişê ku di nav agir de dişewitî bi destê helbestkar hatiye neqişkirin. Aloziya dilketiyan di Janyayê de bû eynikek, bû rêyek û rêwitiyek. Teknîka helbesta Janyayê rastnivîs e û em leqayê derbasbûnen otonomî jî tên. Mekanên ku şa'r me digerîne di navbera wan de hezar sal henin, ev jî dîsa rihê dem û dewrana Janyayê destnîşan dike; "peykerekî antîk, derizî û mîtolojîk im, nêm ji min dihere… li ezmanê hundirê min qaqlîbaz firînên kamîkazeyî li dar dixin…". Hêma kirinê me dî, ev her du hevoka ku me xwend di navbera wan de kêm-zêde ji hezar salan bêhtir wextek heye. Her du hevok jî destnîşana îmgeyên ku "li ser hev" hatine raxistin dide xuya kirin û me pişt rast jî dike. Ji her du hevokan şeş îmge meriv dikare derxe.
Me li jor gotibû ku şa'r "xweperestbûnê" gellek daye pêş, vêga emê tespîta xwe dîsa bi cih bikin; "ji alfabêtan tîpek kêm dibe gava ku dimirim…". Ev riste jî me pişt rast dike. Helbestkarên ruştê xwe dane îspat kirin di dil û hişê xwe de xwe wek xwedayî dibînin, hemû pêxember helbest nivîsandine, hemû alîm û şêx ên qedirbilind bi rêya helbestan gîhiştine kîtleya/girsên xwe. Helbestkar xwe di astek bilind de dibînin, li esmanan digerin ev ji xwezaya şa'ran tê! Em dikarên bêjin xwedî superego ne. Azîz Nesîn bo helbestkaran gotibû; "îdare kirina welatek ji îdare kirina helbetkaran hêsane". Bi min jî îdarekirina helbestkaran ne mumkine! Lê ev ne mijara me ye. Tiştê ku me îdaa kir, me pişt lê rast kir. Di ş'ira Janya de şa'r xwe çawa xwedayî hêma bike jî li ber Janyayê dibe mirîd. Wek peyxemberên olî serî ditewîne li ber eşqa yezdanan û xwedayên mîtosî! "Mezhebên şêx û mirîdên wê ez, min diafirandin di çarmîxan de, min her çavê xwe li destmalka bixwîn a destê weronîka digerand…". Janya di pirtûkê de herî agresîf, herî bi îmge û dengên pirhejmarî ye di atmosfera xwe de dihewine. Di uslûba Janyayê de hermetîkbûn hatiye honandin. Hermetîkbûna wî jî bi rêya îmgeyan hatiye afîrandin; "goştê hov ji te ricifeke ruh divê, nêrîneke şêtiya şûran divê, ez heta qirikê niştecihê tirbê…" Em helbesta Janya keys bikin: buyer û sosretên dema xwe bi şewazek lîrîkî, tûj, hêrs û tiştê ku hindirê mirov de qewimiye bi serkeftî û rêya îmgeyên xas xwe gîhiştandiye senteksê. Bo vê jî gel tewecûhek geş nîşandaye. Weka ku E.M.Cioran gotiye; "mirovek êş nekişiya be her sohpet pê re çenebazîtiye." Êş ên welatê me her ku çûye bi nifşên xwe re mezin û qirase bûye
WATE HERTIM XWE LI PIŞT DENG VEDIŞÊRE
Di beşa duyem de bi temamî heft helbest henin. Li ser helbesta Stêrka Bêçirûsk-Kul/2- emê hûr bibin. Helbestê de peyva "stêrk"ê gellek hatiye bikaranîn, heşt car. Şa'r peyvê li hev xweş honandiye, dengê ku tê guhê me jî acîsî dûr e; "min neke qeşmerê stêrkan stêrk/fermo zû were/di êvarên esmer de qemer esmer were/li stêrkan siwar be û were/bibe stêrk û were". Dibe ku ev helbest bi destê bestekaran bibe stran. Ji ber ku gellek xweş li hev hatiye. Bi hêla deng va me dît ku xurte, wate di helbestên dengî de rolek girîng naleyze, hertim xwe li pişt deng vedişêre. Helbesta yekem de kirde "kulê" bû, yê dûdûyan de jî kirdeya me "stêrk" e û zayenda wê nehatiye diyar kirin. Helbesta yekem de helbestkar li benda kulê bû ku xwe bigîhijine şa'r, helbesta dûdûyan de jî li benda kirdeyê ye; "ê min jî çend stêrk hêviyên min ên vala mane/wek tivinga bêgulle/ya tu yê werî/nin bikî xwedî stêrk/ya tu nayê/wê stêrk bibin xwediyê min". Çawa ku helbesta yekem de vegerîna kirdeyê bi şert û gef dida pêşiya xwe, di van risteyan de jî em dîsa leqayê şertbûna şa'r dibin. Şa'r bi jiyana xwe gefan dixwo li dijî kirdeyê, ev bûyer jî du encam derdixe meydanê: di destê şa'r de jibilî jiyana wî tiştek nemaye ku kirdeyê îkna bike, yên din jî eşqa ku li bendêye hefesa wî yê!
Di helbestên Janyayê de -ne tenê vê helbestê de- "gulle", "tiving", "şûr" û hwd. Gelo şa'r ev îmgeyên çekî çima ewqas bi kar tîne? Dîsa em vedigerîn ser dem û dewrana Janyayê. Yanî salên nodî. Li ser her kûçeyên welatê me bi çek û qasatorayan ciwan dihatin qetilkirin. Kontrayên bêbav û tirsonek di pişt de êriş dikirin. Peyva "êriş"ê jî bi pirbûna xwe di helbestan de xwe dide xuya kirin. Di bin hişê helbestkar de -di bengeha helbestan de jî heye- cîh girtiye û şerê xwe di qada hunerê de dixwaze safî bike.
"Berî bêhna nanê sibê/bifûre li bajêr/her sibe dengbêjên min birçî distrên". Ev riste nameya nemir Celadet Alî Bedirxan bibîrxist; "rewş ne başe", ev rewş îro jî ji bo hunermendên gel em dikarin bêjin: rastiyek hê jî xwo didomîne. Helbestkar, rewşa hunermendên gelê xwe destnîşan dike, bi çi zor û zehmetiyan ve hunermendên gel ber xwe didin, bi risteyên rasterast, bi êşkeşiya xwe silavek dide.
Helbesta "Dê û Law" de hêma kirina şa'r ji helbestên din cûdaye. Di vê helbestê de şa'r watebûnek derencokî li dar xistiye. Dengê helbestê û wateya wê bihevre/parelel diherike, ka em çend riste ji helbestê bixweynin; "sê nanê firnê qewl kiribû/ji bo ku bayê li ezmanan li min nexistina", "ku ez vegeriyama/wê sê rojan rojî bigirta/di ber riya xwedê de/wê sê nanê firnê belav bikira", "wê şîrê şêr ji min re bianiya/di şîvê êvaran de", "ve-ne-ge-ri-yam/li wir mam". Law venegeriyaye, wek zarûyên ku çûn û nehatin! Helbestkarên bakur, îmgeya "nanê firnê" di helbestên xwe de gellek bi kar anîne. Nanê firnê sivik û bitehm bû, qelandî bû. Nanê malê giran û sar bû. Ev îmge me dîsa dibe aboriya gel, hevîr li mal dihat çêkirin û me dibir firinê. Kedkarên firinê jî li gor dilê xwe çêdikirin û ti car li gorî dilê me nedihat çêkirin! Lê nanê firnê bi hostatî dihat çêkirin, ev jî me dibe aboriyê û koçbûnê. Bo vê jî nanê firine îmgeyek ji şîrê kurmancî niqutiye, ev îmge îmgeyek muhîm e ji bo aboriya gel bide destnîşan kirin. Nifşên ku 2000an vê de helbest nivîsine îmgeya "nanê firine" hê jî bi kar tînin. Ev helbesta me bi deng û rîtma xwe gellek serkeftiye, helbestek modern e, helbest bi hêla tesarufa peyvan jî di cîh de ye û piştî helbesta Janyayê bi deng û wate xwe jî herî balkeş e. Beşa duyem em keys bikin û derbasî beşa sêyem bibin. Beşa Jan ê, bi deng û wateya xwe, bi teknîk û herikbariya xwe kirasek ji beşa "kul" cûdaye. Cûdatiya wê di hermetîkbûna wî de veşertiye Bol bûna îmgeyan, helbestên ku ewê werin xwendin ji me re sinyalek neqebzbûnê li dar dixe. Fireh û eks e. Riste dirêj in û helbest agresîf in, kaotik in. Êşê bi jan ve daye şuştin.
NÎHÎLÎZM WEK NEGATÎF HATIYE NASÎN
Nîhîlizm hem li Tirkiyê hem jî helbestên ku li Kurdistanê mezin bûye, di berheman de wek negatîfî hatiye nasîn. Îmgeya nîhîlizmê di qada helbesta rojhilatê de negatîfbûnê bibîr xistiye. Gelo Janya di nav xwe de nîhîlizmê hewandiye? Em hin risteyan de leqayê şopa nîhîlizmê tên. Nîhîlizma ku em dibînin hem pozitif e hem jî bi xweperestbûna xwe ve girê daye. Li pişt helbestan de bi îmgeyen veşartî kodên nîhîlîstî eşkereye; tiştê ku ji xwe re dixwaze û hêma kiriye bi wan kodan nîhîlîstbûnê/redbûnê jî di bin hişê xwîner re keys dike. Xwestekên welatiyan dîsa bi rêya helbestê bi bîr dixe.
Beşa me ya sêyem bi navê "êş"ê ji xwîner re dibê merheba. Me li jor behsa "estetîka romantîzma" Hegel kiribû. Emê ji estetîka Hegel îstîfade bikin, li ser tespîtên wî emê xwe bigîhijinin estetîka êşa Janyayê. Estetîka romantîzma Hegel, di helbestan de xwe qelibandiye estetîka êşê. Ka em bi estetîka Hegel binêrin; "Pêşkêş kirina hunera klasik û xwezeya wî de êşkêşiyek tê dîtin. Êşa ku hildaye tenê di hunera romantizmê de bi dest dixe: mirin, êş û jan. Di hunera romantîkê de ji xeynî forma îlahî û forma însan, çaxê meriv lê dinêre di naveroka wê de jî hetahetayî pêk tê. Li wir armanca naverokê hem hindirî, hem eleqaya beşerî, îhtîras, xemgînî, keyfxweşî, hêvî û bi hêla dilxweşiyê de, hem jî bi hêla dervayî de, yanî xweza û li ber qada xwezayê de hûrbûna fenomenenan pêk tê. Hegel, armanca hunera romatîkê bi vê dide destnîşan kirin; '(…) Hunera romatîk bi ters ve pişta xwe ji xweşbûnê/keyfxweşiye re dizivre; hebûna hindirî bi derva re û di nav hev de neqiş dike, xêzên nebedew dide hereket kirin û li ber berhemê qadek fireh vedike"[6]. Di Janyayê de helbestkar pirî caran xwe wek qurbanî hêma kiribû, me risteyan xwend. Rênas Jiyan, estetîka êşê di hiş de qad bi qad honandiye, kul û keserên wî geh bi ritmek radibe, geş dibe geh bi ritmek jî li erd dikeve, ketinên şa'r sert e. Ev jî estetîka êşa Rênas Jiyan ji êşên din cûda dike, mijar dibe weka hev bin, lê estetîk û şêwaza wî cûdaye. Vêga emê ji beşa seyem –ji kul/3- çend riste bixweynin; "li te/li dengê te yê ku rijiyaye erdê dizîvirim(…)bê min çiqasî bêriya te û kenê te yî tijî girî kiriye(…)jiyan ji bavê wê bêminet kiriye(…)ez ê dilê te jî ji bavê te bêminet bikim". Ji helbesta "Neyê" çend risteyên cur bi cur me xwend. Di vê de êşa estetîka şa'r em dibînin, êşa xwe bi estetîka zimanê xwe û şewaza xwe yê xweserî dide îspatkirin. Ne tenê ev riste, li jor risteyên ku me mînak dabû jî delîla estetîka êşa Rênas Jiyan pişt rast dike. Êşa ku di mantiqa şa'r de hatiye vesazkirin ên xwe ye.
NE XWEDAYÊ FRIEDRICH NIETZCHE MIR NE JÎ JANYAYA RÊNAS JIYAN XWE KUŞT
Me, kin bi kin behsa ezmûngertiya Janyayê kir, vêga ezê pêşiyê helbestên ezmûngerî yên di Janyayê dane eşkere bikim, paşê jî emê herin pirtûka şa'r "Diêşiya"yê. Di beşa yekem de sê heb helbestên ezmûngeriyê em dibînin(Fişargo, Semîramîs, Rêwî) ev hem forma dervayî ve hem jî bi navaroka xwe ezmûnger e. Di şiklek modern de rihek ezmûngeritiyê em dibînin. Li gor dewra xwe di helbesta kurmancî de ezmunger e. Forma ku helbestkar bi kar aniye di helbesta cîhanê de hatiye bikaranîn, lê navaroka helbestan – bi risteyên xwe- cûdaye. Di beşa duyem de jî du helbestên ezmûngeriyê em dibînin(Jan û Janya). Di van helbestan de risteyên ezmûngeriyê li pêş in. Beşa sêyem de jî (Êş, Li herî jorîn firîna bêbask û Rêzikên ku ji helbestên xwe xeyidî). Me li jor gotibû ku ezmûngeriya Janyayê zarok e. Ne wêreke ne jî tirsonek e. Lê pirtûka "Diêşiya"yê de şa'r tirsa xwe şikandiye, ji xwe bawer ezmûngertiyek daye ceribandin. Di helbestên ezmûngeriyê de piranî bi hiş ve leystin em dibînin. Helbestên ku ezmûnger in: Helbest-Matîk, Helbest-Stêrk, Stêrka Têgehên Çirûskîzmê, Çalakî. Ev helbestên ku "Diêşiya"yê dane hem bi forma dervayî hem jî bi forma hindirî de ezmûngeriya van bi goşt û hestiye. Îmkanên helbesta modern gellek fireh e û şa'r ev firsadê heta dawî biriye. Bi forma helbesta modern leystin hêsane lê hêsanbûnek zehmete jî. Helbesta modern têra şa'r nekiriye; ji êşa klasîkbûnê xwe dûr xistiye, kirasek jê re dirûtiye û red kiriye kevneşopiyê. Çawa ku di hiş de êşa estetîkbûnê bi dilê xwe honandiye dengê xwe jî bi tona xwe daye nasîn! Rênas Jiyan qaraqarê nake, dengê xwe bilind kiriye ji berk u ev dinya kerr û lal e!
Herê Janya zarok bû, zarokek têra mekanan û têra xwe nedikir. Janya di helbesta kurmancî de deriya vekir, êşê dîsa ji nû va honand, li ser êşa klasik rabû ser piya. Helbesta me ya klasîk çawa ku bi seyda Cigerxwîn ket qadek din û bi dem û dewrana xwe ve girêda, Rênas Jiyan jî êşa me di hiş de bi dil ve bi qad qad bilind kir.
Bêle, ne Xwedayê Friedrich Nietzsche mir ne jî Janyaya Rênas Jiyan xwe kuşt… Hê jî dijîn. Fermo!
Jêrenot:
[1]Weşanxaneya Belkî/Çapa 4an/2018/Janya
[2] https://candname.com/renas-jiyan-u-renasansa-janyaye-hevpeyvin/
[3] https://arkeofili.com/antik-yunanda-muhtemelen-bakire-kurban-ediliyordu/
[4] https://onedio.com/haber/11-madde-ile-hayati-akil-oyunlari-filmine-konu-olan-nobel-odullu-matematikci-john-nash-514044#:~:text=Hayat%C4%B1%20Film%20Oldu%3A%20Ak%C4%B1l%20Oyunlar%C4%B1&text=Nobel%20%C3%96d%C3%BCll%C3%BC%20oyun%20kuramc%C4%B1s%C4%B1%2C%20John,ana%20temas%C4%B1%20oyun%20kuram%C4%B1%20olmu%C5%9Ftur.
[5]https://t24.com.tr/k24/yazi/yertsiz-yurtsuz-bir-deniz-kaplumbagasi-adam-zagajewski-ile-soylesi,3320
[6] https://dergipark.org.tr/tr/download/article-file/748096 /rûpel-15