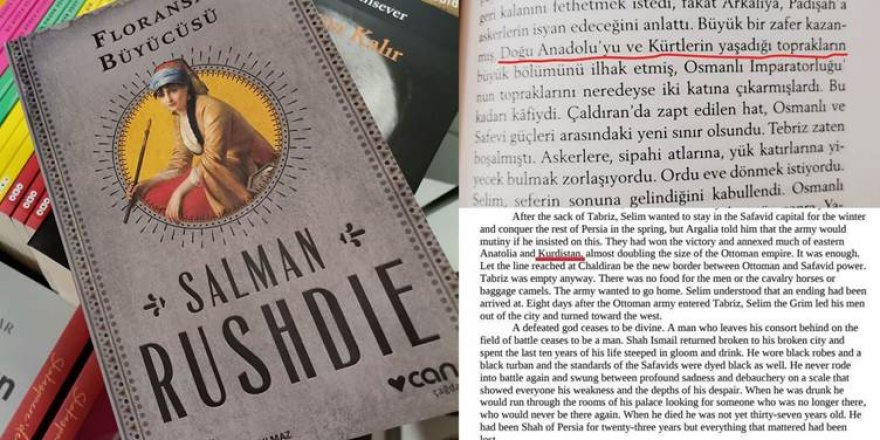 Weşanxaneya Can navê Kurdistanê dîsa sansur kir
.
Peyva "Kurdistan" ku nivîskarê navdar ê cîhanê Salman Rushdie di romana xwe ya bi navê "Sihirbazê Floransa" de bikar aniye, di wergera wê Tirkî de cih negirtiye. Peyva "Kurdistan" di çapa 12an a "Sihirbazê Floransa de hate hate sansurkirin.
Di pirtûka ji aliyê Weşanxaneya Canê ve ya bi wergera Begum Kovulmaz hatî çapkirin de, di beşa 15an rûpela 121an de, li şûna peyva "Kurdistan" ya di orjînala Îngilîzî de "erdên Kurd lê dijîn" hatiye bikaanîn.
Di çapa Îngilîzî ya Sihirbazê Floransa de of Florence de, peyva "Kurdistanê" wiha hate bikaranîn: "After the sack of Tabriz, Selim wanted to stay in the Safavid capital for the winter and conquer the rest of Persia in the spring, but Argalia told him that the army would mutiny if he insisted on this. They had won the victory and annexed much of eastern Anatolia and Kurdistan, almost doubling the size of the Ottoman empire".
Lê hevok di çapa tirkî de bi wergera Begum Kovulmaz wiha hate belavkirin:
"Piştî ku Tebrîz hate talankirin, Selîm dixwest zivistanê li paytextê Sefewiyan derbas bike û di biharê de biçe seferê da ku beşa mayî ya Îranê feth bike, lê Arkaliya ji Sultan re got ku leşker dê serî hildin. Wan serfiraziyek mezin bi dest xwe xistibû, Anatoliya Rohilatê û piraniya erdên ku Kurd lê dijiyan xistin jêr kontrola xwe û, hema hema axa împaratoriya Osmaniyan du qat zêde kirin. "
Di pirtûka Paulo Coelho de jî peyva Kurdistan hatibû sansurkirin
Romana navdar ya bi navê "Eleven Minutes" (Yazde Xulek) ya nivîskarê navdarê Paulo Coelho, ji aliyê wergera tirk Saadet Ozen ve bi tirkî hatibû wergerandin û ji aliyê weşanxaneya Can ve hatibû çapkirin.
Di beşek wê romanê de Paulo Coelho behsa kurd û Kurdistanê dike, lê di wergera wê ya Tirkî de li şûna peyva "Kurdistan", peyva tirkî ya "Ortadogu" (Rojhilata Navîn) hatibû nivîsandin.
Ev sensor di medyaya civakî de rastî bertk û nerazîbûna mezin ya kurdan hatibû.
Piştî vê yekê, weşanxaneya Can ragihandibû, ew dê pirtûkên ku hatine çapkirin, kom bikin û wê xeletiyê sererast bikin.
Wergera pirûtkê Saadet Ozen jî gotibû, wê destê xwe nedaye ti peyvekê pirtûkê, eger guhertinek jî tê de hatibe kirin ji aliyê weşanxanê ve hatiye kirin.
Rûdaw
Önceki ve Sonraki Haberler