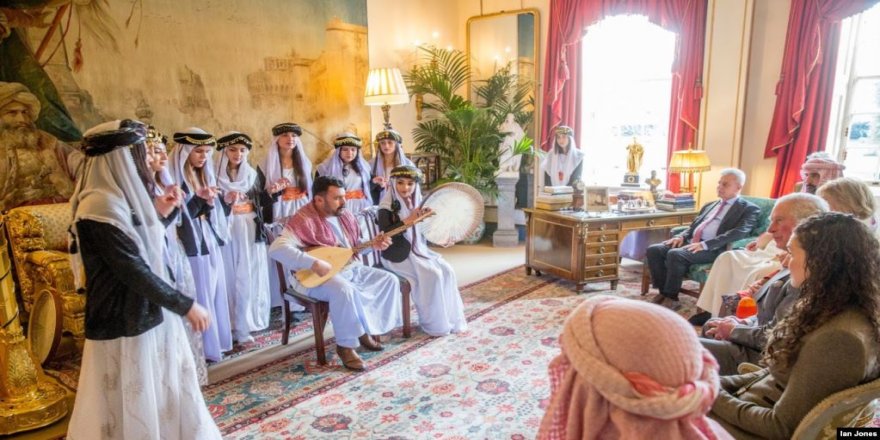 Keçên Êzidî Yên ji DAIŞ'ê Rizgar Bûne Muzîka Xwe Nûjen Dikin
Dema ku li sala 2014an çekdarên tundrê yên DAIŞê êrîşî herêma Êzidîyan kir li bakurê Îraqê, ew hewildanek bû, bo nehêlan û jinavbirina pêkhateya Êzidî, ku pêkhatek etnîkî ya kêmanî ye, ku hezaran sal in, li çîyan dijîn.
Navenda Nûçeyan - Di êrîşa DAIŞê de hezaran jin û zaro hatin revandin û hezaran zilam jî hatin kuştin, armanca DAIŞê jî holê rakirina dîrok û kultura Êzidîyan bû.
Lê niha projek nû ji alîyê sazîya AMAR û bi alîkarîya hikûmeta Brîtanî hatîye destpêkirin bi armanca ku xortên Êzidî fêrî muzîka wan ya resen û kevnar bikin û cardî wan li ser wê muzîkê perwerde bikin.
Tê texmîn kirin ku dîroka muzîka Êzidîyan vedigere bû 5000 – 7000 salan, her çende hêjî bi şêweke akademî nehatîye tomarkirin û parastin.
Weha rahatîye ku stiran û kilamên Êzidîyan ji nifşekî bû yê din bi şêweyê zardevî hatîye veguhastin û heta niha nêzî 500 stiran û perçên muzîkê hatine parastin û rizgar kirin.
Sazîya AMAR heta niha zêdetirî ji 100 parçên muzîk û starnên taybet yên Êzidîyan tomar kirin, ji wan li Laliş mezargeha pîroz û serekî ya Êzidîyên cîhanê ku li nêz bajarê Duhok û bajaokê Atrûş dimîne li Herêma Kurdistana Îraqê, herwiha AMAR serdana kampên penaber û koçberan kirîye ku niha 10 hezaran Êzidîyên ji fermana DAIŞê rizgar bûne li kampa û gundewarên Duhok, Hewlêr, Silêmanî û Mûsilê dijîn.
Muzîkjenê Kemanê Michael Bochmann kora muzîkê ya xortên Êzidî destek kir û li London çalakîya muzîkê bo wan rêxist, û heta wan muzîka xwe li seraya Şahane li London pêşkeşî Prinsê Cêgir Charles jî kir.
Bochmann dibêje"muzîka Êzidîyan zêde giringe bo zindîmana çanda wan" û texa civakî ya Qawalan wê muzîkê diparêzin û niha tenê 16 ji wan mane.
Xort û keçên Êzidî li ser astromênta Tenbûr û Defê muzîka xwe fêr dibin, di nav da Rênas keça Êzidî heye, ya ku tevî 10 hezaran jin û zarokan bi destên DAIŞê li sala 2014ê hatbûn revandin.
Rênas 14 salî bû dema DAIŞê ew girt bû, sê caran DAIŞê kirîn û firotin li ser wê pêkanî bû kir bû koleya seksî, lê ew sala 2017an ji destên DAIŞ'ê hat rizgar kirin, lê wê keçek hebû, dema malbata wê pare weke serane dabûn çekdarên ku ew revand bû, wî çekdarî red kirk u keça Rênasê bide wê.
Rênas dibêje, muzîk we dike, ku ew wehşîyeta berê ya di dema di nav destên DAIŞê dabû jibîr bike"Ez dixwazim ev alîkarî dom bike, ji ber vî projeyî, me hêvîya xwe hinda nekirîye, eger ku alîkarîma bihê berdewam kirin, emê xwe radestî qederê nekîn".
Prens Charles pêşwazî li Koma Muzîkê ya Êzîdîyan kir
Mîrzayê Gallerê Charles li Londonê, li Dezgeha Xêrxwazî ya Clarence Houseyê pêşwazî li Koma Muzîkê ya Êzîdîyan kir.
Hat ragihandin ku Koma Muzîkê ya Êzîyan serdana Clarence House kirîye û li Weistminater Abbey û Navenda Gişti ya Balyozxaneya Brîtanyayê gerîyane û li wir performansek nîşan dane û stranên bi Kurdî xwendin.
At Clarence House earlier this week, The Prince of Wales enjoyed a performance by the Yazidi Choir.

In their efforts to support the Yazidi people, charity @AMARLondon, of which HRH is Patron, has worked to record, notate and preserve their religious and folk music in Iraq. pic.twitter.com/cCazVGqgpE
— Clarence House (@ClarenceHouse) February 7, 2020
Endamên komê piştî serdana xwe bi Mîrza Charles re hevdîtinek kirin.
Prens Charles piştî performansê, yek bi yek bixêrhatin da endamên komê û ji ber performans û serdanê kêfxweşîyên xwe anîn zimên.
PeyamaKurd, Dengê Amerîka
Ev nûçe 286 caran hatiye xwendin