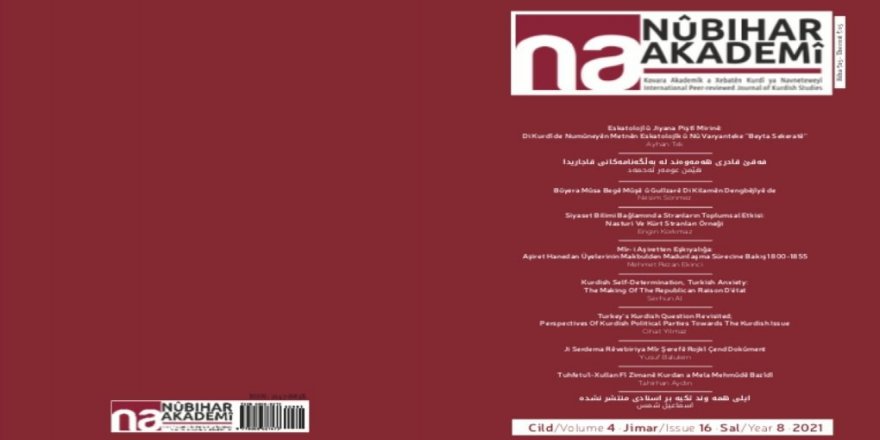 Jimara 16an a Nûbihar Akademîyê derketiye
.
Kovara Nûbihar Akademîyê, bi jimara xwe ya 16an sala xwe ya heştan temam kiriye.
Jimara 16an a Kovara Nûbihar Akademiyê derketiye. Kovarê bi vê hejmarê re sala xwe ya heştan temam kiriye.
Di jimara vê kovarê de neh gotar û belgenameyek hatiye weşandin. Ji gotaran pênc heb bi kurdî (çar bi kurdîya kurmancî, yek bi kurdîya soranî), du heb bi ingilîzî û du heb jî bi tirkî ne. Belgenameya navborî farisî ye.
Amadekarên kovarê biryar dane ku ji vir şûnde di her jimareke Nûbihar Akademîyê de, li dora temayeke xebatên kurdî û di bin navê "dosyaya jimarê" de komek gotarên tematîk bên amadekirin. Di her jimarekê de ev gotarên dosyayê û gotarên cihêreng bi hev re bên weşandin. Li gorî vê biryarê di jimara yekem a sala 2022ê de Nûbihar Akademîyê wê bi naveroka "Kurdên Yarsan" were çapkirin. Wê akademîsyen Shahab Valî vê dosyayê amade bike.
Nivîsên ku di vê hejmarê de hatine weşandin ev in:
1. Ayhan Tek "Eskatolojî, di Edebiyata Kurdî de Numûneyên Wê û Nû-varyanteke
Beyta Sekeratê"
2. Hêmin O. Ahmed, "فەقێ قادری هەمەوەند لە بەڵگەنامەكانی قاجاریدا /Feqî Qadirî Hemewend le
Belgenamekanî Qaçarî da"
3. Nesim Sönmez, "Di Kilamên Dengbêjîyê da Bûyera Mûsa Begê Mûşê û Gulîzarê"
4. Engin Korkmaz, "Siyaset Bilimi Bağlamında Sıtranların Etkisi: Nasturi ve Kürt
Sıtranları Örneği"
5. Mehmet Rezan Ekinci, "Mîr-i Aşiretten Eşkıyalığa: Aşiret Hanedan Üyelerinin
Makbulden Madunlaşma Sürecine Bakış 1800-1855"
6. Serhun Al, "Kurdish Self-Determination, Turkish Anxiety: The Making of the
Republican Raison D'état"
7. Cihat Yılmaz, "Turkey's Kurdish Question Revisited; Perspectives of Kurdish
Political Parties Towards the Kurdish Issue"
8. Yusuf Baluken, "Ji Serdema Rêvebiriya Mîr Şerefê Rojkî Çend Dokûment"
9. Tahirhan Aydın "Tuhfetu'l-Khullan fi Zimani Kurdan"
10. Esmail Shams, "ایلی همه وند تکیه بر اسنادی منتشر نشده / Îlî Hemewend Tekye ber Esnadî
Munteşir Neşode"
Nûbihar Akademîya salê du caran diweşe û hem bi rêya çapê hem jî bi awayekî dîjîtal digihîje ber destê xwîneran.
Malperên dîjîtal ên kovarê ev in: