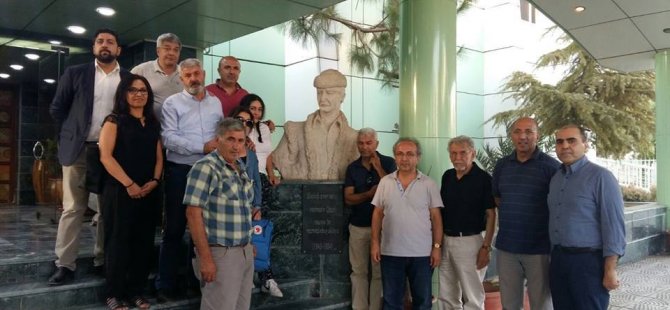 Gerra Serxwebûnê (23.09.2017 --- 29.09.2017)
Perîn Muzeyyen Esmeroglu
Ez nikarîbûm raketama. Xew li min geriyabû. Bi kelecaneka mezin ez li benda saeta çûyinê bûm.  Hinekî bi zehmetî û hinekî jî bi macera û heyecan em hatin Qatarê, goya em ê di ser Wiyanayê ra biçûyana, lê firîna balafira me hate îptalkirin, em çend saetan li Balafirgeha Stockholmê man û bo me di balafira Qatarê de cih peyda kirin û me berê xwe da Qatarê.  Em rojekê li Qatarê man û di wir ra em çûn Kurdistanê, Kurdistana rengîn, Kurdistana ku wek bûkekê her dera wê bi ala rengîn hatibû xemilandin.
Em heft kes bûn, min ji hevalan ra got ez ê berî we hemûyan ji balafirê derkevim û ez derketim.  Polîs, passkontrol herkes bi kurdî diaxifî, cara pêşî ye ji bo min, min tiştekî weha didît. Ev cara pêşî ye ez têm Kurdistana azad.  Min bi heyecaneke mezin ji polîs pirsî: "Tu nuha bi kurdî bi min ra diaxifî?" Polîs keniya û got :" Erê!" Lê bawer im wî kêfa di ruyê min de dîtibû. Hevalên li paş min jî hemî bi min dikeniyan.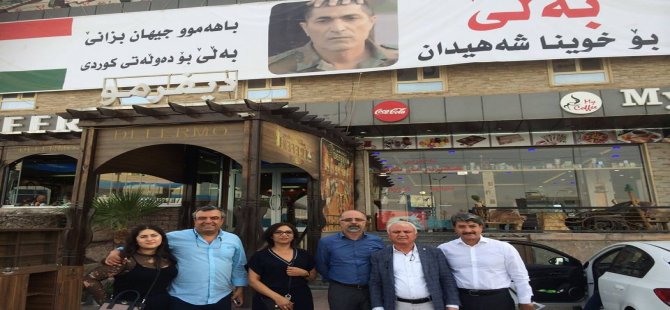 Ez fikirîm min ji xwe ra got: " Gelo ma ev  xewn e? Ger xewn be ez naxwazim şiyar bim, lê eger rast be  ez qet naxwazim rakevim.! Rast bû, min berê xwe dida ku derê ala kurdî û zimanê kurdî bû. Ev tiştekî bê hempa bû.
Em hatin otêla xwe. Hevalên ku em ê bi hev ra bihatana ku berî me hatibûn, li otêlê bûn, çavê me li wan ket û kêfa me bû duqat. Ez çûm odeya xwe, ji bo ku tiştên xwe deynim, min eynê mêzekir û ji xwe ra got: Ez li ku me, li mala xwe? Li welatê xwe?  Min pir dixwest ku îro malbata  min jî li vir bûya, wan jî ev hiss bi min ra parve bikira.
Ez û hevalên xwe em giş bi hev ra çûn otel Darîn ku gelek kurdên ji Bakur jî li wir bûn. Em çûn ji bo ku wan jî bibînin. Me hev dît. Ez bawer im, ji kêfan çavên hemûyan dibiriqî, nigê wan erd nedigirt, bi her kesî ra hisseke neteweyî û yekîtîyê peyda bûbû.  Me hemûyan dixwest van rojên xweş û hestyar  di telefon û mêjîyên bi xwe de wek belgeyekê biparêzin. Ev fersenda ku hatiye ber nigê me careke din dikare neyê!
Êvarê PAKê xwarinek da me. Li vir jî min hin hevalên din dîtin, yên ku me hevdu qet nedîtibû jî me hev nas kir û em bûn heval. Her çendî herkes li dor maseyekê wek grûp rûniştibûn, lê dilê herkesî ji bo eynî tiştî lê dida, çavê herkesî eynî tişt didît, di mêjîyê herkesî da Kurdistana serbixwe derbas dibû.
Tenê rojek mabû, ew ê çawa bibûya? Gelo her kesî dê ji bo serxwebûna welatê xwe deng bida? Serê sibê zû em çûn Otel Sheraton, me yê karta xwe ya "observator"iyê bigirta, bi hinek sohbet û nasîna hin kesên nû bi fotoyên curbicûrên telefonê em ji wir derketin û çûn.
Êvarê em çûn şahîya FKKS ( Federasyona Komeleyên Kurdistanê-Swêdê), saeta vekirina sandoqan dest pê kiribû, herkes li bendê bû. Ji heyecana cî li me teng bûbû. Bi dans û muzîkê şeva me berdewam dikir, serokê Federasyonê Keya Îzol mizgînî da me ku piranîya Kurdistanîyan gotine erê.
Roja din em çûn ser kela Hewlêrê, em geriyan, min hin tiştên tûrîstîk kirrîn û em hatin otêla xwe. Me hazirîya bernameya ji bo gera sibehî kir. Me otobusek kirê kir û "gav bi gav" em li Kurdistanê geriyan. Me ji Hewlêra paytex berê xwe da Şeqlawa, Herîr, Rewandûz, Gelîyê Elî Beg, Bêxal û herêma Barzan, em çûn ser qebra Mela Mistefa Barzanî û Îdrîs Barzanî, li wir agahdarîyeke têr û tijî dan me.
Her çiqas ez li vir çênebûme jî, û cara pêşî ye ez li vir im, lê hissên min, dilê min weha nedigot, ez li welatê xwe yê serbixwe bûm.
Roja duduyan em ji Hewlêrê çûn Kerkukê, bajarê ku qedera kurdan tayin dike, bajarê ku diwarên wê bi gulleyên DAIŞê qulqulî bûne, xemgînîyeke bê nav ket dilê min, hawareke bê deng ji min derket. Kêfa min a çend rojan wenda bû. Ev çi ye hatiye serê kurdan? Ez di nav xem û xeyalên Kerkuka wêran  de bûm, bi carekê de polîsan dora me girt, min ferq nekir, piştî ku ji me pirsîn ku em kî ne û em çi dikin li vir, hê min ferq kir.  Lê tiştekî ecêb ez qet ji van polîsan netirsiyam, ji ber ku kurd bûn yan ez di nav xeyalan de bûm. Piştî ku ferq kirin ku em kurdên bakur in, bi zimanekî xweş û nazik em bi rê kirin.  Me berê xwe da  Silêmanîyeyê.
Silêmaniye, bajarekî modern û pak û paqij û rêk û pêk. Em çûn seredana Eburrezaq Feylî  ku ji Swêdê hemû hevalên me wî nas dikin.  Pêşwazîyeke gelek germ nîşanî me da. Dema em hatin "mekteb siyasî" ya YNK di ketina hundur de çavê min bi heykelê Necmettin Buyukkaya ket, hissên min pir bilind bûn, ez fikirîm ku kurdên herçar parçeyan dilê wan yek e û milletek in.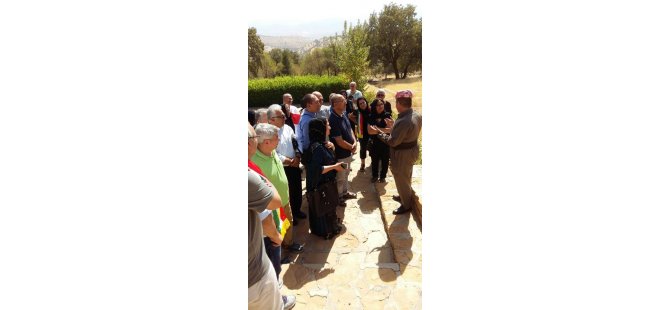 Ez dixwazim li vir sipasî serokê PAKê rêzdar Mustafa Özcelik, Orhan Kaya, Haluk Sayin bikim ku di vê gerê de em bi tenê nehiştin û bi germahî coşeke ji dil û bi xwarin û sohbetên xweş pêşwazî ya me kirin.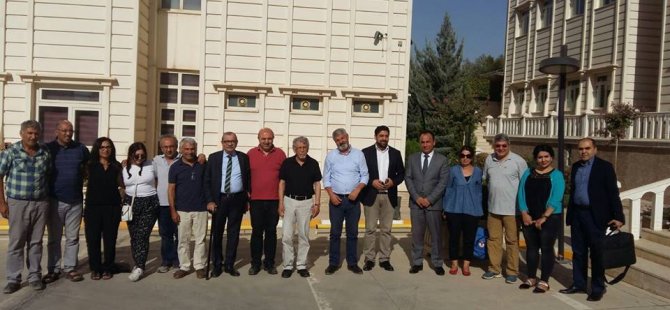 Di van çend rojan de tiştê ku bala min pir kişand kurd pir jêhatî, bêtirs û bi qerar in.  Min bi xwe di vê gerrê da jiyana kurdayetîyê û tahm û çêja serxwebûnê, dît û his kir. Ez ê tim û tim bibêjim serxwebûn û serxwebûn!
Ev nûçe 2927 caran hatiye xwendin