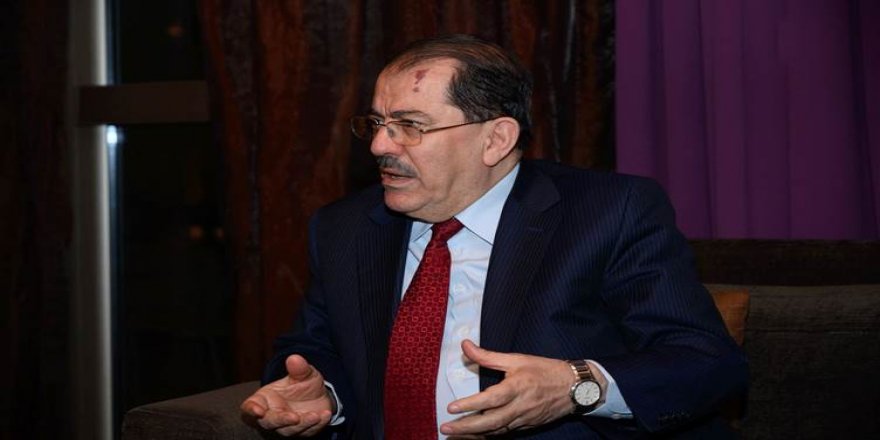 Nazim Debax: Ev federalîya Herêma Kurdistanê li Tehranê ji alîyê Hecî Qasim ve hat dariştin
Nûnerê Hikûmeta Herêma Kurdistanê li Îranê Nazim Debax ku ser bi YNKê ve ye li gel Rûdawê hevpeyvînek çêkir
Navenda Nûçeyan- Nûnerê Hikûmeta Herêma Kurdistanê li Îranê Nazim Debax ku ser bi YNKê ve ye, di beşa duyem a vê hevpeyvîna li gel heftenameya Rûdawê de, zanyarîyên bêtir li ser pêwendîya Kurdan û Fermandeyê Berê yê Feyleqa Qudisê ya Îranê Qasim Suleymanî eşkere dike û dibêje piştî referandûm û bûyerên 16ê cotmehê wî pêwendîyeke xurt bi Kurdan re çêkir. Herwisa dibêje îranîyan jê re gotîye ew herdu moşekên ku ber bi Hewlêrê hatin avêtin ne ji hêla wan ve bûn û herwisa dibilîne: "Hikûmeta Herêma Kurdistanê dizane kê ew îş kir."
Rûdaw: Piştî referandûm û qezayên 16ê cotmehê, nêzîkbûnek di navbera Partîya Demokrat a Kurdistanê (PDK) û Îranê de hebû. Tu ji vê çendê serwext bûyî?
Nazim Debax: Erê. Bi nerîna min nêzîkbûna yekem bi biraderên PDKê re bû. Nemaze Hecî bi xwe rûniştinên xas kirin. Hewldan hat kirin pêwendî bên asayîkirin. Çimkî Îran bawerîyê bi dijatîya gelê Kurd nake. Li Iraqê tiştê herî mûhîm hevalbendîya Kurd û şîeyan e. Hevpeymanîya piranîya şîeyan e da bikarin hevalbendîyê bi piranîya Kurdan re bikin ku YNK û PDKê ne. Çimkî heke ev hevalbendî nebe, ne mumkin e hevsengî li Iraqê bê parastin.
Tu ji vê pêwendîyê serwext bûyî?
Ez ne serwext im ku bêje ez wisa ji bo wê diçim. Berî wefata Mam Celal teyareya Hecî Qasim li Silêmanîyê vedinişt, lê piştî Mam Celal, teyareya wî li Hewlêrê vedinişe.
Nerîna Hecî Qasim li ser PDKê çi bû?
Hertim nerîna wî li ser hemû alîyên konevanî çê bû û pêwîst didît partî teba bin. Nexasim hertim bi wî çê bû pêwendîyên YNK û PDKê qenc bin.
Nerîna wî li ser Mam Celal çi bû?
Hertim ew wek kesekî merd û welatperwer û dilsoz û rastgo û wefadar didît. Hecî Qasim dibiland ew lewma ji Mam Celal hez dike çimkî li ba amerîkîyan heta jê tê bergirîya îranîyan dike, li ba me jî heta jê tê bergirîya amerîkîyan dike. Digot ne mîna hin kesan, li ba min xeberan ji amerîkîyan re didin û li ba wan jî xeberan ji Îranê re didin.
Nexwe nerîna wî li ser Mesûd Barzanî çi bû?
Wî Kak Mesûd mîna kesekî rastbêj didît. Wek min got yek bû ji lîderên ku wî ew wek karîzmatîk didîtin.
Baş e, nerîna wî li ser Nêçîrvan Barzanî çi bû?
Ji kak Nêçîrvan hez dikir.
Tu di ti rûniştineke Qasim Suleymanî û Nêçîrvan Barzanî de beşdar bûyî?
Erê. Me li ser heman maseyê xwarin jî li Îranê xwarîye. Carna kak Nêçîrvan hatîye Îranê, min ji kak Ebdulla Akreyî re bilandîye ji min re zelal bike ew wek serokê hikûmetê yan jî wek cîgirê serokê PDKê hatîye? Heke wek serokê hikûmetê hatîye, ji min re nebêje jî ez ê bêm civînê, çimkî ez nûnerê hikûmetê me. Lê heke wek PDKê hatîye bangî min jî bike ez nayêm, çimkî naxwazim sibe tiştek ji civînê derkeve û bêjin Nazim bû. Ji bo Mam Celal jî, hin rûniştin hebûn berî Mam Celal bêje min, ez bi xwe rabûme û çûme, gotîye tu çima diçî? Min gotîye pir taybet e bi we. Hecî Qasim û kak Nêçîrvan û Adil Ebdilmehdî rûniştine, ez jî li wir bûm, min molet wergirtîye û derketime.
Bi kuştina Hecî Qasim, destê Îranê li Iraqê kin dibe yan kuştina Qasim Suleymanî û serkirdê dîyar ê Heşda Şeibî Ebûmehdî Muhendis, bêtir şîeyên Iraqê ji Îranê nêzîk dike?
Ez bi xwe ji Hecî Qasim re nabêjim kuştî, dibêjim şehîd, çunkû kesekî mucahid bû bo welatê xwe. Heke em bêjin hîkarîya wî nîne, heye. Çunkû ev însan ji destpêka wergirtina erkê xwe ta dema şehîd bû, serwextî her reftar û têkilîyekê bi lîderên Kurd re bû, nemaze bi Mam Celal û Kak Mesûd re. Lewra kesekî din ku tê şûna wî tevî ku tê gotin şûngir, lê bawer bike min ew di ti civînekê de bi Hecî Qasim re nedîtîye, ez wî şexsî nas nakim û pê re nerûniştime.
Cîgirê Hecî Qasim dikare mîna wî ji Kurdan nêzîk be?
Bi nerîna min heke bixwaze dikare. Hecî Qasim çawa pêşî bû xwedîyê wê? Jixwe pêşî kes nas nedikir. Her kesê bixwaze karê çê bike, dikare.
Nerînek heye ku rola Qasim Suleymanî di nehiştina nîgeranîyên ku carna di navbera PDK û YNKê de çêdibûn hebû, çunkû ji bo Îranê Kurdistaneke aram ji Kurdistaneke nearam giringtir bû, lê nerîneke din jî heye ku dibêje Qasim Suleymanî qet ne bi Kurdistaneke xurt re bû, çunkû tirsa wî ji cihêbûna Kurdan ji Iraqê hebû, tu çawa dibînî?
Du tişt hene. Yekem em bêjin tirsa wî nebû, tirsa wî hebû, çima? Mînaka me ya referandûmê heye. Di referandûmê de jî wî em gelekî agahdar kirin ku em nekin, lê piştî referandûmê jî çêtirîn pêwendî çêkir.
Yanî tirsa Qasim Suleymanî ji cihêbûna Kurdistanê ji Iraqê hebû?
Erê tirsa wî hebû, lê hertim ew rola wî jî hebû ku ew nîgeranîyên çêdibûn, çi ji alîyê YNK û PDKê û partîyên din wek Yekgirtûya Îslamî, Komela Îslamî, Partîya Sosyalîst û Bizava Îslamî. Tew vê dawîyê Goran jî, bi hemûyan re hewldanên wî hebûn. Li ser prensîba ku Kurdistaneke aram bo Îranê dibe cînareke çê.
Yanî ew bi Kurdistaneke xurt re bû?
Du xurt hene, xurtîya ku me dikişîne referandûmê yan xurtîya me dikişîne bo parastina ezmûna me ya vêga. Ez dixwazim bo dîrokê tiştekî bibilînim. Pergala ku vêga li Herêma Kurdistanê heye û jê re tê gortin federalîzm li Tehranê hatîye dariştin. Hecî Qasim ew darişt û bi piştevanîya wî bû. Ez beşdarî civîna pêşî bûm. Mam Celal bi Muhsin Hekîm re bû. Bo Kurdên Sûrîyeyê jî ez nûnerê YNK bûm di civîna ku PKK û PDK jî tê de bûn. Ebdilhekîm Beşar û Salih Muslim jî hatin Tehranê. Çi bernameyek bo Bereya Kurdistanî li Iraqê danîn, heman bername bo Sûrîyê jî danîn, mixabin têkçû.
Çima Îran bernameyan bo Başûr û Rojava datîne, çima bernameyeke wisa ji bo Rojhilatê Kurdistanê nadeyne?
Bersiva vê pirsê vêga li ba me nîne. Lê ez dikarim bêjim ku tecrûbeya Hecî Qasim jî ew îzbat kir, li Îranê îrançîtî heye ango Kurdek an bilûcek an erebek an azerîyek qasî ku îrançîtîyê dike ewqasî li cihêbûnê nahizire, Kurd jî wisa ne. Ez rêza hemû Kurdên Îranê digirim. Lê hizûra wan ne bi wê astê ye, çunkû divê tu xwe ferz bikî, heke te wisa kir dijmin nikare te piştguh bike, wek mînak PYD li Sûrîyeyê bi vê konevanîyê navçeyên Kurdistanê ji terorê parastin, xelk nikare wan piştguh bike. Yên Rojhilat ta niha nikarin hevgirtî bin. Wek mînak Hizba Demokrat li şûna ku wek xwe bimaya, vêga bûye sê hizb!
Tê gotin Mam Celal û Kak Mesûd gelek xetran ji Qasim Suleymanî re gotine na, wî pejirandîye, çima qebûl dikir, çunkû kesên ji Qasim Suleymanî re digotin na, gelek neqlan çarenivîseke xerab li benda wan bû...
Hecî Qasim kesekî biedeb bû. Li gelek civînan rûniştîye, çi tenê çi bi şandên hikûmetê re, guhdar bû, gotin berhev kirine, nerînek dida, te dikarî nerîna wî rasterast werbigirî, çunkû ji hemûyî fêm dikir. Bi kurtî dipeyivî. Di eynî demê de jî wek mînak bo meseleya referandûmê, ez bi xwe guhê min li Hecî Qasim bû got ez gilîyan ji Kak Mesûd nakim bo referandûmê, min jê re got: Neke. Got: Ez ê bikim! Me got tu yê zirar bikî. Got: Bila bikim. Ango ev yek ji (na)yan bû, lê qala hin kesên din kir ku soz dabûn wî tev li referandûmê nebin, lê bûn.
Qala nameyeke Qasim Suleymanî tê kirin ku dema xwe bo Mam Celal û Kak Mesûd şandîye, gotîye heke hûn bixwazin Nûrî Malikî bidin alî, ez ji we qebûl nakim…
Du name bûn. Yek bo Mam Celal û yek jî bo Kak Mesûd. Min herdu name gihandin. Gava min name da Mam Celal, got Nazim tu bi xwe bibe ji Kak Mesûd re jî.
Çi di nameyê de hebû?
Ti gefek têde nebû. Nexşerê têde bû. Gotina wî wisa bû got heke hûn Malikî jî biguherin bi saleke din jî hikûmet bi we nayê pêkanîn. Civîna Muqteda Sedr û kak Nêçîrvan Barzanî ji Tehranê Muqteda Sedr anî Hewlêrê, wê rojê li mekteba konevanî li Hewlêrê Mam Celal û Muqteda û Kak Mesûd li wir rûniştibûn. Biryar hat dan bawerî ji Malikî bê standin. Ji pêşî ta dawî li wir bûm.
Hinek şîrovekar Îsmaîl Qaanî wek metirsî dibînin bo Kurdan, çunkû pêwendîyên wî bi Kurdan re nînin, dibe ku ne wek Qasim Suleymanî jî be ku di gelek rawestgehan de ji Kurdan qebûl kirîye?
Bêguman kak Nêçîrvan çima dikare bibe cîgirê kak Mesûd! Ew camêr jî ku cîgirê Hecî Qasim e helbet divê jê bê rahatin. Arşîva ku Hecî amade dike ji cîgir diçe kanalên din ên Îranê. Name ku ji fermandeyê Qudisê çû bo dûgelê bi îmzeya Qaanî bû. Paşê çima wek metirsî bê zanîn! Ez ê tiştekî tenê bêjim û berpirs im ji vê gotinê. Bi wê ezmûna ku çend sal e li Îranê me. Hemû kesên li derdora Hecî ne, kesên rastgo ne û rêza wan a xas bo Kurdan hebû. Lewma divê ev jî wilo be, çunkû Kurd faktorek in tu nikarî dev ji wan berdî, divê tu bi wan re bî.
Nerînek heye ku tiştê Herêma Kurdistanê li Bexdayê bi dest dixist bi rêya Qasim Suleymanî bû. Gelo bi nemana Qasim Suleymanî, Kurd dikarin fena berê xalan li Bexdayê werbigirin?
Hemû ne bi rêya wî bû, lê bi piştevanîya wî bû, bi piştevanîya welatên din bû, nemaze ev ezmûna Herêma Kurdistanê. Lê tekane tiştê ku dikare destkeftên Kurdan biparêze yekbûna wan bi xwe ye.
Hemû rayedarên artêş û dûgelê, hem rojnameyên Îranê tenê qala moşekbarankirina navenda Eyn Esedê kirin, qala herdu moşekên Hewlêrê nekirin. Tu bi alîyê îranî re axivî ka merema wan ji wan herdu saroxên Hewlêrê çi bû?
Tiştê bi min hat ragihandin û di roja yekem de min peyam jî bo hikûmetê şand, gotin min û min navê berpirs jî anîye da bizanin kê ye. Gotin moşekên çûn Hewlêrê ne moşekên me ne. Artêş dibilîne ne yên me ne. Li ba hikûmeta Herêma Kurdistanê dîyar e kê ew îş kir.
Hin şîrovekar wisa analîz dikin ku ew herdu roket peyamek bûn bo Herêma Kurdistanê ku heke hûn biçin bereya Amerîka hûn ê jî ne parastî bin…
Îranê peyam bo me şand ku Iraq bi herêmê jî yekîneyeke konevanî û cografî û nîzamî ye, cudahîya Hewlêr û Bexda û Eyn Esedê tune. Biryara parlamentoyê hemû Iraqê bi Kurdistanê jî digire. Ez bêgav im fena nûnerê hikûmeta herêmê hisabê bo peyamê bikim. Şarezatîya min li ser şîyana moşekên Îranê nîye. Moşekên hem li Aramco, hem li firokeyên bê firokevan ku anîn xwarê, ta yên ku li Eyn Esedê dane, zelal e nabe moşekek ewqasî dûr ji merema xwe bikeve xwarê. Yan du moşek yek ji wan neteqe, ma ev dibe?! Heke bo teqandinê jî be ew tiştekî dîtir e, çunkû dê û bavê konevanîyê nînin.
Piştî qetilkirina Qasim Suleymanî, medyaya Îranê êrîşeke tund li ser Herêma Kurdistanê kir. Rojnameya Keyhan nûçeyek li ser pêwendîya telefonî navbera Mesrûr Barzanî û Mike Pompeo weşand. Paşê jî hikûmeta Herêma Kurdistanê ev nûçe red kir. Medyaya Îranê çima Herêma Kurdistanê merem digire?
Mixabin ez dibêm rayedarên hikûmeta Herêma Kurdistanê û alîyên konevanî pir dereng dengê xwe bilind kirin. Tiştê ji bo wî li Îranê hat kirin, bo Îmamê Xumeynî jî nehat kirin, çunkû Hecî Qasim bibû sembolek bo wî îranîyê pak ku li derveyî tixûb berevanîya Îranê dikir. Duyem ne kesekî gendel bû, serwet kom nekir. Xaleke din jî ku giring e, Hecî Qasim tev li nav ti kêşeyeke nav Îranê nebû û ne dijî dijberîya îranî bû. Çunkû îşê wî li derveyî tixûb bû.
Nexwe ûştê êrîşa medyaya îranî ew bû ku Herêma Kurdistanê ne hevsoz bû?
Helwesta wê kêm bû. Herêma Kurdistanê xedr li Qasim Suleymanî kir. Îcar tu dixwazî Kak Mesûd, kak Mesrûr û kak Qubad li vir guh lê bin çima? Wek nimûne di nameya yek ji karbidestan de dibêje Hecî Qasim di qezayekê de bûye qurbanî. Ê heke Hecî Qasim bi rêya sefer û geranê jî tirombêla wî welgerîyaba! Nabe wisa bê nivîsîn. Mixabin, Kak Mesûd û kak Mesrûr ta niha ne gotin û ne peyama wan tune, min nebihîstîye jî peyam şandibin. Îşella gotina min çewt be.
Qasim Suleymanî wek endezyarê rêkeftina navbera Hizba Demokrat û Komeleyan tê hejmartin ku ew arîşeyan bo Îranê çênekin û karê Îranê jî bi wan nebe li Herêma Kurdistanê, tew te bi xwe di hevpeyvîna (Hemşehrî Ciwan) de, amaje dabû wê yekê ku Suleymanî bû ûştê serketina wê rêkeftinê. Bi nemana Qasim Suleymanî çarenivîsa wê rêkeftinê çawa dibe?
Ji destpêka dirustbûna pêwendîya YNK û Îranê di sala 1985an de, ez beşdarî piranîya rûniştinên Îran û YNKê bûm. YNK bi Îranê re li hev kir ku hêzên Kurdî li devera me ne, hikûmeta Iraqê ew anîn, çimkî dijminê Kurd ew anîn, nabe em wan derxin, lewma em wan wek mêvan werdigirin. Lê divê rêkeftinek bê kirin ne hûn li devera me êrîşî wan bikin ne jî ew li devera me êrîşî we bikin. Ev rêkeftin hate kirin. Ên ku serkêşî kirin Mucahidînê Xelq bûn ku li gundên Sefre û Zerûnê bûn. Ez çûm ba wan û bi wan re axivîm. Pir bêminet axivîn. Min hişyarî da wan û got divê hûn di nava 24 saetan de terka vir bikin. Gava çûn hemû baregehên xwe teqandin, tew çend beyanname li Parîsê li dijî min derxistin. Dema ez çûm Parîsê û min doza mafê penaberîyê kir, min di hefteyekê de wergirt, çunkû pêwîstîya min bi îzbatê nebû. Ji min re bû xêr. Piştre çend caran şer di navbera alîyên sîyasî de derket. Axirîn tişt li navçeya Casûsan bû. Li wir jî ew rûmeta min hebû wek navbênkarekî, rêkeftin hat kirin. Ew rêkeftin jî bi piştevanîya Hecî Qasim bû.
Piştî nemana Qasim Suleymanî rêkeftina Îran û partîyên rojhilêt berdewam dibe?
Îran dezgeh e. Anku Hecî Qasim ne takeke bê vê ji bona welatê xwe bike. Lê wek amûrekê di warê cîbicîkirinê de ye. Gelek neqlan ji rayedarên bilind guhê min lê bû ku dibilîne konevanîya me bo derveyî Îranê, em bernameya wê datînin; lê Hecî Qasim cîbicîkar e. Ew bi xwe jî li cihê ku biryar lê dihatin dariştin endam bû.
Rûdaw
Ev nûçe 250 caran hatiye xwendin