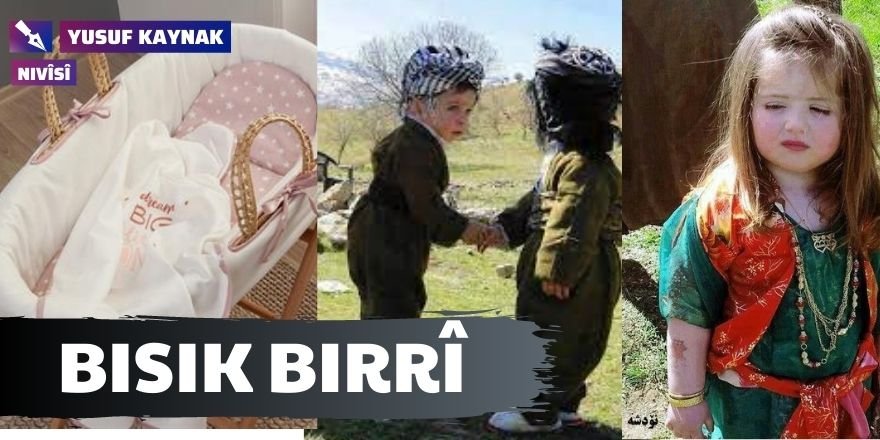 Yusuf Kaynak: Bisik Birrî    
.
Yusuf Kaynak
Bisik Birrî ango Beşik Kertme ku di nav kurdên Anatoliya Navîn de kevneşopiyeke kevn e çi ye?
Em dikarin bêjin di nav Kurdên Anatoliya Navîn de kevneşopiyeke bi giştî zûde ye tê nas kirin. Di demên kevn de kevneşopiyeke gelêrî ya pir populer bûye. Em dikarin bibêjin jî ku di van salên dawî de bi bajarîbûnî û pîşesazkirina civakê re ev populerîteya di nav gel de hêdî giran giran tê ji bîrkirin. Digel ku em tam nizanin ka li erdnîgariyên din yên Kurdan de kevneşopiyeke weha heye yan na, ev jî ne mimkûn e ku nebe, ji bo ku em nikarin behsa kevneşopiyeke Kurdên Anatoliya Navîn bi serê xwe pêşxistin bikin!. Niştecihbûna Kurdên Anatoliya Navîn xwedî dîrokeke du sed salî ye, divê ev kevneşopiyeke ne nû be ku çend eşîrên Kurd yên ku hatine û li vir bi cih bûne wan afirandibe!. Ger li koka vê nifûsa Kurdên Anadoliyê baş lêkolînek were kirin, em ê hîn bibin ku kevneşopiya 'Bisik Birrî/n' ji ku an herême derketiye. Her çiqas ev mijar mijareke sosyolojîk û folklorî be jî, em dikarin li gorî lêkolîn û agahî û belgeyên cihê jêderê hîn bibin. Tê were fêm kirin ku ew kevneşopî çawa çêbûye.
Çawa 'Bisik Birrî' weke 'Beşik Kertmesî' wergerandibûne Tirkî. Di nav Tirkan de adeteke nenas e!. Ji ber ku hem welatiyên Tirk û hem jî gundiyên wan haya wan ji kevneşopiyeke bi vî rengî tune bû, weke kevneşopiyeke xerîb dibînin. Tenê bi belavbûna çanda gelêrî di nav Tirkan de deng veda, rêze fîlm hatin çêkirin, tê de qirf û heneke xwe pê dikirin. Belê ev senaryoyê nû ne bi zorê anîne hole; bi rengekî ku bi pejirandina kevneşopiya 'Bisik Birrî' ya ku Kurd dizanin bi wê bawer in, bi guhertina navê nû û bi hîlekarî bikine malê xwe (malê Tirka) ve kevneşopîya Kurdên Anatoliyê bi navê 'Beşik Kertme' ku ev nav bixwe jî Kurdîye, pirsgirêka asîmîle kirinê ye. Di nav Tirkên Anatoliya Navîn de kevneşopiyeke wiha tune ye, 'Beşik Kertme' ji gelê Tirk re xerîb e. Piranîya wan belkî cara yekeme dibîzine qirf û tinaza pê dikin. Meriv çawa di temenekî piçûk de dizewice?. Tirk Beşik Kertme wekî zewacê dibînin. Kevneşopiyeke em ê ji bo raya gîştî vegerînin 'Bisik Birrî' yanî 'Birrîna Têlê Biskê', ew celebeke soz e, jê re peyman jî ne hewcê. Em ê di demeke pêş de li ser mijarê bi firehî bisekinin.

Bisik Birrî di nav Kurdan de
Bisik Birrî soza dayina du malbatê cuda ji bo xurtkirin û girêdana hevaltî, xizimtiyê û evînê zarokên xwe di demeke paştir de bizewicînin. Ev soza sitandinê, fermî bûna soza ku keçika biçûk ji bo sond xwarinê bi 'birrîna têla zulfûnê' ji hev re dane. Ew e ne tiştekî din e. Li vir kevneşopiyeke kevn e ku xort û keç di vê karê peyvê de bêkêr in, dema mezin dibin haya wan jê çêdibe!. Ew soz e û ne kiryar e, wekî bi darê zorê bi hevre bizewicine, ne jî nîşane, bi kêrî kesekî din nayê. Dema mezin dibin, ji hev hezbikin, dikarin bi hevre bizewicin, ev kevneşopiya Bisik Birrî bi rizamendiya dê û bavan cihê xwe dibîne. Bisik Birrî dikare di navbera xizman de û her weha di navbera kesên ne xizm de çêdibe.

Di nav gelê Tirk de kevneşopiya Beşîk Kertme tunebû, tenê di ferhenga de heye, ev kevneşopîya ku folklornas/folklorîstên Tirkên di nav Kurdan de geriyane, paşerojê xwestine hîn bibin û bipêjirînin. Mixabin 'Beşîk Kertme' bi xwe jî peyveke Kurdî ye. Beşik bi Kurdî beşik e heman tişt e, Kertme jî bi Kurdî ye tê wate ya nik, kertme, nîşan kirin; kert kirin/ kertik/ kertim/ kertme peyvên Kurdî ne'... 'Beşîk Kertme' kevneşopiyeke Kurdan e ku ew tenê jê re dibêjin 'Bisik Birrîn'e, Tirkan bi bikaranîn peyvên Kurdî peyvik pêde kirine, ku heman kevneşopiyê bikarbînin. Yê ku ferhengên Kurdî amade kirine, peyva 'Beşîk Kertme' tevî ku Kurdî be jî di ferhengên xwe de cîh nedane vê peyvê. Ne behsa kevneşopiya ''Bisik Birrî/n'' kirine û ne jî di ferhengên xwe Kurdî û Kurdî yên xwerû de cîh dayine.
Weke ku hûn jî dibînin, di ferhengên Tirkî de îdîa dikin ku ew cure peymana zewaca zarokan e, ku ji demên kevnare heta îro maye, bi parastina kevneşopiya me ya Beşik Kertme. Baş e, eger ev cure zewacê be, wê demê dikarin malbateke Tirk ya mînaka ku li gorî vê peymanê zewicîye nîşan bidin?. Di nav Tirkan de kevneşopiyeke weha tuneye. Kevneşopiya 'Bisik Birrî' ya Kurdan ne, tenê ji bo danîna xizmtiyê ye, ji bo ku di temenê wê yê biçûk de xweşik dibînin an jî ji bo ku du malbatên ku pir ji hev hez dikin û rêz û hurmetê didin hev, ev rê pejirandine ku dayinstandine di nav hevde xurt dikin.
Di ferhengên Tirkî de ji kevneşopiye re behsa herêmî tê kirin; wexta behsa Beşîk Kertmê dikin, belê nabêjin ji kû re ye, navê herêmê li ku dikin, wiha pênase dikin: Peyvên weke kertmê beşikê, birîna beşikê, wekî kertika beşikê jê wergirtine. Peyvên ku ew çêdikin her tim ji Kurdî bi jêderkan çêdikin.
Piştî ku Tirkan di temenekî ew çend ciwan de soz dane, eger neçe seri îtîbara malbata dişke, di nav gel de îtîbar kêm dibe û texmînkirin ku bi namûsa malbata ku dê bibe xizmê wan ê din lîstin. Loma jî dibêjin ku ev kevneşopiyeke pir xerab e. Me berê jî gotibû, mixabin Tirk xerîbê vê kevneşopiyê ne.
Kesî nizanîbû ku cureyekî çande û kevneşopiya Tirkî heye, Beşik Kertme, dema ev peyv kete nav Tirkî, hewceye ku meriv lê bibîne, ji bo ku di ferhengên berê yên Tirkî de Beşik Kertme tuneye!. Haya Tirkan ji vê kevneşopîyê tunebû heya ku Prof. Dr. Pertev Naîlî Boratov di pirtûka xwe ya bi navê 'Folklora Tirkî' de behsa vê kevneşopîyê nekiribû, lê kesî nizanibû, ev kevneşopîyeke Tirkan e, wan nedizanî ku ew adeteke wan e, belam li wê xwedî derdikevin. Pertev Naili Boratov nivîsiye ku mijara 'Beşik Kertme' di 'Pirtûka Dede Korkut' de derbas dibe. Me navê 'Dede Korkut' weke navê destaneke bihîstiye, lê me ne dîtiye û ne jî xwendiye, bi rastî em nizanin ku ka ew tore ya di di nav Tirkan de jiyaye, lazim e em bixwînin, lê em tênegihîştin. Tenê me pdf.' ya pirtûka P. N. Boratov ya bi navî 'Folklora Tirkî di 100 Pirsî de'' daxist û xwend. Di vê pirtûkê de wiha tê gotin: 'Li hin deverên Anatoliyê (li ku derê!, li hin malbatan!) dema ku zarokên wan hîn di beşikê de bûn, biryarê didin ku mezin bûn yên bi hevre bizewicin. Bê guman ew kevneşopî îro berdewam nake', ew dibêje (1).
Lêkolînerê bi navê M. Zeki jî bêyî ku di lêkolîneke xwe de bo kovareke ya li ser vê mijarê de cih bigire de, behsa vê kevneşopiyê kiriye û kevneşopiya bi navê (Beşik Kirdî) weha tê vegotin; Bavê ku xebera bûyîna keçekê di malbateke ku dixwaze pê re xizmtiyê çêbike distîne, ku beşikeke jê re çêdike û dişîne mala keçikê; Ji ber vê yekê hîna keçik di beşikê de ye peyv tê birrîn; mala lawik ji dê û bavê keçikê re û ji keçikê bi xwe re jî di remazanên pîroz û cejnê de diyariyan jî ji wan re dişîne (2).

Prof. Dr. Pertev Naîlî Boratov gotiye ku ev kevneşopî ye, ku bi navê Beşîk Kertme, pirtir e û ew kevneşopîyeke Tirkan a pirr kevn e û dema ku di Kitêba Dede Korkut de tê gotin, tête fam kirin (3).

Berê gihandina orîjînala vê pirtûkê zehmet bû, îmkan kêm bûn, lê niha gihandina wê ne ew qas zehmet e. 'Pirtûka Dede Korkut' ne pirtûkeke pir kevn e, ew ê di sedsala nozdehan de ji aliyê H. O. Fleisch'ê Almanekî de hatiye dîtin û ji hêla H.F. Von Diez'e Alman ve bi wergereke Almanî navê pirtûkê belav bû û hate naskirin û ew niha di pirtûkxaneya qraliyetê ya Dresdenê de tê parastin, jê re nusxeya Dresden'ê tê gotin. Kopiyek din ya vê pirtûkê li Vatîkan'ê. Bê guman ew jî di Pirtûkxaneya Vatîkanê de ye. Di van demên dawî de behsa nimûnekê sêyem jî tê kirine û dibêjin li Qazaxistanê ye!. Dibe ku rojekê Kurdek jî vê pirtûkê bixwîne û binirxîne. Ger lêger bixwazin nuha nusheke vê li pirtûkxaneya qraliyete ya Berlînê ye. Ji bo ku nivîskar nenas e, destnivîsên bi tîpê Erebî bi şîwê ya zimanê Azerî, ji duwanzdeh destanê epîk hatiye avakirin û berhemê di kevnarên beşa Turkolojiyê de ye.
Hin dîroknas di çavkaniyên Tirkî de diyar dikin ku ev kevneşopî di nav Oğûzan/di Oğuzname de jî derbas bûye. Li gora Ogûzan ew zarokên xwe yên pir biçûk (piçûktî) di beşikên xwe de wekî nîşana wefadariyê nik dikin. Çavkaniyên Çînî di derbarê Wuhuansên ji Asyaya Navîn de van agahdariyan didin: ''Di kevneşopiya wan de, çîtêkî xêzkirî ji bo nîşandana dilsoziyê têne bikar anîn. Bêyî nivîsên wî kes newêre li dijî peymana wî tevbigere. Di çavkaniyên Çînî de Wuhuans kî ne, çavkanî li ku ne?'' (4).
Têbînî: nêrîna min a şexsî prof. dr. Pertev Naili Boratov, îlhama perwerdehiya Enstîtuyên Gundan ên salên pêşîn ên komarê hatiye avakirin girtiye, li gunda digere çanda gelêrî dibîne. Di nav Kurdên Anatoliya Navîn de jî digere, li adet û torên wan guhdarî dike û paşê di pirtûka jê re dibêje 'Folklora Tirkî' diweşîne; Prof. Dr. Pertev Naili Boratov dema li Konyayê mamostetî dike derbarê 'Bisik Birrî' yanî bûyera Beşîk Kertme hîn dibe di pirtûka xwe bi navê 'Folklora Tirkî di 100 Pirsan de' de çap dike.
Prof. dr. Pertev Naili Borotav kî ye?:
Di 1907an de li Bulgaristanê ji dayik bûye. Di 1930î de ji Zanîngeha Stenbolê, Fakulteya Edebiyatê beşa Ziman û Edebiyata Tirkî qedandiye. Di salên 1931-1935an de jî li Konyayê mamostetiya edebiyatê kiriye. Salekê li Almanyayê maye, di salên 1938-1948an de di A.Ü DTCF di Beşa Wêjeya Gel û Folklorê de wekî doçent û profesor xebitî; Di 1952'an de çû Fransayê piştî ku di sala 1948'an de ji kar hat dûrxistin û kursiya wî ya dersdayînê hat rakirin. Xwendina xwe li Zanîngehê û lijneyên Zanistî li wir berdewam kir. Ew wekî pispor û pisporê lêkolînê yê rûmetê li Navenda Neteweyî ya Recherche Scientifique (Navenda Neteweyî ya Lêkolînên Zanistî) xebitî. Heta sala 1976an li École Pratique des Hautes Études semînerên Folklora Tirkî da. Li École des Hautes Études en Sciences Sociales semînerên li ser belgeyên arşîvên Osmanî birêve bir. Di warê Edebiyata Gelêrî û Folklora Tirkî de wekî yek ji zanyarên pêşeng ên cîhanê hate naskirin. Boratov di 16ê Adara 1998an de li Parîsê mir.

Lahey, 10-12-2021
Yusuf Kaynak

(1) Pertev Naili Boratov, Folklora Tirk di 100 Pirs de, Stenbol 1984, çapa 2., r. 173-7
(2) M. Zekî di nûçeyên zanîna gel de, Îst. 1933, Kovara hejmar 26
(3) Pertev Naili Boratov, Folklora Tirk di 100 Pirs de, Stenbol 1984, çapa 2., r. 173-74
(4) Prof. dr. Metin Ekici, Destana Dede Korkut-Kuştina Ejderhayê 7 Serî a Salur Kazan, nusxeya 13an ya Turkistan, Folklora Neteweyî 122, Îst., 2019 r. 5-13; Prof. dr. Necati Demir, Destana Dede Korkut, Îst., 2019-2020