Stockholm/Roza Kurd
Tu bi xêr hatîyî Stockholmê, Tu dikarî xwe bi xwendevanên Rûpela Nû bidî nasîn?
Ez ji bajarê Hezoyê ya Batmanê me. Di 1989an de min beşa Ziman û Edebiyata Fransî li Diyarbekirê xwend, dûre ji bo master û doktorayê ez hatim Fransayê. Min doktoraya xwe di 1995an de parast. Mijara wê jî, "Binavkirina kurd, Kurdistan û zimanê kurdî di nav gotara siyasî û zanistiya tirkan de". Di 1998an de ez bûme doçend li Unîversîteya Rouenê. Min di sala 2013an de habîlîtasyona profesortiyê parast. Ji wê pêde jî ez serokê beşa zimannasiyê me û wek mamoste kar dikim û piranî jî li ser zimanê kurdî lêkolînên xwe dikim. Li Unîversîteya me gelek xwendevanên kurd ên ji bakur, başûr û rojavayê Kurdistanê hene.
Tu ji bo çi li Stockholmê yî? tu dikarî ji me re behs bikî?
Ez mêvanê Enstîtuya Fransayê li Stockholmê me, Bernameyeke wan li ser pêşdebirina danûstandinên akademik di navbera Fransa û Swêdê de heye. Hersal çend akademîsyenên fransî dawetî Swêdê dikin da ku em karibin li ser projeyên lêkolînên hevbeş em bi hev re bixebitin. Îsal wan ez dawet kirime ji bo ku em hem lêkolinerê swêdî û hem jî yên kurd ku li Swêdê di unîversîteyan de dixebitin nas bikin û em karibin li ser ziman, nasname û diyaspora ya kurd li herdu welatan lêkolina bi hev re bimeşînin.
Tu pêşeroja zimanê kurdî çawa dibînî?
Faktor hene ku mirov dikare hem bi alîyên baş hem jî yên ne baş bibîne. Alîyên baş, di van 25 salên dawîn de gelek tiştên baş qewimîne, piranî jî zaravayê kurmancî gihaştiye xwedî standardek nivîskî, gelek berhemên nivîskî di vî zaravayî de tên dayîn, wek pirtûkên rêziman, zimannasî, metod, pratîka tecrûbeyên perwerdeyê jî gelek pêşde çûn. Ji 2002an û vir de êdî perwerdeya zimanê kurdî di çarçoweyên komeleyan de dest pê kir. Perwerdeya zimanê kurdî di dibistanên tirkî de, li unîversiteyan bi ceribandinên pîlot dest pê kir. Ziman hêdî hêdî dikeve nav jiyanê. Ji alîyên dezgehî ve, bi riya medya, radyo, Tv, rojname û Înternetê bikaranîna ziman pêşde diçe. Ev bandoreke xurt li nasnameyê û li kurdayetiyê dike, ev gelek posîtîv in.
Li layê din mirov dibîne ku ji tunebûna perwerdeyê û piranî siyaseta Kurdistana bakur ku di xebata xwe ya siyasî de zimanê tirkî bikar tînin, ev jî bandoreke negatîf li ser bikaranîna ziman dike. Li gor lêkolînên me kirine, nifşên nû yên 20-25 salî çiqas kurdî zanibin jî, pir kêm kurdî bikartînin. Ew nifş dema bizewicin û wê di mala xwe de bi zarokên xwe re bi zimanê tirkî xeber bidin.
Dema mirov li kolanan li bajarên Kurdistanê berê xwe dide zarokan, ew piranî bi zimanê tirkî xeber didin, ev xetereke pir mezin e li ser zimanê kurdî, ji ber ku heger zimanek di nav nifşan de derbas nebe, veguhestinek navnifşî çênebe, ew ziman dê rojekê ji holê rabe, ji ber ku ew têkîliyên di nav nifşan de qut dibe, ziman jî nagihêje nifşê nû, loma jî ev xeter heye.
Divê kurd berî hertiştî li zimanê xwe xwedî derkevin, li her qada jiyanê zimanê kurdî di çalakiyên çandî, siyasî, jiyana rojane, malbatî, divê zimanê kurdî bikar bînin.
Pêşnîyarên te ji bo sîyasetmedaran û sîyaseta kurdî çi ye?
Berî her tiştî, şîreta min ji bo sîyasetmedaran ew e ku sîyaseta xwe bi zimanê kurdî bikin û bimeşînin.
Di rewşa îro de, gelek girîng e, berî ku em zimanekî yekbûyî û standard bifikirin, divê di sîyasetê de zimanê kurdî bi kar bînin. Divê zimanê kurdî di sîyasetê de baş bicîh bibe, xelk karibin bi kurdî jî ji sîyasetê fambikin û bi kurdî jî sîyasetê bikin. Ev pir giring e!
Îro encama sîyaseta asîmîlasyona sedsalan bi xelkê daye bawerkirin ku kurdî zimanekî kêm e, ne ziman e, zimanekî têr a sîyasetê nake. Loma, dema sîyaset bi kurdî têkirin xelk wekî ku bawerîya xwa pê nayne. Kurd divê li ser vê pir bi israr bin. Li bakur hê jî çend partiyên sîyasî yên kurd hene ku van salên dawîyê dixwazin bi kurdî sîyaset bikin lê mirov dibîne kû sentaksa zimanên wan sentaksa zimanê tirkî ye Ew kesên kû bi tirkî nizanibin ji wê kurdîyê fam nakin. Ji ber kû zimanê tirkî ji xwe re wekî bingeh dibînin û piranî jî xeberdanên xwe ji tirkî werdigerînin kurdî nekû rasterast bi kurdî bifikirin û bi kurdî sîyasetê bikin. Ev ji ziman re xetereke pir mezin e.
Pêşniyarek ew e ku sîyaseta xwe herdem bi kurdî bikin. Ya din giringîya ziman ji bo netewe û pêşeroja kurdan, ango ziman û netewe, ziman û nasname.
Gelek balkêş e ku hemû welatên dagirker dema ku kontrola sîyasî di Kurdîstanê de bi dest xistin berî her tiştî berê xwe dane ziman û qedexe kirin. Nimûne, li Tirkîyê di 1924an de qerarnameyek derxistin ku bikaranîna ziman, peyvên kurd û Kurdîstanê di axavtinan de qedexe kirin. Ev divê ji bo kurdan bibe dersek, em ji vê encaman derxin, çima dijminê me berî her tiştî berê xwe didin zimanê me!
Ew di wê baweriyê de ne ku dema ziman ji holê rakin, ew ê nasnameya kurdî, dîroka kurdî, çanda kurdî jî ji holê rabe. Loma jî ziman çand û dîrokê vediguhezîne. Gelek tişt hene mirov dikane bi zimanê kurdî îfade bike û di zimanên din de beramberîya wan tuneye. Ziman ne tenê amûrek ragîhandinê ye. Wekî fîlozofê almanî Humboldt dibêje "Ziman neynika neteweyekî ye, ziman dîrok e, bîra gelan e".
Gelek kurdên me di wê bawerîyê de ne ku ziman amûrekî ragihandin û komunikasyonê ye. Raste, yek ji wan fonksîyonên erkên ziman ew e, ragihandin e, lê gelek fonksîyonên ziman yên din jî hene, wekî dabeşkirina jîyanê, veguhestina nasnameyê, bîr û bawerîyê, hişmendîyê. Ew fonksîyonên ziman ji yên ragihandinê pir girîngtir in.
Sîyasetmedarên kurdistanî, divê girîngîya ziman di sîyaseta xwe de bikin yek ji armancên sîyaseta xwe û li ser bisekinin. Wekî din jî mirov dikare ji wan hêvî bike ku civata kurd di qonaxeke gelek hesas re derbas dibe, divê tu caran devokek yan jî zaravayek ji yên din kêm an jî zêdetir nebînin. Hemû zarava, hemû devok dewlemendîyên gelê me ne, ev di nav salan de hatine afrandin. Wek nimûne tenê ji bo şevşevokê di kurmancîyê de nêzî 40 deng hene, ji bo bêjeya xwişk nêzî 10 peyv hene. Di çand û civata kurdî de gelek peyvên cuda û gelek sînonîmên ji hev cuda hene, ev dewlemendîya zimanê kurdî ye ku em divê li wan xwedî derkevin.
Divê sîyasetmedar tu carî nebêjin ew zarava kêm e an jî zêde ye, ew devoka baş e an ne baş e. Ev pêvajoyeke dûr û dirêj e, em dikarin bigihîjin xwedî standardeke nêzîkî hevûdu an jî yekbin. Lê rola me di îro de, ji berkû ziman di xeterê de ye ew luksa me nîne ku em berê xwe bidin devok an jî zaravayên kurdî.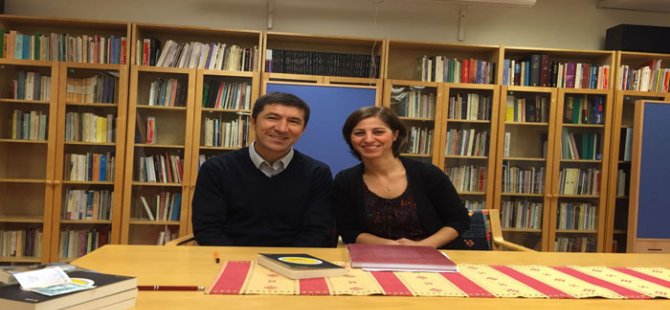 Prof. Salih Akin - Roza Kurd
Standardbûna ziman, hevcedariya ku kurd bibin xudan zimanekî standard û netewe di rewşa îro da heye?
Ji ber kû kurd nebûn xwedî dewlet. zimanê wan li ser bingeheke pirzaravayî pêşve çû. Îro em dikanin bibêjin 3-4 zaravayên kurdî yên sereke hene, kurmancî, soranî, zazakî û goranî. Pirzaravayî piranî sedemê wê ew e ku kurd nebûne dewlet. Wekî din jî cografya Kurdistanê, çîya û belavbûna kurdan, danûstandinên wan kêm bûye neçûne ba hevdû, ji ber wê zarava û devok bi pêş ketine. Tûnebûna dewletê jî rê nedaye ku hemû devok standard bibin. Dema mirov li tecrubeyên welatên din jî dinêre wekî Fransa ku berê xwedîyê 26 zimanan bûn, zimanên ku berê ji alîyên Bretonî, Korsîkayî, Baskî û Oksîtanîyan dihatin bikaranîn.
Dema mîrov bala xwa dide Fransayê li gor lêkolînan di 1845an de, tenê ji sedî 40-45ê fransizan fransîya îro dipeyivîn yên din bi baskî, bretonî û zimanên din dipeyivîn. Lê çi bû, piştî şoreşa Fransayê, "sentralîzasyon" çêbû, ango hemû zimanên hindikayîyan bê perwerde man, sîyaseta dewletê ew bû ku yek netewe, yek ziman û yek dewlet biafirîne û li gora wê jî ew sîyaseta ku bi "jakobenîzm"ê bi nav dikin bûye serdest.
Îcar kurd nebûne xudan derfeteke weha, lê rewş jî guherîye, îro ew her sê-çar zarava ji aliyên cuda de pêşve çûn. Zaravayên pêşve çûne û xudan standard in, soranî û kurmancî ye her weha li ser zazakî jî gelek xebat tên kirin. Em dikarin xebata hevalên"Vate" bînin ziman.
Em werin ser pirsa standardbûyîna zimanê kurdî, hewcedariya xudan zimanekî standard û neteweyî.
Ez wekî zimannas ne di wê bawerîyê de me. Ji ber ku îro dinya guherîye, piranîya sîyasetên kurd modêlên dewletin cînar dikin nimûne. Çawa li Tirkîyê yek milet, yek ziman û yek dewlet, li Iraq, Îran û Sûrîyê jî disa wisa bû. Dibêjin bila li Kurdîstanê jî wisa be. Lê civata kurdî wekî gelek civatên din, civateke pir reng e û pir zimanî ye, pir zaravayî ye.
Îro tu derfetê kurdan tuneye, ji ber ku em ne dewlet in ku karibin zimanekî standard biafirînin. Lê em dikanin vê bikin nimûne, hemû materyalên ji bo perwerdebûnê yên heyî zaravayên heyî em pêşda bibin. Rojek kû li bajarên herêmên Kurdîstanê derfet çêbûn kû perwerde bi zimanê kurdî pêk were, em dikanin sîstemeke perwerdeyî pir zaravayî derxin holê. Herêmên ku kurmanc lê piranî ne, kurmancî zaravayê sereke be, piştra mirov dikare soranî û zazakî jî perwerde bike. Herêmên zazakî piranî ne, bila ew bibe zaravayê sereke û kurmacî û soranî jî bê perwerdekirin, heremên soranî jî her weha…
Bi vî avayî ji bo xwandevanan jî pir dewlemend dibe. Ew dê bi sîstemeke pir perwerdeyî mezin bibin. Di vî warî de gelek lêkolîn hene nîşan didin ku zarokên di pir zimanî de mezin dibin gelek pêşde diçin. Ji ber ku di fêrbûna zimanan de ji bo operasyonên matematîkê, tiştên abstrak, ji bo toleransê û ji bo gelek tiştan ji zarokên yek zimanî pêşdatirin. Di civata kurdan de ev deskeftin heye, cihê ku em li ser sîstemeke yek zimanî bisekinin, bawerîya min ew e ku em sîstemeke pir zaravayî ji bo perwerdebûnê derxin holê. Ew modelên ku yek zimanî de israrkirin, wekî Almanya, Fransa û Swêd jî hêdî hêdî vedigerin ser sîstema pir zimanî.
Li ser alfabeya kurdî, latînî erebî, kirîlî, tesîra wê li ser zimanê kurdî û yekbûna alfabeyê çi ye.
-Alfabe yek ji amûrên kodkirin ango dengê zimanan e, îro zimanê kurdî bi sê alfabeyan tê kodkirin. Latînî, erebî û kirîlî, li gor lêkolînan guncav ji bo alfabeya kurdî, latînî ye. Lê rastiyek heye, heger kurd desthilatdar bûna dikarîbûn alfabeyek ji xwe re hilbijartana. Lê çi kirin, li gor welatên ku lê dijiyan alfabeya wan bi kar anîn. Armanca wan fonksiyonel bû, ji ber ku çawa be gel ê me bi alfabeya van dewletan perwerde dibin, loma jî alfabeya em biafirînin bila nêzî ya dewletê be ku xelk karibin zûtir kurdî binivsînin û bixwînin. Di 1930an de armanca Bedirxaniyan jî ev bû dema alfabeya kurdî afirandin. Lê li aliyên din alfabeya erebî û farisî dihat bikaranîn. Ev alfabe îro bûye perçeyek ji nasnameya kurdên başûr û rojhilat.
Du sînor di nav kurdan de heye yek alfabe yek jî zaravayên cuda. Dema kurdên zaravayên cuda qise dikin bi devkî ji hev fam bikin jî bi nivîskî ji hev fam nakin ev sînorek e. Mirov çawa dikare têghîhiştina di nav kurdan de tenê bi sîstema perwerdeyê pêş de bibe. Divê kurdên başûr di heman demê de alfabeya latînî/kurdî jî hîn bibin û heger derfeta kurdên bakur jî hebe ew jî ya erebî hîn bibin. Çawa mirov dikare sistemeke pirzaravayî ava bike herweha mirov dikare herdû Alfabeyan jî bikar bîne. Ji ber ku mirov nikare, ne ji kurdên başûr re bêje dev ji alfabeya xwe berdin û ne ji kurdên bakur re. Herdu alî jî îro bûne perçeyek.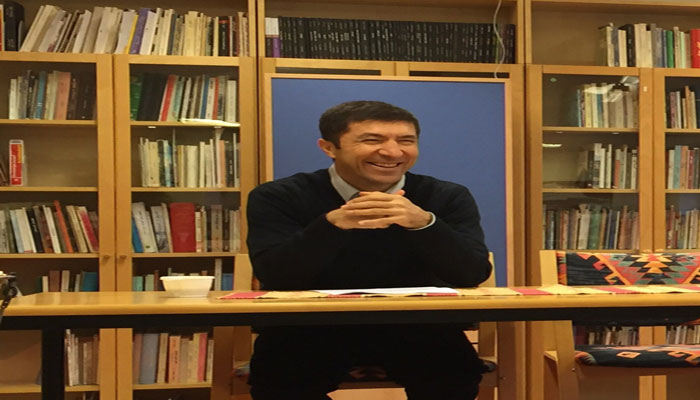 Dibêjin tiştekî kurdan bi nivîskî tune, ez dibêjim berovajî wê, yek ji xelkê qedîm yên mezopotamya û anadolê kurd in. Nerîna te li ser vê çi ye?
Ji ber rewşa siyasî ya Kurdistan ku di dîrokê de herdem hatiye talankirin, gelek berhem hatine şewitandin, wêrankirin û ji holê rabûne. Lê gelek berhemên kevn jî hîn hene. Ji sedsala 15an virde gelek berhem hene wek nimûne yên Melayê Cizîrî, Elî Herîrî, Ahmedê Xanî, ev berhem gelekî kevn in, ew nîşan didin ku edebiyateke kurdan ya nivîskî herdem hebûye. Lê mixabin ew çavkanî û yên edebiyata pir kevn di destê me de zêde tune.
Tu dikarî hinekî behsa zimanê kurdî di "Dar a ziman" de bikî ?
Zimanê kurdî hind û ewropî ye, yek ji grîngtirîn ji malbatê zimanên di cîhanê de ye. Ev ziman li 5 aliyên cîhanê tên axaftin. Zimanê kurdî di bin grûba zimanê hind û îranî de cîh digre. Ji ber ku kurdî di vê grûbê de ye, gelek aliyên nêzî zimanê ûrdû, hîndî, farisî, belûcî, peştû ye. Dibêjin berê zimanekî muşterek hebûye di eslê zimanê hind û ewropî de. Du hîpotez hene, yek dibêjin Kûregan ku navçeyek nêzî Ukrayna heye, li wîr 8000 sal berê eşîrek hebûye û bi wî zimanê axaftine, dûre ev eşîr hêdî hêdî ji hev belav bûne û zimanê xwe jî wisa li hemû cîhanê belav kirine. Agahdariya li ser vê eşîrê jî di salên 1853 de derkeketiye holê, dema bazirganên Fransî çûne Hindistanê dîtine ku gelek gotin nêzî hevdû ne. Meraq kirine ku ev herdû zimanên ji hev gelek cuda çawa dikarin nêzî hev bin. Dibînin ku di dîrokê de koka wan ya dara ziman dighêje hevdû. Divê vê jî bêjim ku ev zimanê jê re dibêjin proto hindo-ewropi ji vê re tu binhgehên nivîskî tune…
Li ser sîstema perwerdekirinê bi kurdî.
Pir girîng e ku li Kurdistanê divê perwerde bi zimanê kurdî be, siyasetmedar divê zimanê kurdî têxin ajandaya xwe û siyaseta xwe bi kurdî bikin. Ziman ku neyê perwerdekirin ew ziman mirov çi jî bike ji holê radibe. Her çiqas malbat ji dilsoziya xwe li ser ziman bisekinin jî, li bakurê Kurdistanê tirkî ketiye hemû malan, bajaran gundan. Dema berê elektrik, Tv, rê li gundan tunebûn, zimanê kurdî heta 1990-95 li wan gundan gelek hat parastin. Lê îro em dibînin ku zimanê tirkî ketiye gund û deverên herî asê.
Li cîhanê gelek modelên pirzimanî û pir zaravayî hene, yek ji wan Swîsre ye. Di heman demê de 4 ziman tê perwedekirin. Li Belçika 2 ziman tê perwedekrin, li Canada îngilîzî û fransî tê perwerdekirin. Li welatên Afrika nimûneyên wan ji yên ewropî hîn balkêştir in. Nimûne li welatekî Afrîka 4-5 zimanên fermî hene lê 40 zimanên neteweyê hene.
Tu dikarî behsa xabata xwe ya li Swêdê bikî ? Te çi encam girt
Min gelek lêkolînerê kurd û swêdî dîtin. Em dixwazin li ser çend babetan lêkolînên hevbeş birêve bibin. Em difikirin li ser rola diaspora di derbarê nûkirina ziman, rola malbatan di veguhestina ziman de, li Fransa û li Swêdê. Em dixwazin rewşa zarokên ku bi zimanê dayikê perwerdeya kurdî li Swêdê dibînin û rewşa zarokên kurd li Fransa dijîn û li wir perwerdeya zimanê zikmakî tune ye, em rewşa wan bidin berhev, gelo çi astengiyên wan hene çi avantaj hene dema perwerdeyê bi zimanê dayikê dibînin û nabînin, çawa mirov dikare alîkariya wan bike. Em dixwazin li ser vê projeyeke lêkolînê çêbikin. Rola diasporaya herdû welatan pêşdebirina nasname, hişmendiya neteweyî, entegrasyon. em dixwazin lêkolîneke hevbeş bimeşînin.