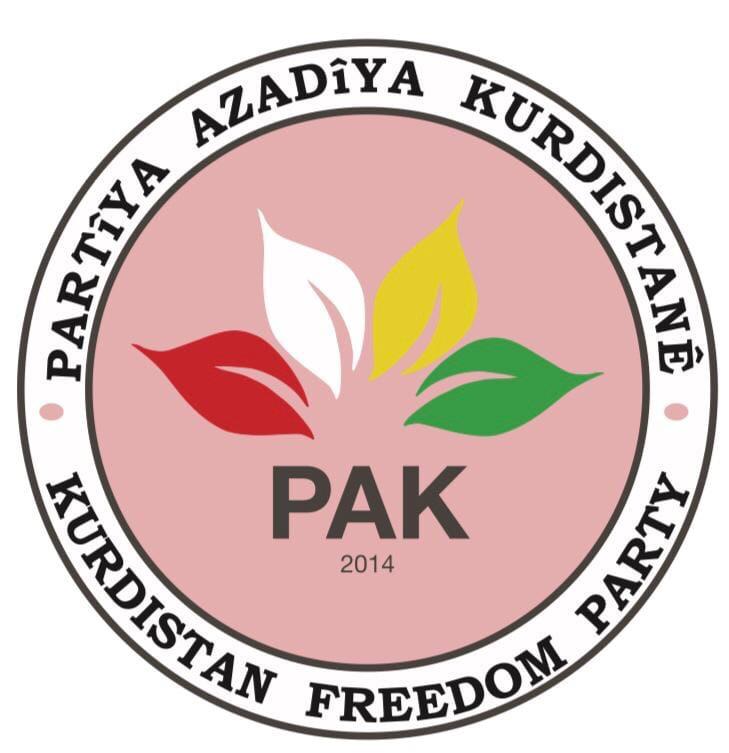 PAK-Ewrûpa: Hebûna PAKê û partîyên Kurdistanî mafekî rewa ye
PAK-Ewrûpa (Piştgirên Partîya Azadîya Kurdistanê li Ewrûpayê) derbarê girtina partîyên Kurdistanî de daxuyanîyek belav kir. PAK-Ewrûpayê di daxuyanîya xwe de diyar kir ku hebûna PAKê û partîyên Kurdistanî mafekî rewa ye.
PAK-Ewrûpa (Piştgirên Partîya Azadîya Kurdistanê li Ewrûpayê) derbarê girtina partîyên Kurdistanê de daxuyanîyek belav kir. PAK-Ewrûpa daxuyanîya xwe de diyar kir ku hebûna PAKê û partîyên Kurdistanî mafekî rewa ye.
Daxuyanîya PAK-Ewrûpayê wiha ye:
" Her roj nûçeyên nexweş ji Tirkîyeyê tên, xelk ji kar tên dûrxistin, muxalîf tên girtin, parlamenter û şaredar û kesên ku ji alîyê xelkê ve tên hilbijartin ji kar û berpirsîyarîyên xwe bi darê zorê tên dûrxistin. Ev kiryarana demeke dirêj e li Tirkîyeyê bûye bûyerên rojane.
Sîstema rêveberîya Dewleta Tirkîyeyê û ya hiqûqa wê bi temamî polîtîze bûye. Rojname û televîzyon têde hemû medya bûye yekreng û yekdeng. Nuha dewlet li dûv bêdengkirina medya civakî ye. Bi hezaran kes ji bo parvekirin, şirove û fikrên xwe yên di medya civakî de weşandine, tên girtin. Ev kontrol û girtin ji bo kurdên YE(Yekîtîya Ewrûpa)yê û cîlên sêyem ku hemwelatîyên Yekîtîya Ewrûpayê (YE) ne jî derbas dibe. Maf û azadîyên demokratîk û bi taybetî yên fikrî bi sîstem têne binpêkirin.
Hilbijartinên dawîn yên herêmî ku di 31ê Adara 2019an de li dar ketin, mînaka herî dawîn û ya berbiçav e. Hevpeymanîya AKP-MHPyê, ji bo pêşî li muxalefetê bigre hemû rê û rêbaz dane ber xwe. Piştî hilbijartinan jî, bi dubare hejmartina dengan û bi nuh kirina hilbijartinan, dixwazin rê li ber guhertinan bigrin. Bi destê YSKyê (Dezgeha Bilind ya Hilbijartinan) dixwaze hin şaredarîyên ku HDPyê bi dest xistine, betal bikin û bidin partîya ku di hilbijartinê de bûye duyem ku ew jî partîya Erdogan e.
Yek ji gavên dawîn ya bêhuqûqîya dewletê jî, hewla daxistina(girtin) Partîyên Kurdistanî yên legal in. Dadgeha Qanûna Esasî ji bo girtina partîyên ku di navê wan de Kurdistan heye doza girtinê li wan vekirîye. Ev partîyên Kurdistanî, partîyên qanûnî ne, demokratîk in, ji hemû cûre şîddetê dûr in. Yek ji van partîyan Partîya Azadîya Kurdistanê ye, ku 4 sal û nîv berê bi fermî hatîye damezirandin.
Ji ber ku van partîyên Kurdistanî, behsa miletê kurd, zimanê kurdî û Kurdistanê dikin, behsa mafê neteweyî û demokratîk yên miletê kurd dikin; Dadgeha Qanûna Bingehîn îdîa dike 'ewlekarîya netewî' ya Tirkîyeyê tehdît dikin.
Hebûna PAKê û partîyên Kurdistanî mafekî rewa ye. Her weha hebûna partîyên bi vî rengî ji bo civakên di warê etnîkî, dînî, aborî, cografîk de pir reng in, dibe pireke xweşbînîyê di navbera bawermendîyên cuda û gelan de.
Dadgehên Ewrûpayê li gor xala 11an a Peymana Ewrûpa di çerçova mafên mirovî de, partîyên sîyasî diparêze. Ev peymana navneteweyî ji alîyê Tirkîyeyê ve jî hatîye pejirandin û îmzeya wan jî li bin peymanê heye. Divê qanûnên Tirkîyeyê li gor vê peymanê bê durustkirin. Herweha li gor xala 90î ya Qanûna Esasî ya Tirkîyeyê, dema qanûnên Tirkîyeyê û yê navneteweyî ku Tirkîyeyê îmze kirîye werin beranberê hev, dê qanûnên navneteweyî esas bêne girtin û ew qanûnên navneteweyî divê cî bi cî bibin…
Digel van rastîyan jî dîsa dozgerîya Tirkîyeyê bi aktîfî li dijî "mafê azadîya ramanî û mafê xwe yê bi rêxistin kirinê" radiweste. Argumenta sereke ya dozgerîya Tirkîyeyê "Serwerîya dewletê û yekparebûna wê ya tu car nikare bê perçekirinê" ye. (paragraf 68, beş 4). Qanûna partîyên sîyasî (qanûn 2820, beş 81) dike ku tu hêz nikare li ser esasê etnîsîteya xwe û li ser esasê zimanê xwe yê zikmakî li Tirkîyeyê sîyasetê bike an vê rastîyê di bernameya xwe de bi cî bike û ji bo çareserkirina wê fikrê xwe bibêje.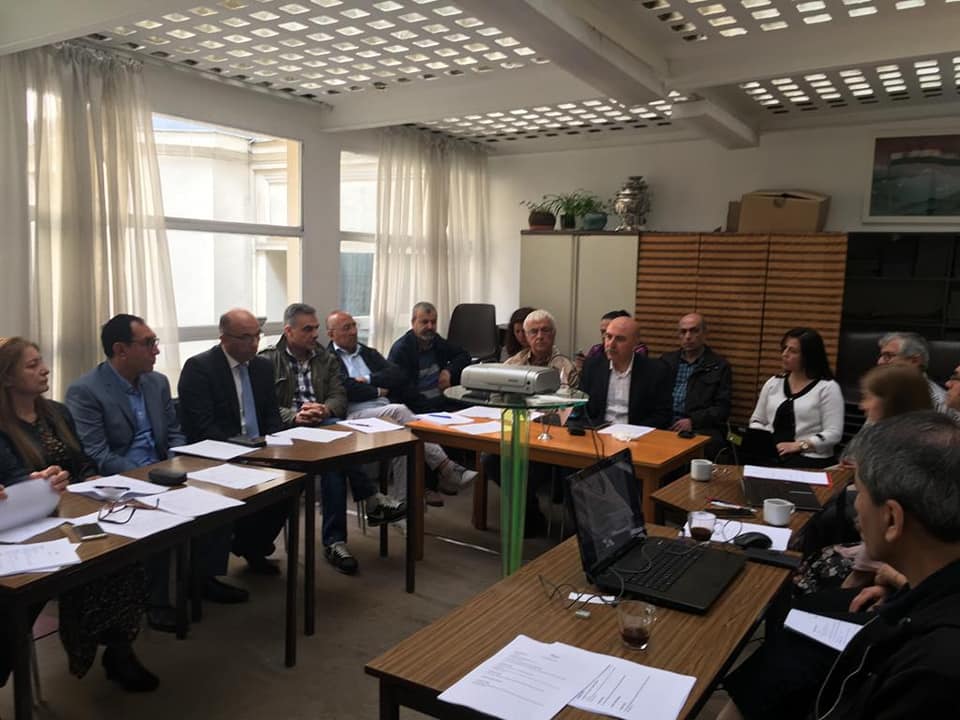 (PAK-Ewrûpa -Piştgirên Partîya Azadîya Kurdistanê li Ewrûpayê)
Sîyasetmedarên Tirkîyeyê him qanûna esasî û him jî sîyasetê wek aletek ku kurdan diskirîmîne bikin bi kar tînin. Qanûn û biryarnameyên Tirkîyeyê yên ku partîyên kurdan qedexe dikin, ne meşrû ne, ne li gor rastîya tarîxê, ne li gor rastîya cografîk û ne jî li gor rastîya demografîyayê ye.
Sîyaseta tund û êrîşkar a Dewleta Tirkîyeyê him ya hundurîn û him jî ya derve, kaoseke mezin jî bi xwe re anîye. Rêveberên nuha ji bo li ser hukum bimînin, dixwazin hêzên demokrasîxwaz, rewşenbîr, nivîskar, partîyên sîyasî, her cûre muxalefetê û dinya azad bitirsînin ku ew bi tu awayî mudaxele nekin, bi hindikayî bêdeng bimînin.
Kirin û helwestên Dewleta Tirkîyeyê, qet ne yên qebûlkirinê û bêdengmayînê ne. Em wek Piştgirên Partîya Azadîya Kurdistanê li Ewrûpayê bangî Parlamentoya Ewrûpa, rêxistinên navneteweyî, hukumetên welatên dinyayê û bangî temamîya gelên cîhanê dikin, demildest li hember kirinên Tirkîyeyê û bi taybetî jî kirinên wê yên li hember kurd û Kurdistanîyan, li hember dozên girtinê (daxistinê) yên li hember PAK, PSK, PDKT, KKPyê helwest deynin û dengê xwe bilind bikin."
PAK-Ewrûpayê daxuyanîya xwe ya li ser girtina partîyên Kurdistanî di zimanên wek İngilîzî, Îspanyolkî, Danîmarkî û Swêdî de jî belavkir.
Daxuyanîya PAK-Ewrûpa a Îngilîz wiha ye:
" The Existence of PAK (Kurdistan Freedom Party) and other Kurdistan parties is a legitimate right
There is always bad news from Turkey; people lose their jobs, the opponents are incarcerated, the parliamentarians and local mayors and other elected officials are forced to move away from their posts and their responsibilities. These acts have become part of every day life in Turkey for a long time.
The system and administration of the Turkish State and its law has become completely partisan. All media including newspapers and television have become monotonous and biased.
Now, the State wants to silence people's voices expressed on social media as well. Thousands of people are arrested for publishing their ideas or for sharing a comment on social media.
These checks and arrests occur even for the Kurds of European Union (EU) and third generation Kurds who are citizens of the EU. Democratic rights and freedoms, and especially freedom of expression are systematically violated.
The last municipal elections that were held on March 31 2019 are a remarkable example in this regard. The alliance between AKP and MHP has used all means and methods in order to silence the opposition. Even after the elections with the threat and counting down of the votes the government wants to block the road to change.
Via the YSK (Supreme Electoral Board) this alliance wants to nullify the elections of some municipalities that the HDP has won and give the right to run the municipalities to the respective second party in the lead which is usually Erdogan's party - the AKP. Furthermore Turkey`s election authorities annulled the Istanbul municipal vote more than a month after an opposition candidate was elected as the city's mayor. The country`s Supreme Electoral Board (YSK) announced that the election would be re-run on June 23.
Finally the State is invested in closing down all legally active parties in Kurdistan. The Turkish Constitutional Court has opened closure trials against the parties that contain the name Kurdistan. These parties are legal, democratic parties and do not engage in violent activities and all subscribe to a peaceful party manifesto. One of these parties is the Kurdistan Freedom Party / Partiya Azadiya Kurdistan (PAK), which has been legally established and run for four and a half years now.
The Turkish Constitutional Court claims that these parties threaten Turkey's "national security" because they speak about Kurdistan, the Kurdish language and nation, as well as the national and democratic rights of the Kurdish people. This means they are not accused of any illicit activity but their mere existence as such is seen as a threat.
PAK and the other parties of Kurdistan exist legitimately and rightfully. Beyond their policies related to Kurdish people their existence is meaningful for Turkey's democracy as a whole. Turkey is a multi-ethnic society. Many groups do not see their culture and history reflected in day to day life. Turkey was found on the misconception that only the suppression of differences can create a strong society. The state of affairs today proves once more that this approach creates the opposite effect. Allowing lawfully operating Kurdish parties to pursue their political work in a peaceful manner would have a positive impact on building bridges between communities and different ethnic groups in Turkey.
Article 11 of the European Convention on Human Rights protects the right to freedom of assembly and association. Turkey has signed and ratified the Convention. Turkey needs to reorganize its legal system in accordance with this Convention. Article 90 of the Turkish Constitution stipulates that if the Turkish laws and the laws of international conventions that Turkey has signed contradict each other, international laws will be taken into account and these international laws will be implemented.
Despite these international regulations prosecutors all over the country still actively suspend the right to freedom of expression and the right of association. Their argument is that according to national law "The sovereignty and unity of the State that can never be divided" (Article 68, paragraph 4). The Law of Political Parties (Law No. 2820, Chapter 81) states that in Turkey no political force can make their ethnicity or mother tongue the basis of their engagement in politics. They shall even refrain from mentioning it in their party programs or express a desire to want to solve issues related to their ethnicity and mother tongue.
Turkish politicians exploit both the constitution and politics as a tool to discriminate against the Kurds. The laws and decrees that prohibit Kurdish political parties are not legitimate and have been enacted in total denial of the historical, geographical and demographic reality of the country.
The aggressive and violent domestic and foreign politics of Turkey have also created great chaos. In order to stay in power, today's leaders want to scare democratic forces, intellectuals, writers, political parties, all kinds of opposition and the free world so that they never intervene or at least stay silent. This includes all major parties in Turkey even those who seek but are not yet in power.
It is not acceptable to remain silent in the face of this blatant injustice.
We are sympathisers of the Kurdistan Freedom Party in Europe and as such want to appeal to those voices in Europe who support democratic non-violent movements in Turkey. We call on the European Parliament, the international organisations, the governments of countries and the peoples of the world to raise their voices against the Turkey's oppressive actions, especially against Kurds and Kurdistan, and against trials seeking to dissolve parties like the PAK, PSK, PDKT and KKP.
PAK-Europe - Supporters of the Kurdistan Freedom Party - Partiya Azadîya Kurdistanê / PAK"
Daxuyanîya PAK-Ewrûpa a Îspanyolkî wiha ye:
" EL PARTIDO PAK Y OTROS PARTIDOS SON POSIBLES EN KURDISTÁN
Todos los días, se producen males y sufrimientos que provienen de Turquía. Las personas son expulsadas a causa de la ocupación o bien son arrestadas. Los parlamentarios, los municipios y las personas que son elegidas libremente se ven obligadas a retirarse de sus deberes y responsabilidades. Éste ha sido durante mucho tiempo una actividad diaria en Turquía.
El sistema del gobierno turco y el poder legislativo han sido completamente administrados de una manera política. Las noticias y la televisión han hecho que todos los medios sean únicos y no plurales. Al estado le sigue el silencio de las redes sociales. Miles de personas son compartidas, interpretadas y publicadas en las redes sociales. Este control y detención están en conocimiento de la Unión Europea (UE) y de la tercera ronda de negociaciones de la Unión Europea (UE). Los derechos, las libertades y, especialmente, cualquier mecanismo de votación están prohibidos.
Las últimas y más recientes elecciones electorales que tuvieron lugar el 31 de marzo de 2019, son el último y más claro ejemplo. La coalición AKP-MHP ha establecido todos los caminos y regulaciones para la oposición. Después de las elecciones, contando votos y amenazas, queremos cambiar el camino. El YSK (Elecciones de la Corte Suprema) quiere que algunos HDD comiencen, cancelen y hagan un partido que haya estado en las elecciones.
Una de estas torpes actuaciones consiste en intentar convertir en ilegales situaciones legales. El Tribunal Político tiene el poder de detener los partidos en las que aparezca el nombre de Kurdistán. Estos partidos del Kurdistán son partidos legítimos, son democráticos, sin ninguna forma de violencia. Uno de estos partidos es el Partido de la Libertad del Kurdistán, que se formó oficialmente hace 4 años.
A través de estos partidos, el pueblo kurdo tiene voz propia para hablar sobre los derechos nacionales y democráticos de su pueblo. El tribunal del Tribunal Penal afirma que hay una seria amenaza para la "seguridad nacional".
El partido PAK es un partido posible. Además la existencia de tales partidos aglutina muchas comunidades religiosas o geográficas, aunque haya diferentes creencias entre personas diversas.
Los tribunales europeos mantienen los partidos políticos en conformidad con el artículo 11 de la Convención Europea de Derechos Humanos. Este tratado internacional ha sido aceptado por Turquía y su firma está en este acuerdo. Las leyes de Turquía deben ser anuladas de acuerdo con esta resolución. Además, según el artículo 90 de la Constitución turca, cuando las leyes internacionales de Turquía hayan sido firmadas por Turquía, se garantizarán y se mantendrán en vigencia dichas leyes internacionales.
Sin embargo, a pesar de estos hechos, el poder judicial de Turquía se opone activamente al "derecho a la libertad y al derecho a organizarse". El principal argumento de la fiscalía turca "la soberanía del estado y su integridad nunca se pueden dividir" (párrafo 68, sección 4). Las Leyes políticas (Ley 2820, parte 81) no pueden competir sobre la base del origen étnico basado en su lengua materna y su idioma nativo en Turquía, ni puede incluir este hecho en su propio programa.
Los responsables políticos de Turquía los utilizan como la principal ley y su política como un medio para bloquear a los kurdos. Las leyes y regulaciones de Turquía que prohiben a los partidos kurdos no son legítimas, no sólo de acuerdo con la fecha de promulgación, sino también en relación a la realidad geográfica y demográfica.
El estado fuerte y agresivo de Turquía, de manera interna y externa, también ha crecido mucho. Por ahora, los líderes ejecutivos actuales quieren mantener en silencio a los demócratas, intelectuales, escritores, partidos políticos, etc. por temor a que intervengan de alguna manera, por eso quieren que permanezcan en silencio.
No hay aceptación alguna y la actitud del estado de Turquía es el silencio. Hacemos un llamamiento al Parlamento Europeo, a las organizaciones internacionales, a los diferentes gobiernos del mundo y a todo el mundo en general para que levanten su voz en contra de las
actuaciones que Turquía realiza sobre el PAK, PSK, PDKT y KKP.
PAK-Europa - Partidarios del Partido Libertad del Kurdistán en Europa"
Daxuyanîya PAK-Ewrûpa a Swêdî wiha ye:
"APPELL
Dagligen får vi oroväckande rapporter från Turkiet om hur man avskedar, fängslar politisk obekväma, upphäver godtyckligt politisk immunitet för parlamentsledamöter, ämbetsmän och folkvalda. Detta har pågått under en lång period i Turkiet. Med detta vill man skrämma dem för att inte engagera sig i kampen för demokrati i landet.
Rättssystemet och statsförvaltningen är helt politiserad. Människor som använder sociala medier som ogillas av Presidenten blir förföljda. Detta gäller även tusentals EU kurder och tredje generationen EU medborgare som har sina rötter i Turkiet. Demokratiska fri-och rättigheter framförallt yttrande friheten inskränks systematisk.
De sista lokalvalen som ägde rum den 31 mars 2019 i landet är det vanligaste exemplet på detta. Den oheliga alliansen AKP-MHP så kallade "Cumhur itifaki" för att hindra sina motståndare har använt sig av alla ohederliga metoder och regler. Trots det har dem förlorat stort i landets 6 stora städer, lika så i många kurdiska städer i Kurdistan har dem inte kunnat uppnå sina mål. Efter valet har man försökt genom att ifråga sätta rösträkning i vissa städer. Man stannar inte vid det utan också hotar med ny val allt för att urholka valresultat och åstadkomma förändringar till fördel för AKP-MHP alliansen.
Just nu hotar Förvaltningsdomstolen att förbjuda legala kurdiska politiska partier som enbart deras partinamn innehåller ordet "Kurd" eller "Kurdistan". Dessa partier är legala och har enligt gällande valmyndighetsregelverk deltagit i lokalvalen. Dessa partier står för mångfalden, solidaritet och tolerans i samhället. Ett av dessa partier är Kurdistans Frihetsparti PAK som har verkat legalt med sitt partipolitiskverksamhet i landet i 4 år.
PAK står för mångfalden solidaritet och tolerans i samhället. Detta synsätt kommer att leda till ett jämlik och demokratiskt samhälle där alla nationella och religiösa minoriteter få respekt och acceptans för sina olikheter. PAK arbetar för ett demokratiskt samhällsbyggande i Kurdistan. PAK tar avstånd från alla våldshandlingar och är för politiska lösningar samt samförstånd.
Ordet 'Kurdistan' i ett partis namn självklart innebär inte ett hot mot den fria demokratiska ordningen inte heller undergräver den "nationella säkerheten" i ett land som Turkiet som har 25 miljoner kurder. Tvärtom bildandets av politiska partier har ett syfte att driva en enskild samhällsgrupps intressen, så som etniska, ekonomiska såväl som politiska, geografiska eller tro.
Den europeiska Domstolen för Mänskliga Rättigheter skyddar politiska partier i sin rättspraxis enligt artikel 11 i Europakonventionen om mänskliga rättigheter. Detta internationella fördrag är godkänt och undertecknat av Turkiet. Det måste avspeglas i den turkiska lagstiftningen. Enligt den turkiska konstitutionens artikel 90 ska internationella undertecknade fördrag om grundläggande rättigheter och friheter ska väga tyngre än turkiska lagar och förordningar i de fall dessa kolliderar med de internationella fördragen.
Trots detta verkar åklagarmyndigheter i Turkiet aktivt för att stoppa rätten att organisera sig politiskt. Detta motiveras med hänvisning till grundlagens fastslående av "statens oberoende, dess odelbara integritet" (paragraf 68, artikel 4) och Lagen om partier (lag 2820, artikel 81), som gör gällande att politiska partier inte kan "hävda att det finns minoriteter baserade på etnicitets- eller språkskillnader". Vid sitt möte den 17/01/01 beslutade den turkiska författningsdomstolen om att öppna åtal mot Kurdistans Frihetsparti enligt grundlag artikel 68 och lagparagrafen om politiska partier 2820 artikel 81. En fällande dom skulle innebära att partiet förbjuds. Två andra fredliga, kurdiska politiska partier hotas också med bannlysning.
Under den lokala valkampanjen i mars i år har landets högste Ämbetsman Presidenten i sitt valtal till folksamling " Vi har inget område varken geografiskt eller etniskt i detta land som heter Kurdistan. Det finns i norra Irak, varsågoda om ni så vill åk ditt, ni har inget att göra i detta land".
Det turkiska politiska etablerandet använder både konstitutionen och politisk mobbning som verktyg mot orden 'kurd' och 'Kurdistans'. De Turkiska lagar och förordningar som förbjuder kurdiska partier är illegitima. I demokratier är det aldrig en utväg att regimen förbjuder ett fredligt politiskt parti.
Turkiets aggressiva både inrikes och utrikespolitik har bidragit till att landet står vid randen till ett kaos. För att kunna hålla sig vid makten försöker man skrämma demokratiska krafter, skribenter, politiska partier, oppositionen i landet och hela fria världen att inte engagera sig i vad som händer i landet.
Turkiets agerande är helt oacceptabelt. Vi Stödgruppen för Kurdistans Frihets Parti, PAK, vädjar därför EU Parlamentet, Världssamfundet och Regeringar i den fria demokratiska världen agera omedelbart mot Turkiets handlande särskilt mot det kurdiska folket och kurdiska partier PAK, PSK, PDKT och KKP.
Höj din röst, gör skillnad …
PAK – Europa- Stödgruppen för Kurdistans Frihets Parti i Europa"
Daxuyanîya PAK- Ewrûpayê a Danîmarkî wiha:
" APPEL
Hver dag får vi bekymrende rapporter fra Tyrkiet om, hvordan man afskediger, folk fra deres arbejde, fængsler politiske modstandere, vilkårlige ophævelser af politisk immunitet for parlamentsmedlemmer, embedsmænd og valgte repræsentanter. Dette har foregået i lang tid i Tyrkiet. Alt dette, for at skræmme folk, til ikke at involvere sig i kampen for demokrati i landet.
Retssystemet og statsforvaltningen er fuldstændig politiseret. Folk, der bruger sociale medier, bliver forfulgt og afskediget. Dette gælder også for tusindvis af EU-kurdere og den tredje generation af EU-borgere, der har deres rødder i Tyrkiet. Demokratiske friheder, som ytringsfrihed bliver systematisk begrænset.
Ved de sidste lokale valg i landet, der fandt sted den 31. marts 2019, er det mest udprægede eksempel på dette, AKP-MHP-alliancen den såkaldte "Cumhur itifaki" der er designet til at forhindre modstandere i at blive valgt. De har brugt en del uærlige metoder og regler. På trods af dette har de Erdogan-tro mistet meget. I landets 6 storbyer og mange kurdiske byer i Kurdistan kunne de ikke nå deres mål. Efter valget har de forsøgt at sætte spørgsmålstegn ved afstemningen i visse byer. De truer også med nye valg, for således at have mulighed for at manipulere med vælgere og valgresultater og skabe ændringer til fordel for AKP-MHP-alliancen. Dette er lykkedes for dem i Tyrkiets største by i Istanbul. Der er genvalg den 27. juni 2019.
Lige nu truer forvaltningsdomstolen med at forbyde lovlige kurdiske politiske partier, fordi deres partinavn indeholder ordet "Kurd" eller "Kurdistan". Disse partier er lovlige og har deltaget i lokale valg i overensstemmelse med de gældende valgmyndighedsbestemmelser. Disse partier står for mangfoldighed, solidaritet og tolerance i samfundet. Et af disse partier er Kurdistans Frihedsparti PAK, der har fungeret lovligt med sine partipolitiske aktiviteter i landet i 4 år.
PAK står for mangfoldigheden, solidaritet og tolerance i samfundet. Denne tilgang vil føre til et retfærdigt og demokratisk samfund, hvor alle nationale og religiøse minoriteter bliver respekteret og accepteret for deres forskelle. PAK arbejder for dannelsen af et demokratisk samfund i Kurdistan. PAK afviser alle voldshandlinger og er for politiske løsninger og konsensus.
Ordet "Kurdistan" i et partis navn betyder selvfølgelig ikke en trussel mod den frie demokratiske orden eller undergraver den "nationale sikkerhed" i et land som Tyrkiet, der har 25 millioner kurdere. Tværtimod har dannelsen af politiske partier til formål at forfølge interesserne for en individuel social gruppe, etnisk, økonomisk såvel som politisk, geografisk eller religiøst.
Den Europæiske Menneskerettighedsdomstol beskytter politiske partier i sin retspraksis i henhold til artikel 11 i den europæiske menneskerettighedskonvention. Denne internationale traktat er godkendt og underskrevet af Tyrkiet. Det skal afspejles i tyrkisk lov. I henhold til artikel 90 i den tyrkiske forfatning bør internationale undertegnede traktater om grundlæggende rettigheder og friheder opveje tyrkiske love og bestemmelser i tilfælde, hvor de kolliderer med internationale traktater.
På trods af dette synes retshåndhævende myndigheder i Tyrkiet aktivt at stoppe retten til at organisere sig politisk. Dette er berettiget under henvisning til forfatningen af "statens uafhængighed, dets udelelige integritet" (afsnit 68, artikel 4) og loven om partier (lov 2820, artikel 81), der hævder, at politiske partier ikke kan "hævde, at der er minoriteter baseret om etnicitet eller sprogforskelle. "På mødet den 01/01 2017 besluttede den tyrkiske forfatningsdomstol at åbne anklager mod Kurdistans Frihedsparti på grundlag af artikel 68 og loven om politiske partier 2820 Artikel 81. En domfældelse vil betyde et forbud mod partiet. Andre fredelige, kurdiske politiske partier er også truet af lukning.
Under den lokale valgkamp i marts i år har præsidentens ledende repræsentant i sin valgtale til publikum sagt: "Vi har ikke noget geografiske eller etniske områder i dette land der bliver kaldt Kurdistan. Det findes i det nordlige Irak, hvis du vil have de sådan, har du intet at gøre i dette land".
De tyrkiske politiker bruger politiske institutioner og anvender forfatningen som et værktøj til at diskriminere kurdere fordi ordene "Kurd" og "Kurdistan" bruges. De tyrkiske love og bestemmelser, der forbyder kurdiske fester, er ulovlige. I demokratier er det aldrig en udvej, at regimet forbyder et fredeligt politisk parti.
Tyrkiets aggressive indenrigs- og udenrigspolitik har bidraget til, at landet står på randen af kaos. For at blive ved magten, forsøger man at skræmme demokratiske kræfter, forfattere, politiske partier, oppositionen i landet og hele den frie verden, til ikke at engagere sig i, hvad der sker i landet.
Tyrkiets handlinger er fuldstændig uacceptable. Vi som er PAK tilhænger opfordrer derfor det europæiske parlament, verdenssamfundet og den frie verdens demokratiske regeringer til straks at handle imod tyrkiske handlinger, især aggressionerne imod det kurdiske folk og de kurdiske partier PAK, PSK, PDKT og CCP.
Hæv din stemme, gør en forskel ...
PAK - Europ - Støttegruppen for Kurdistans Friheds Parti i Europa"
Ev nûçe 162 caran hatiye xwendin