PAK û PSKê li Kopenhagin a paytexta Danîmarkayê di derbarê Referandûma Tirkîyeyê de Konferansek hevbeş li dar xistin.
PAK û PSKyê roja 09.04.2017ê li Kopenhagin a paytexta Danîmarkayê di derbarê Referandûma Tirkîyeyê ya 16ê Nîsana 2017ê de konferansek hevbeş li dar xistin û gotin ku "Deng dan meşrûyeta qebûl kirin û meşrû kirina destûra Tirkîyê ya heyî û ya bê ye".
Konferans bi modertorîya Mîrza Akar birêve çû. Di konferansê de Endamê Merclîsa PAKê Seracettîn Kirici û Damezirîner û berpirsê PSK Serhad Amedî wek axaftvan cih girtin.
Di Konferans de partîyên sîyasî yên ji seranserê Kurdistanê, gelek sîyasetmedar, rewşenbîr û endamên PAK û PSKyê jî cih girtin.
Konferans bi sirûda netewî û rêzgirtina pakîya canê şehîdên Kurdistanê destpê kir. Dû re Mîrza Akar li ser navê her dû partîyan ji ber mirina Hêlîn Burkay dubare ji bo malbat, heval û hezkirîyên Burkay an, taybet ji bo kek Kemal Burkay sersaxîyê xwest û xwe hevparê êşa Burkay yan derbirî. Û dû re bixêrhatina beşdar û panelîstan kir.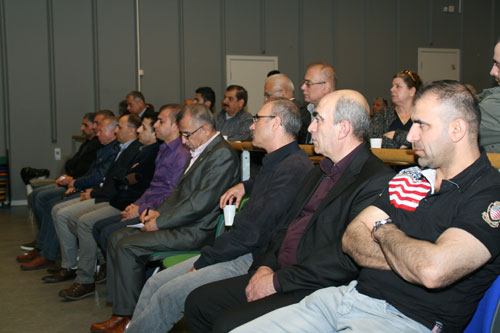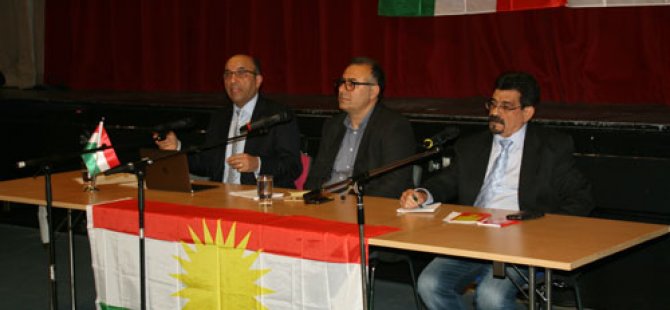 Pêşî Siracettîn Kirici li ser navê PAKê axifî
Di vê pêvajoya de konferans û panelên bi vî rêngî gelek gring in. Li ser nave partiya xwe PAKê, li ser nave hevalên PSKê spasiya xwe pêşkeşî hevalên amadekar û kesên ku beşdarî vê civinê bûne dikim .
Heval dostên hêja,
Wek ku hun jî jê agahdarin di 16 Nisan 2017 de liTirkyeyê referandum heye.
Ku em vê gavê biçin Kurdistanê,Tirkyê pirsek ji hemwelatiyan bipirsin Referandum çi ye?
Ez bawer nakim ku hûn rastî bersiveka rasteqin werin. Wateya referanduma ku em zanin ya ku ewê li Tirkyeyê çêbe ji hev gelek cûda ne.
Referanduma li Tirkyeyê de rewşeka awarte û ne demokratik de pêk tê.
Referandum û demokrasî,
Referendum û encamên wê
Referandum û helwesta kurdan mijareka gring e.
18 xal ji parlementoya Tirkiyê derbasbû heta niha capemeniya kurda, tirka û ewrupiyan gengeşî û kampanya yên gelek cûda tê meşandin.
Wek ku tê zanin di referandumê de sê eni hene:
Eniya Erê
Eniya Na
û Eniya protesto yê
Di eniya Êrê de mihafazakar, islamist û nijadperest hene
Di êniya Na yê de CHP, Kemalistên wek Dogu Perincek, Fethula Gulen, cep/azadixwazên tirk û hinek ji Kurd hene
Di eniya sêyem de PAK,PSK, siyasetmedarên serbixwe, grub û kesayetên Kurdistanî hene.
Beri ku dîtinên xwe jibo ev sê enîyan bêjim ji ali imkan, propaxanda
Wexta mirov dixwaze wek xwe
Wexta mirov doza dewletek federal û demokratik bike,
wexta mirov li ax, welat û mafê çarenusiyê xwedî derkeve rasti astengiyan, rastî bê edaletî û bê hiquqiyê ji dibe.
Şert û merc çiqas dijwartir dibe bila bibe mirov rêkî dibine ku ditinên xwe bi raya giştî re parve dike. Vê gavê li vir bûyina me jî nîşana wê ye.
Beşdarên hêja,
Di pêvajoya gengeşiyên Makzagona Tirkiyê de partiya me PAK û serokê wê rêzdar Mustafa Özçelik gelek caran bi mulaqat û daxuyaniyên xwe makzagona ku" yek al, yek netew û yek dewletê" diparêzin rexne kirin. Û eşkere danxuyakirin ku makzagona ku hebûna miletê kurd qebûl nake, emê jî wê protesto bikin. Nasnekin.
18 xalên ku ji parlementoya Tirkiyê derbasbû û vê gave dice refeandumêeşkere derxist holê ku li Tirkîyeyê pêvajoyek nû destpêkiriye.
PAKê di pêvajoya, xwe de, liTirkiye û Ewrupayê de dest bi gengeşiyan kir. Bi endam, dost, aligir û hevalbendê xwe civinan çêkir, bi wan şêwirî. Bi danustendin û gengeşiyên demokratik meyila PAKê tespit kir. Beriya ku biryara xwe ji raya giştî re diyar bike bi 5 partiyên ku di nav hevkariyê de ye ket nav danû stendinê. Lewra di pêvajoya guherandina makzagona Tirkiyê 5 partiyên me ji bo helwestek muşterek li hev kiribûn. Mixabin hin partiyên me bê ku bi me bişêwirin helwesta xwe ya referandumê eşkere kirin. Ji 5 partiyên ku di nav hevkariyê de ne PAK, PSK û KDP-Bakur li hember guhertin û makzagona ku bi tu awayî behsa hebuna Miletê Kurd nake helwesta xwe ya protestoyê eşkere kirin. Piştî helwesta sê alî mixabin di"17.03.2017 de KDP-Bakur biryarek din girt û ji xebata hevbeş ya sê ali vekişyan."
Dibe ku girseyek pir mezin ne bi mere be, Êdî kurd bi xwe aktor in.Lewra kurd miletek in, kurdxwedî hişmendiyekneteweyî ne. Li hember makzagona ku hebûna Miletê Kurd inkar dike helwestek danin.
Ev herdû partiyan eşkere kirin ku ew partiyên Kurdistani
Gelek caran rexne li me tê kirin hun çima lihemberi Diktatoriyê"terciha xwe aliyê yê danaynin.
Maem mecbûr ji xeletiyan xeletiyekhilbijêr
Ev 90 sal in cepheya Na yê eşkere, veşarti li ser hikum in.King alkariya miletê kirin?
Jibo naskirina hebûna çi guhertin çêkirin?
Kijan garantiyê dan miletê mafê wê yênrewa xistin nav makzagona xwe?
Bê asimlasyon,inkar siyaseta tunekirinê tutişt nekirin.
Heta terefek xurt berê wê li Kurdistanê nebe,wek muxatab dernekeve pêşberî ewê herhebûna qebûl nekin.
Êdi dema xapandin û "listika demokrasiyê"derbas bûye. PAK, PSK û kesayetên ku di herdû eniyan cih nagrin navnişanek nişani Miletê Kurddan.Eşkere deklere kirin ku makzagonek ku têde "Parlemento, Hikûmeta Kurdistanê, du milet û du welat tune be em wê qebûl nakin."
Kurdên ji Kurdistanê re statu dixawazin li hemberî "ERÊ" û "NA" yê vekirî helwest danîn.
Dan diyarkirin ji bo miletê me û çareserkirna probleman herdû ali "ERÊ" û "NA" jî wek hev in. Herdu alî jî yekîtîya dewleta tirk diparêzin.
Siyaseta herdu alîyan jî li ser inkar û entegrasyona miletê kurd û Kurdistanê ye.
Êdî pirsa kurd û Kurdistanê bi van partiyan û di demokrasiya wan de hilnagire. Lewra di ajendaya CHP, Dogu perincek û Fethula de çareserkirina pirsa kurd û Kurdistanê tune ye...
Jiyan û tarixa Tirkyeyê ya nêz nişan daye ku pirsa demokrasiya Tirkiyê di mijara bi nav kirin û maf dayina miletê Kurdtanê de dibe. Heta ev aliyana kurda wek netewak nebînin û rêzê ji mafê çarenûsa wê negrin nabin demokrat û zahmete ku demokrasi were Tirkiyê.
Em hemû şahîdin ku wexta makzagon çêdibin cinên Kemalistên "yek dewlet, yek al, yek netew" bi cinên islamist û nijadperestan re dibin yek. Bi gotineka din mijar kurd û Kurdistan be di her şert û merci de ERÊ û NA dighên hev. Hebûna Dewleta Tirk li ser vê yekê ava bûye tu cari kurda wek netewak ku xwedi al, xwedî sirud, xwedî dewlet û welat qebul nake.
Di vê mijarê de sedema sereke listika demokrasiya Tirkiyê ye. Her carê kurda din nav du aliyên xerab de mecbûrî tercihek dikin.
Vê carê Partiyên kurda PAK, PSK û kesayet û doraliyên siyasi helwest û terciha xwe li ali welat û miletê xwe danin. Bi yek dengi gotin: em ne mecbûrin şirîkê siyaseta we ya xelet bin.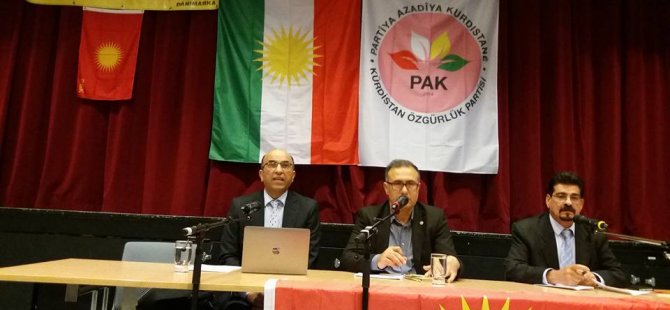 Heval û dostên hêja,
Têgihiştinek xelet heye.
Ev yeka ne parastina sîstema parlementerîyê û ne jî guhertina wê ya berbî sîstema serokatî diktatoriyê ye. Li hemberî rûdanên ku di erdnîgarîya me de diqewimin ji nûve "reorganîze" kirina Dewleta Tirk e. Lêgerîn e. Hazirî ye. Xwedîyê dewletê li rê û çareyekê diger in.
Tecrubeyên dewletên demokratik hene. Li hin welatan Parlementerizim pirsgirêkan careser dike û demokratik e. Bervajiya wê li hin welatan jî sistemek ne demokratik heye.
Disa li hin welatan ji sistema serokatiyê xwed îroleka demokratik e.
Ji 18 madeyên ku dixwazin biguherin jî diyar dibe ku, hedefa wan ne demokrasiye. Hedefek wan tenê heye ew ji drêjkirina êmrê vê sistema imha û inkarê ye.Pirsa bakûrê Kurdistan, ne sistema parlementerizmê ye,ne ji serokati ye.Pirsa kurdên bakûrê Kurdistanê li ser axa xwe desthilatdari ye.
Dibe eşkere were zanin ku li ser bingeha du dewlet û du milet kijan sistem hebûna miletê me qebûl bike ew jibo me demokratiktir û pêşverû ye.
Kurd êdî ne kurdê berê ne. Dinya ne dinyaya berê ye. Gengeşiyên bi Dewletên Ewrupi re hin tiştan eşkere kir.
Erê û Na..Herdû alî jî ji demokrasiyê, ji hiquq e gelek bi dur in.Hebe tune beew miletê heye.
Tirkiye haziriya pêşerojê Dixwaze ji nihave rê li ber statu û bi dest xistina kurdên bakurê Kurdistanê bigre. Dixwaze êmrê siyaseta xwe ya dagirkerî dirêj bike. Siyaseta wê ya êrişkar û du cephe yên "Erê-Na"ji nişana vê yekê ye.
Meşa dewlet bûyina Başurê Kurdistanê ber bi finalê ve ye, li Rojavayê Kurdistanê kurd ber bi statu girtinê diherin. Divê pêvajoya ku, ewê dirok ji nû ve tê nivisandinê de, li terciha "Erê" û "Na" yê helwest girtin ewê kurda di navsi stemê de biheline...Ewê entegre bike. Ewê meşrûyetek siyaseta Tirkizekirinê be.
Diroka Tirkîyeyê ya nêz nişan dide ku me van filîman berê jî gelek caran temaşe kirîye...
Ev sanaryoya carê şiklekî tê ber me.
Siyaseta êrişkarî û zextê, siyaseta rewşa awarte, siyaseta kuştin, hevs, koçberî taliyê jî lîstika demokrasîya xapînok weha nîşandikin ku, qaşo alîyek ji alîyê din hîn baştir e.
Wek mesela ço û gizêr" dinav sistemê de kurdan dihelînin. Bi qeneta min di vê referandûmê de "erê" jî "na" jî derkeve, ewê ev reorganîzasyona" bi şiklekî dom bike. Lewra, sedema reorganizasyonê her dû alî ne. Rewş û faktorên derveyî wan, zorê dide wan ku nav lêgerînekê de bin.
Divê eşkere were dîtin ku, di vê pêvajoyê de helwesta herî tayînker dê ya kurdan be.
Gelo kurd dê entegreyî aliyek be? Ya, ewê wek xwe be?
Bistek berê min ani ziman
Alîyekî kurdan di "Eniya DemokrasiyaTirkîyeyê " de li vê bûyerê mêze dike. Qirêdîya salan mîsyonekê dide xwe. Lê êdî em hatin talîya rê; bi "paradîgmayên" berê siyaset nabe.
Tevgera Kurd jî li hemberî rûdanên dinyê xwe diguherîne, ji nûve vedigerin rojeva xwe. Vê carê nehatin lîstika herdu alîyan referandûmê altarnatifek pêşkeşî gelê xwe kirin.
Her du partiyên me yên kurdan PAK û PSK gotin ku "Terciha me qanûneka bingehîn ya demokratîk federale " .
Disa eşkere kirin ku "hemû mafên miletê kurd yên meşrû divê di qanûna bingehîn de werenaskirin"
Eşkere dan diyarkirin ku "di referandûma pêşîya me de em mecbûr qanûna bingehîn ya heyî jî, 18xalên guhertinê de jî, ku herdu jî li ser me têne ferz dikin, yekê tercîhbikin"
Ev tê wê wateyê ku' ''em wê makezagona ku hebûna me qebûl neke, em protesto dikin."
Sîyaset di eslê xwe de encam sitendine. Di bloka "erê/na"yê de cîh girtin dê tu qezencekê ji bo me kurdan neyne.
Ya girîng hewqas bûyerên dîrokî li Başûr û Rojavayê Kurdistanê vê helwestê dan dîyarkirin ku, divê Tevgera Bakurê Kurdistanê hazirîya xwe ya xetek netewî xwerû Kurdistanî bike.
Bêguman divê mirov sîyasetê realistbe. Divê referandumê ev helwesta ji alîyêgirseyî xwedî bandor be jî, lê wek sekin rêyekê nîşanî mixalefeta kurd dide; nabe şirîkê xeletî siyaseta entegrasyonê be.
Encamên vê referandumê çi dibe bila bibe sedan rewşenbîr, kesayetên kurd, grûb, dor û aliyên siyasî ewê xeta; em miletin, em teref têkevin nav lêgerîneke nû.
Lewra, kesên ku wîzyona wan de partîyeke netewî, azadîxwaz, demokrat, Kurdistanî hebin; divê, di nav partîyekê de werin cem hev. Ligel vê, divê hevkarî û tifaqa netewî jî bê hûnandin. Ev yeka jî ewê mêzîna sîyasetê biguherine.
Hevalên hêja, taliya axeftina xwe de dixwazim vê yekê bêjim:
Ji avabuyina Komara Tirki heta vê gavê rêki nişanî me dane demokrasî demokratik bûyinê. Her terciheka nav sistemê nişani me dane... nehiştine temsildarên me derkevin pêş projên xwe yên siyasi xwedîtî li doza xwe bikin. Her me xapandine. Em hemû aktor, şahidê pêvajoyekin. Sî-çel salên vê taliyê mêzekin ji çêtire.... SHP ji ANAPê çêtire, ji DYPê çêtire. Rewşa awarte ji sikiyonetimê baştire. Vê carê ji Na ji Erê baştire. Mirov kare minakan dirêjtir bike.Temsildarê milet ku bi navê xwe, nasnama xwe, siyaset neke ewê têkbiçe. Wexta hun siyaseta rizgarîya netewa xwe di siya demokrasiya welatê serdest de bikin, hûpnê têk biçin. Siyaseta tirkize kirin û entegrasyonê bûye demokrasi. Di vê referandumê de PAK û PSKê ji lîstika demokrasiyê re gotin bisekinin: Em miletek in...
Beşdarên hêja, bila xelet neyê fêmkirin em li diji tekoşina demokrasiyê, em li dijî demokratik bûyina Tirkiyê nînin. Bê guman demokrasiya Tirkiyê me ji eleqeder dike. Lê wexta navê demokrasiyê bibe entegrasyon, wexta navê demokrasiyê siyaseta, koçkirin, şer, kuştin û wêrankirin be, wexta demokrasî înkara miletek be, demokrasî hebûna kurd û Kurdistanê inkar bike emê li dijî wê rawestin. Yadin xwezika Tirkiyê wek welatên demokratik pirsa Kurd Kurdistanê bi rêyên demokratik careser bikira. Na, nake. Lewra hebûna wê li ser inkara miletê me hatiye avakirin.
Demokrasi heba di vê Newrozê de, di vê Cejna Piroz de xortek bi navê Kemal Korkut nedihat qetilkirin. Armanc, çav tirsandine. Armanc, kurda di nav sistemê de helandine. Li Tirkyê şerê demokrasiyê, bi xurt bûyîna mafê hebûn û azadiya kurda dibe..
Dû re Serhad Amedî li ser navê PSK bi xêrhatin beşdaran kir û wiha domand:
"Ev 18 xalên ku ji meclîsa tirkîyê bihorîye û dê di 16 Nîsanê de ji bo wana qaşo referandum dê were kirinê, Û wek zagona heyî ji bo me kurdan ji înkara miletê kurd û asîmîlasoynê pêştir tiştekî guhertî tine têde. Dîsa li ser esasê "Tek milet, tek dewlet, tekala û tek welat" parastina dewleta heyî ye.
Wek ku hevalê min jî got, deng dan "Erê" ya" Na" meşrû kirina zagona ku li ser înkara kurd û Kurdistanê hatîye avakirinê ye. Ji bo wî jî em protesto dikin û dibêjin Boykot."
Panel piştê pirs û bersivan qedîya.