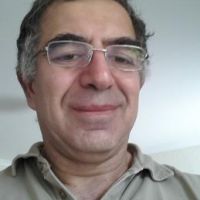 Gunehkarîya Erûgên Tirk
Ali Kemal Yildirim
Li ser rêya vegera xwê em çendik paşê geheştin nav cîrangundê tirk, Homag. Li nav gund da, nêzika camîyêkî qiççik, di binê çend tîkmeyên kirze da kanîyêk hebû. Di herdû çirtikên kanîyê da ava sar bi xişim diavit. Dengê şirrina avê tesîra dermanêkî sist kirina cantengîyê dîlist. Ava kanîyê  ji Semerdepe ya  gaza gundê me dihat. Çîyayê hêla paşin, bi kevirê xwe yê sur, weki nîkîla hototikê ber bi  jêr da xwar dibû. Di dur va, li ser kevîya tillikê çîyê,  kerikî bor xûya dikir.
Kalê; li pêşîya kanîyê weku xortikî bîst salî di ser herxê da pêşta bazda;  gayên xwe ji nîr derxist û biri ser kanîyê, bo avdanê. Gayê Bor bi têr av vexarinê şuvatir zimanik aviti genimê nav kanîyê ya çavîya hêla rastê. Xwadanê gênim, jinika Tirk ya bi bejn û laşê çê; li kevîyê bi hêrs çoyê dest xwe rakir ku bide nav çavê gayê Bor. Kalê bi destê rakirî xwe aviti pêşîya jinikê û gehêşti îmdada gayê xwe û '' Deh! dur be xanim! bu çeşme sadece senin şahsina mi yapilmiş?'' got.
Li pêşîya kanîyê herc i merc bû; her carê yêkî ji qafîla gayên xwe av didan. Di helikî da di navbêynê da jî bi suqereyan av tevdigerîya. Hînê Kalê bi rêneketibû ku, bi parra va, Azgêran jî hatibûn geheştibûn me. Piştê vexwarina avê, ne bi tenê heywan, lê xwadîyên wan ji bi nu va can sivik bibûn.
Di wî tevlihevîya da Kalê ser kir ku yêk gundîyê tirk, bi dizikan çend kesên ji Azgêrê bi helikî va dikişînî. Tirk; Alîrîza yê Elbegî û çend kesên dinê va, da dû xwe bi hela malê va bir. Car caran gotina ''kîvram'' dihati gûhên Kalê. Xuya bû ku merik nexastiya daveta kesikî ji gundê me bû. Zêde neçun ku li kevîyêkî gîşt bi hevra sikinîyan. Li wirê merikê tirk qesi kodik erugên reş ,ku layê wî ji mal anî, ji Azgêran ra bila kir. Ji vegera xwê, ji germa Kuruçayirê birçî û kezeb şewitî çavê Kalê di erugan da ma, Kalê va tişta ne bitenê weku muameleyêkî dîskrîmînatîon şîrove nekir, lê weku heqeret jî qebul kir û va tişta jê wî ra ewê bibûna derdi û kulikî mezin ya ku hêf girtin kiribû tiştikî zaruret. Bi rê va, kuf i kufa Kalê bû; kesên der û dorê, car caran cîddî, car caran jî bi leq didan binê çengê Kalê. Bi rê va wî xwe zeft nekir dest bi kifir û milqîyan kir: ''Dikutime erugê tirk, yê din, yê din jî...'' Lê çi jî kir dilê wî rehet nekir. Çav li Kalê ji hêrsan bibû gola xwînê.
HÊFA ERÛGAN
Bi rê va, di carîkî da, fikrikî şeytanî hatibû bîra kalikê min. Anaha hînê dema baxê hermîyan nebû. Eger hermî kal nebûna ewê Kalê xort û camêrên gund teme bikirina da ku bişev bax û baxçeyên Tirkan weku bizinên yabanî di binî va rêş bikirina. Lê Tirkan, li gundê me , bi ortaxî zevîya Azgêran ya mala Hacikê ya  navbêyna Pozê Pîj û Gaza Babusê bi pardarî(ortaxî) ajutibûn. Kalê xwexwe da herçixas ''sebeba comerdîya tirk belkî jî va zevîya ye'' ji got, hêrs danedihat. Li şunê, bi hatina berçavê wî resmê erugên reş i nerm û pelixî, hêrs  helkî çû weku gêrmîya kelî kef da û ji dû ra xorda çû. Anaha kesikî nedikanîya wî sekinandin bide. Hêrs ewê bi tenê bi hêfê dabiketena...
Kalê; Xwe xwe da ''win ber çavên me erugan ji Azgêran ra bela bikin, tiştikî nedin me û ez jî di nav sînora gundê xwe da zevîya we qorî bikim?  Wer yaxme tune! Şivanê pêz nevî (torun) yê min Eko û hevalê wî Fîko zaten li manê digerin. Bi îşaretikî min ewê ew pêz berdin û zevîyê di binî va bi gîşti rip i rût bikin...'' Bi rastî jî herdu şivanên nizahez û anarşîst canteng bibûn li hêvîya macereyikî bûn.
Kalê li mal bi têra xwe weku şîv mîrîşka surkirî, di ser da jî nîv qerpuz (zebeş), xar şuvatir bangi xwadê kir û bê ku bi kesî va bikevî nav qezîyan, rabû ser nîngan ''şeva we bi xer '' got û kişîya nav cilê xwe yên li ser terengên kevîya duwêr darxistî ya li der  da nav hewşe yê pêz. Li jor di nav Ezmanê kur da  sterik di biriqîyan. Car caran çend sterik ji cîyê xwe da dibîzdîyan û weku tîrêkî bi agir di nav tarîyê da anda dibûn. Kalê disan ''ya Heq, ya Xizir, Ya Xwadanê Dunê'' got û qezîya xwe bi banga ''Ya Reb! firsend nede Şeytîn ku Êzmîn bi dest bêxinî'' xillas kir. Gora wî tiştê ku li jur, li Ezmîn diqewîmîyan, şerê ''Hûrmûz Ana û Şeytîn'' bûn. Xwadê bo ku  Ezmîn ji şeytîn biparêzî  ew tîrên bi ar (agir) diavitin.
Nav cillan da ramanan, Kal birin Dunê ya dinê. Tirs bi dilê Kalê ket, nav serê wî da hirminî û girmînîya hewran û çîrqînîya bebûlûskan (birûsk)bû:
''Cezayê çêrandina zevîya Tirk çîye? Belkî çend rojan cehennem bî. Li vî Dunê jî ji bo her qebahatikî cezayek heye. Li hela dine yan Cehennem, yan jî Cennet heye. Li Cehennimê jî cîyêkî ''Alt Bodrum'' dibêjin heyekî kes ji wirê xillas nabî. Va cîyê davî, weku îdama vê helaye, xillas bûyîn tune. Tiştêkî ez dikim belkî cezayê yêk hefteye bî. Ser da ez li vî Duna wexes bangi xwadê dikim, rocîya xwe ya dew dû îmaman û ya Xizir, rojê du caran ser junîyê xwe rûdinim bangi gîşt peyxamber, ewlîyan û enbîyan dikim; Ji bo hurmetê çend caran herdê qelle dikim.  Eger ew jî qebul nebû, salê carê Seyidê me zivistanan tê gund. Ez gunehên xwe ji wî ra dibejim. Ew ê bi cezayêkî qiççik min ji cezayê cehennemê xillas bike. Seyît nekanîya gunehikî  qiççik jî ef bike ji çi ra dibî? Na! Seyîd çareyêkî  rindtir e. Qet ne em û seyid hevûdû nas dikin. Li wê Dunê kî dizanî merî dikevî destê kujan haqîme? Serda sucê Tirkan pire. Ew ; bi eskerên Tirk û bi Topalê benamus va bûn yêk, mal i melalê me tertele kirin. Gerek yek jî ceza wan bide. Eger Xwade vazîfa xwe nekir, ewê helbet yek rîsk bigirî ser pîlên xwe.  Xwadê ji aqilê xwe aqil daye me jî. Ezê zevîya Tirk çêrandin bidim bedel çi dibî bila bibî... Cennet ji wan ra girtîye. Ew xwadî qetîlê Ehlî Beyt derdikevin. Cennet heqe me ye. Win nevî yê merik bikujin, peyxamber efendî jî we ef bike. Ew ef jî bike, xwadê, Elîyel Murteza we ef nake....Temam min qerera xwe da'' got û dest aviti henîya xwe ya bi xûdanê şil bûyî.
Kalê cara pêşin navê ''Alt Bodrum a Cehennemê'' li Anqarê li camîya Beştepê ku wî pir caran rojên înîyê zîyaret dikir ji îmam bîstî bû. Va navê hena ji wî ra ji bi mantiqî hat: Madem navbêyna sucan da ferq heye, dibê li cehennemê jî weku vê hêla Dunê gora wî cîh û ceza hebûna...                                                                                                                       
Di nav ramanên pesîmîst da çirûskik pêket: Evîna dilê kalikê min, bi gotina wî ''gula cennetê'', dapîra min hati bîra wî. Kêfa wî; şuva bi carikî  va hati şunê, kenikî nermik bi lêvên wî girt, gîşt qisawet û ramanên bi hêvitîyê di carikî da anda bûn û Kalê keti xewikî kûr.
Sûbenda Kalê  zû rabû.  Nav rojan da roja çarşembe, roja bazara qeza me ya Macîran ku ji gûnde me qesi bîst kîlometre dûr bû. Camêrên gûnd; hindikan torbêyên pêndîr, yê dinan tiştên weki sellik dest da ser cîpa Kelo disekinîyan. Yêkeki pez mal dibiri bazarê, zutir bi peyatî derketibûn rê da ku hînê germê ser wan da negirtîye bigeheşin Malbazarî ya Macîran (bi navê resmî Îmranli). Ji kesên ku ji Kalê ra pirsa çûyîna bazêr kir, bahene hazir bû: ''îro kêşika(dora) min a bekçîtîya gunde''
Pir ranebirt ku gund ji camêran tal (vala)bibû. Anaha kalikê min Qazî Beg; bi serê xwe, bi temamî bibû Beg.  Vê carê gîşt hukim û selahîyet ketibû destê Kalê. Li juri gund, şivanê gund Eko bi Fîko ba gêhiştibûn hev. Ew ji bi kêf bûn. Heta vegera mezinan ew jî serbest bûn. Herduyan qezî kirin hev ku herin başur hela gundê tirk Babusê da ku bi şivanên wan ba şer derxinin. Caran bê şer tama serbestîye dibû? Kalê bi ecelê geheşti şivanan: ''low Fîkîret, low Ekrem win madem wê helê ba diçin, pez  xwe berdin zevîya Tirk ya paş poz. Karê wî li gundê me çîye? Bila def bibî here,  bila li şuna gênim erugan bixwe.. Kanê ter dibî yan na?'' got . Kalê ser da çend kifir jî li Tirk barand.
''Apê Hesenqazî te negotana jî, nîyetikî me ye wer jî hebû. Lê madem tu heq didê me em xeber didinê şivanê din ê Axo jî''. Piştê çend fîzîkan her sê şivan li ber poz gêhêştin hevûdû. Kêf kêfa wan bû. Îro ew ê pez û malê wan zikên xwe bikirina ding. Pez ku têr bû, kebanî jî kêfxwaş dibûn û weku mukafat roja din ê to yê ser mêst dikirin turikê şivanan. Yêk kesê andikirî hebû: Ew ji tirk bû.
Ji ber bilindîya cîyê me zevî dereng digihêştin. Loma hînê zevî hêp hêşin bû. Şivana pez û mal ti i top kirin ajutin nav zevîya tirk.  Heywanên çav birçî di  helikî zevîyê da diketin di hela dinê da derketin; lê wexta demikî kêm pez paşva vegerîya û li cîyê xwe giran bû. Ji şivanan ra kar nema bû, kes dû pêz helnedipokî ya. Wan ji ser têp di hêla gundê tirk da di kêş da kevir gildêrî dikirin. Çi bû nebû , ji xanimên gund yêkî ku çûbû ser hopê ku ava sar a veqarinê tijî biroşê xwe bikê bû şahîdê vuqata şivanan û hat va xebera li gund nav jinanda bela kir. Herçixas wê demê telefon tûnebû jî xeberên jinan ji telefonê zûtir nav gun da bela bûn û gêhiştin her derê.
Roj bilind bibû. Ji germê pez diketi kuyê, mangan dest bi mozê kiribû. Şivanan carê sîya xwe bi gavan hêjmartin. Xuya bû ku nîvro bibû. Pez û mal ber jêr da ser gund va daxistin û ajotin nav gund.  Hînê negihêştibûn binê berîyê ku cîpa Kelo li rêya hember xuya kir. Ezraîlên şivanan ji bazarê vedigerîyan.
Vuqata şivanan bi carikî gêhêşti guhên camêrên gund. Bavê şivanan bi hember pêz va hatin û li pêşîya herdû êşqîyan tîq bûn. Bavê Fîkret yê ku zêdetir bi hîddet bû '' Qaptan we çima zevîya Tirk çêrandîye?'' got. Fîkret bi tecrubeya  xwe netîca girtina vî îfadê rind dizanîya, loma bi  yêkcarî  sist bû û destbi îtîrafan kir : ''Ape Hesenqazî em teme kirinê'' got. Wê demê Kalê, li neziki wan binê sîya bîyê da, ser çîmenê radimedîya. Kalê hinekî bi telaş kurê rakir sêr i hêla pêz va kir. Remzî bi hêrs nêziki Kalikê min bû û  pirsa''Qazî Beg te çima şivan teme kirîne ku zevîya Tirk biçêrînîn?''kir.
Kalê carê pozê xwe jur va kişand, bi dengikî nerm û sakîn ''çima min çerandin daye? Tu here ji mêrikê tirk û erûgên wî pirs bike.  Erugên wî ew zevîya çerandin daye'' got. Vê carê bi dengikî bilind  berdewam kir: ''lê ez li vira bekçîyê zevîya Tirkim? Ew li Homagê xelqe ra erugan bela bikê, ez ji li vira jî wî ra bekçîtîyê bikim? Tirko bila berê bifikîrîyana!'' got.
Bi van gotinan hêrsa Remzî rabirt. Kenikî nerm, bi lêvên wî girt. Remzî çi kir jî nekanî  ku kena xwe qontrol bike. Wî rojê, bi hîrqînîyên pêşîya derîyan, xuya bû ku qezîyên kalê li gund bela bibûn.
                                                                                                                                                                              6
Kalê, evarê zû,  li xênî  nanê xwe mast û bi tirîyên reş ê Qazova yê va xar. Mevt û mevta pisingê bû. Kalê berê pisingê ra ''te çî bîstîye de andêr?'' got û paşê parîkik nan bi mast va aviti pêşîya pisinga zik zirav. Li alîyê din da, li cîyê tarî ya di navbeyna herdû ambaran da, dengê dîya min bi gotina ''wîy xiştika giran di ser te da bî hat''. Xuya bu ku mişk tiştik xarubû.
 ''GAYÎPTEN SESLER''
Evarê navbêyna saat heşt û nehe dora xewê bû. Kalê; berê herkesê kişîya nav  cîllê xwe yê li ser terengê ku di kevîya duwarê nav hewşe yê pêz da hatibû çêkirin. Bilindîya terengê kalê ji bejna merovan zêdetir bû. Kalê bi nerduganê helkişîya ser cillê xwe û li wirê ser çokên xwe runişt û destbi banga xwadê kir:
'' Yarebbî Fadîme'yî Tuzêhrê'ya , Hz Huseyîn, Hz. Hasan'a bagişla, Yarebî  Hz Îsa'ya, Musa'ya, Hz Muhamed'e, Hurmuz'e bagişla, yarebbî  Zeynel Abîdîn'e,  Abdulqadîr Gêylanî hazretlerîne, Vêysel Qeranî  hazretlerîne bagişla. Yarebî gelmîş geçmîş butun evlîya, enbîya ve velîlere bagişla. Ya sahîbî zeman, ya Alîyel  Murteza; akan sular'a, gokte uçan kuşlar'a, yaxan yaxmur'a  bagişla...'' lîste weku tarîxa rojhilata navîn dirêj dibû.  Beşa tirkî bi nahalet kirina Muavîye û Yêzîd xillas dibû. Paşê  bi kurmancî Kalê daxwazên weku ''Ya Elîyel Murteza, Ya sahîb-î Zaman, ya Şahê Merdan  gûnehe me ef bike! Te em têr kirine, kesîyan birçi nehêlîne! Yarebî, Ya Elî, ya Heq, ya Xizir me ji şefeata xwe mahrum meke, Yarebbî me ber destî meke. Yarebbî  birçiyan têr bike, kesîyan sewî melîne...'' dianî ziman..
Kalê; piêştê xwandina Qulhuvella,  qezîyên xwe bi mesajên ''ez vanan weku name ji xanima xwe Şahxanim, Dîya xwe Ruqîya û layê min ê mirî zabît'e qiççik ra dişînîm. Yarebbî tu nameyên min qebul bike ''xillas dikir û cara sisêyan xar dibû û herd kelle dikir. Dervayî wî; kesî va îbedata xusîsî ya ku Kalikê min bi navê ''Helqe Nemazî'' nav dikir, nedizanî. Wî digot heqe nemazê, yek sibê û ya din jî evarê, didû ye. Zaroktîya xwe da, kalê li medresê, li Harput'e çibû mektebê. Kî dizanî li wirê çi hîn bibû? Ez dizanim hêla matematik, tarîx û dîn va kes î nediwêrîya bi Kalikê min va bikevî munaqaşê. Alîyê dinê da, weku kesekî dîndarikî kur, xûsîsîyetikî wî yê dinê jî pêşketina hestê(sezgî) bû. Qezîyên wî yên derheqe Saddam da hînê di zimanê gundîyan da ye. Gora wan Kalê ''Li vira ez dinivîsîm win ê bibînîn ewê sube Saddam bibî bela yê serê Dunê''. Derheqê Stalîn da jî wexta min got ''ew sosyalîste'', wî bi gotina ''min jî digot tu tiştikî dizanî? Stalîn weqes merî qir kir ew çitan dibî sosyalîst?'' dersikî , ku min rastîya wî paşê famn kir, da min.
Birayê min Eko; ku laqaba wî rivî bû, wê deme dora dew sê, zêde zêde dew  çar salî bû. Wê rojê, bi hindik sebeban, dengê kalikê min bilintir û hererata wî zedetir bibû. Eko wextik bû , li firsetêkî dipê û anaha ew firseta hatibû ber nîngên wî...
Kalê cara paşin seri histerik û hîvê kir û berê ku serê xwe dayînî ser balîfê '' Ya Hîva bimbarek, ronîya şevê got..''  Gotina bavê min ''Guneh nine tu zevîyê çerandin didê'2 hati bîra Kalê. Carê kurm ketibûyê, carê can qurdeşe bibû; xew jê tewrîya bû. Heta wê wextê Eko di bin terengê kalê da cîyê xwe girtibû jî. Kalê yêk carî bi kur va dengê ''Hesenqazî! Hesenqazî!'' bîst. Wî carê serê xwe rakir bi jurê paş mala me, li hela mezelan ba ser kir, lê tiştik xuya nedikir. Eko; disan bi dengikî bilintir ''Hesenqazî! Hesenqazî!'' got û hela din va jî bi çoyê dest xwe li nîngên tereng xist. Kalê hinekî tirsiya û ''bîsmîllah'' got. Eko disan gotinên xwe dubare kir. Kalikê min nav cillan da xil bû sêr i jêr û jur kir. Pez li cîyê xwe bû, gurr bûyînik tunebû. Lê va çi deng bû. Kalê xwe xwe da bi Tirkî ''demek gayipten sesler geliyor'' got û Qulhuvellakik disan xwand û  bi gotina''va dermanê gîşt cîn û pêrîyan bî''birand. Lê tirs ketibû dilê wî. Weku her kalikî, yê me jî bi tirsa Ezraîlê bi xof radiket. Wexta Eko disan got ''Hesenqazî! Hesenqazî...!'' Kalê ; ser kir ku çarê tune, ''de were min di te k... Kî ji te ditirsî'' got û ji nav cîyê xwe da tîk bû. Eko ser kir ku mesele cîdddiye, ji wir weku rivîyêkî uz ziviriya û çû pêşîya dêrî , bi kêfxwaşî qala serketina xwe maytebtîya xwe kir bo ku yên der i dorê jî pê bikennin. 
Bi anda bûyîna Eko deng birîya bû. Kalê destê xwe da ber guhê xwe ku der i dora xwe godarî bike. Li jur, li êzmîn disan topikî arikî biriqîn tarîya şevê ji hev qelişand. Kalê ''Têw! Disan şerê! Şeytan disan dixwazî ezmîn bi dest bêxinî. Bimbarek wî dide ber gulleyan'' got. Guhên wî giran bûn. Bi tenê bi zorê kayîna(gevîş) pêz di nav şeva tarî da dibîst.  Kalê çav da hevudu û bi qisewata gunehên zevîya çêrandî  keti xewê. Wî evarê disan şîvikî giran xwaribû.
Piştê wextikî raketinê, yekê bi kinc û rihên reş,  zebellaykî bi şur derketi pêşîya Kalê.  Bi dengikî qur i weku yên canîgeyan''Te çi kir, te çi kir?'' digot zebellah. Kalê li cîyê xwe bibû dar, paşê lerzinik pê ket, ziman lê lal bibû. Zebellah şur di dora qirtiqa Kalê va anî û bir. Kalê ser kir feyda tiştikî tunê, xwe civandi hevûdu û dest bi pirsê kir:
-Tu kîyî?
-Ez Ezraîl im. Ez hatime ji te hesab pirs bikim. Hesabê zevîya çêrandî. Nay bîra te?
-Tu ji bo kê kar dikê
-Ez di bin emirê Rabbê Aleman da me.
-Raste min zevî da çêrandin. Rabbê Aleman bê deng ma. Anaha tu şandîyî bo ceza kirina min. Wexta yê dinan em kuştin, mal i melalên me tertele kirin û malên me şevitandin, ji we deng derneket. Win ji ke xwadî derdikevin? Ez Xwadêyê xwe dixwazim.  Tu kî yî, tu Ezraîl î?
Zebilla:
-Ere ez melayîke me
Kalê:
-melayîke hema çi melayîke!  Tu hatî can ê min bigirî. Va karê meleykan e?
Zebullah dest aviti qirtika Kalê. Ji kur va vê carê zurrîna guran hati guhên Kalê. Wî ser i der i dora xwe kir ku çi bibînî zurbeyik guran qutîyê me yê Girdo danê nav xwe. Zebullah xwar bû ku dest bavijî kevirikî,  gurikî reş qîl beş kir û xwe aviti wî. Di wî navbêynê da Kalikî rih sipî yê desdxwe da bi gerduna (eraba) hespan ji êzmîn da daketi pêşîya derê me bû. Desd wî da jî şur hebû. Çav ji Kalê me bel, ziman lê lal bibû. Gur pij i bila bibûn. Kalê Rîw Sipî destik aviti Zebullah, çerkû tanda ew li cîyê xwe kulfistikî bû weku kufkarikikî fisegur li herde helpekîya û ber bi jêr va gildêrî bû.
Kalê me cesareta xwe disan tir i top i hev kir. Bi helpokînî gavik pêş va avit:
-Tu kîyî?
-Ez xwadîyê heşinîye Cihanê; Xwadê yê  evîna bê şertim. Ez Tav(Roj) û heval im. Ez Xwadê yê ronahîyê me, lewra hêşinayî berhema min e. Te ku ez nas nekirim, tu xwe nas nakê. Tu ji min î, ez yê te me. Ez Xwade Mîtra me. Bi çêrandina zevîyê te qanuna min bin nîng kirîye. Cezayê ve heqereta giranê. Ezê cezayê te bidim. Ezê ji bo mehekî te bikim kesekî bi sureta canîgeyêkî ku tu qiymeta heşinîyê fam bikê.
Kale rîw sipî destê xwe rakir ku emir bide,  pîrikî por sipî di ezmîn da weku fîşeng daketi jêr û bi destê Kalê Sipî da girt: ''Ez qurbani canê te bim lawikê min; wî kir, tu meke! Av û baran ji min!''.
Kalê bi dîtîna Pîra por Sipî ji xwe baver:
-Ya Heq cezayê min weqes mezin bû ku te Ezraîl şand? Wî Zebullahê hindik ma canê min bigirî...
Kalê Rîw Sipî:
-Xuyaye îtîraza te heye. Ez weku dadgeha jurin seri îtîrazan dikim. Karê min lihevkirina terefan e jî. Eleqakî min bi Ezraîl va tune. Ew ji Planetikî din e;  bi destê biyanîyan va hatîye şandin ku yasaya min, otorîta min bin binîng bikin. Vazîfa min berdewam kirina jîyanê ye. Ez kanîya enerjîyê me. Di destpêkê da herkes weku pîlêkî xwadî enerjîyê tê Dunê. Hindik kes bi îdare, hindik bê tedarîkin; hindik qayti xwe, hindik xwe pir îhmal dikin. Loma yê hindikan enerjî zu xillas dibî, yê kesan dirêj dajo. Wexta enerjî birî, mirin bi ser va digirî. Bi mirinê ar (agir) ditemirî; ronahî weku fîtîka qazê xewda diçe. Ez wexta ronahîye bibirînîm, der i dor bikim tarî; jîyan naminî. Lê armanca me berdewam kirina jîyanê ye. Mirin nebî, jîyan li pêşîya yên nu ve nabî. Ronahî jîyan e, tarî mirin e. Gîya bi çinînê hêjin dibî; zarok jîyanê şen û şad dikin.
Kalê me kêfxwaş bibû. Vegerîya herdu şexsên bilind û bi hurmet û nezaket '' Ez bi naskirina we bextîyar bûm'' got. Kalê Rîw Sipî bê bersîv nema. Bi empatî dest li pişta Kalê me xist. Kalê rihsipî: ''De herre! Ez bo xatirê dîya xwe te vê carê ef dikim' got.
Li jêr, li hember çema gund,  tav derketibû; keskosor ezman kiribû du parçe. Kalê rîw sipî ''Deh!'' got, hesp ra revanê kir û gihêştin keskisorê ku Ji wir da şuvatir ji eraba Kalê Rîw Sipî ra bû rêya susê.  Kalikê min  dest da ber çavê xwe û bi heyranî hata nav ezmîn da heta ji çavan anda bûyî seri zîyaretcî yê giranbiha kir. Pîra Anahîta jî bibû sir.
Li der bi yêk carî şillîyêkî weku sîcim destpêkir, ji çirtikên sivîngan da av diavit. Xuşînîya nahala pêşîya malê ji tirsan kezeba meran parçe dikir. Li hindik cîyan av weku berxa dîn di dora xwe da diket vijik e; xwe li vir i wê dixist. Li ser sevlîyê qirrikê kiribû qir i qir.
Kalê me bi kêfa ji qeda û belayekî mezin xillas bûyînê dest bi bezê kir. Wexta xast di ser nahala helhatî ya pêşîya derê me da bazde di nav avê ra kişîya. Laserê ew dabû peşîya xwe. Anaha wext wexta mirin û mayînê bû...Xûr i xura Kalê bû, bi zorê nefes digirt. Kutîyê me gêhêşti alîkarîya Kalê; bi zimanê xwe guhê Kalê allist. Bi xêra kutî da bi yêk carî Kalê li cillê xwe helfirîya ''Ya Heyderî Kevser!'' got û dest aviti henîya xwe; ferq kir ku tê da xuh dişirrîya. Hîva zerî der i dor ronî kiribû.. Kalê famn kir kû tiştêkî hatibû serê wî xemn bû. Bi xwe va hat şuvatir, mamoste yê wî yê zaroktîyê ku qala mana Ronahîyê û Xwadêyê wî dikir hati bîra wî. Ew Xoce,  ji hela Behra Reş ji Qoyulhîsarê, bi taybetî ji bo hîn kirina zanîztinê, bi alîyê Kalikê minê mezintirin hatibû anîndin dayîn. Mamoste ''milletê kemn xwadî dîn û îtîqat û navên Xwadêyên kemnin jî.'' digot. Necîp Xoce piştê ''Vurgunîya Qoçkirîyê'' heta mirinê li gundê me ma. Kî dizanî ew kesê bê xwadî û bi zanîna kur ji kijan milletê bû?
Wî şevê heta subê xew neket çavê Kalê. Subenda di kewkebê da bi xûya bûyîna tavê kalê destên xwe ber bi jor va ra kir :
- Ya Xizirê ser kelek û gemîyan,
Ya Meleka ser herdê û êzmîn
Ya meleka serê sibê!
Tu mezini, tu ezîzî
Ya nura roj helat
Ya ro u heleta zêrî, ya hiva zêrî!
Ya Kalê Sipî!
Ya Kanîya Xizir!....
Dua xwe xwand şuvatir Kalê kincê xwe li xwe kir, da rêya kanîyê. Dest da ber çirtika kanîyê. Bi têrê av vexarinê;  herarata xwe ya ku şeva pêşin weku xiştika giran li wî sîyar bibû daxisti jêr.. Anaha disan wexta karê bask i pîlan bû...
Wê salê şundatir,  gundê tirk carik din nehatin hêla me zevî ajutinê. Lê tirsa gunehkarîya çêrandina zevîya tirk pêsîra Kalê berneda.
Kalê; bi çêrandinê zevîya tirk keti bû gunehikî û wî di xemnê da cezayê gunehê xwe kişand. '' Heq bela xwe da zevîya tirk, bila belayê xwe bide erugen wî jî. Hindik ma erugên tirk ar ji me helînê! '' digot.
Kes henê ku, bu bi roj û şev, bi biyanîyan va dibin yêk; zevîyên xwang û birayên xwe bi salan didin çêrandin.
Gunehê wan heye,  yan na? Terazî ya adeletê li ku ye? Eger Xwadêyê îroyîn vazîfa xwe ya adalet belavkirinê bîr kiriye, dibê yêk xwadî terazîyê adaletê derkevî.  Xuyaye ku burxuya edeletê virt i vala bîye. Di esasê da Xwadê ji aqilê xwe aqil daye însanan; barê mesulîyetê daye civatê.
Xwandevanên EzÎz!
Xwadê şandina peyxamberan cîhiştîye; pêşeroja merîyan teslîmi civatê kirîye, ji ber ku peyxamber jî dikanin erka xwe îstîsmar bikin, loma ya herî rindtir peydah kirina CIVATA KAMIL e. Civata ku gor îhtîyac û şertên xwe ji xwe ra ''PEYXAMBERIKÎ'' heldibijêrî û dikanî wî bi mekanîzmeyên cure bi cure qontrol bike.
Civata ku qiymet dide îlîm û îrfan dibî bingehê gêhiştina Însanên Kamîl ya ku civatê, ya paşin ji li hember jî merovan bi her avayê devlemend dike. Bi kêm bûyîna gunehan însanên Civata Kamîl dilgeş dibin. Navê dinê ya Civata Kamîl, Civata Demokratîk e.
Ev nûçe 6030 caran hatiye xwendin