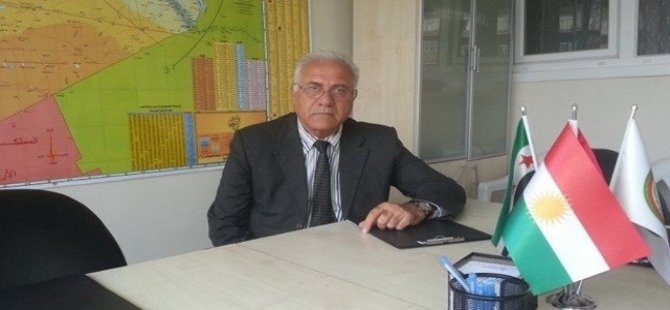 Fûad Elîko: "Hevalbendiya dijminên kurdan têk diçe"
Pirsgirêka kurd êdî ji Rojhilata Navîn derketiye û bûye pirsgirêkeke cîhanî û ev yek jî dihêle ku dewletên ku axa kurdan dagir kirine di nava lêgerîn nûkevin
Nûnerê ENKS û endamê Dijeberaya Sûriye'yê Fûad Elîko diyar kir ku pirsgirêka kurd êdî ji Rojhilata Navîn derketiye û bûye pirsgirêkeke cîhanî û ev yek jî dihêle ku dewletên ku axa kurdan dagir kirine di nava lêgerîn nûkevin. 
 
Fûad Elîko pirsên Rûdawê yên di derbarê têkiliyên bêşa kurd û bêşa ereb di nava dijbereyê de, civînên li Cenêvê, têkiliyên bi PYDê re û pêşniyaza wan a çareseriyê de bersivandin.
 
Ji ber bê encamiya Cenêvê û ji nav çûna agirbesta li Sûriye'yê, di nava Dijbereya Sûriyê de jî lêger û nîqaşên cihê destpêkiribûn. Ji ber heman sedeman hebûna dijbereya li Sûrî lawaztir dibe û bandora wê ya li ser Arteşa Azad û komên din jî asta xwe ya heyî jidest dide. 
 
Li aliyê din ji ber ku dijbereyê heta niha di derbarê daxwaza federalîzmê de ku ji aliyê bêşa kurd ve tê kirin tu helwestek nîşan nedaye. Herwiha ne ew daxwaza ENKSê û ne jî pirsên derdorên cihê bi zelalî nebersivandiye. 
 
Li gorî hin çavkaniyên di nava dijbereyê de, piştî ku Cenêv bê encam ma û agirbest ket xetereyê rewşeke bêumîd destpê kiriye. Li aliyê din aciziya bêşa ereb ya li hemberî daxwaza federaliyê jî roj bi roj eşkere dibe. Li ser vê jî di demên pêş de talûkeya ku dengbilindî di navbera herdû beşan de derkeve heye. 
 
Fûad Elîko jî amaje pê dike ku di vê qonaxê de metirsî li ser herdû aliyan jî heye. Kurd di wê metirsiyê de ne ku wê Sûrî piştî Esad dîsa bibe dîktatorî û ereb jî daxwaza federaliyê weke gaveke perçebûnê dibînin. 
 
Herwiha Elîko jî piştrast dike ku heta ew metirsî di navbera herdû aliyan de bi dawî nebe, ew  mesele jî çareser nabe.  Li aliyê din Elîko anî ziman ku hevalbendiya Tirkiye, Îran, İraq û Sûriye ya li hemberî kurdan jî têk çûye û pirsgirêka kurd Rojhilata Navîn dilerizîne.
 
Ji civînên li Cinêvê hîn tu encamek derneketiye. Ji bo opozisyonê di vê mijarê de pêşveçûnek li holê nîn e.  Li aliyê din agirbesta li Sûriye'yê jî ji nav diçe. Ew herdû xal çi bandorê li ser opozisyonê dikin?
 
Bêguman krîza Sûriye krîzeke gelek zehmet û belavbûyî ye.  Bûye krîzeke herêmî û krîzeke navnetewî. Ew nakokiyên van dewletan giş ketine nava krîza Sûriye. Ji ber vê yekê jî pir zehmetî heye ku Cinêva 3. karibe çereseriyekê bike di dema nêz de. Ev agirbest tê ve çû. Bêguman siyeke reş diavêje ser guftigoya ku li Cinêvê çê dibe. 
 
Bi yamin nakokiyên nava dewletan ne bi dengekî li krîzê dinêrin. Dizanin ku Îran û Rûsya piştgiriya rejîmê dikin bi xurtî. Tirkiye û Siudî û Qatar jî bi xurtî piştgiriya opozisyonê dikin. Dewletên Ewropî, Emerîka ne bi wê giraniya xwe li kêlaka opozisyonê disekinin. Xwe weke dostê opozisyonê dibînin. Lê di warê leşkerî bêçar dimînin ji ber ku Amerîka naxwaze ku bi şiklekî leşkerî dakeve û li cem opozisyonê bisekine û Beşar Esad birewixîne. Metirsiyên wan hene ku Beşar bikeve bê ka kî dê cihê wî bigire. Ev hêzên tundirew û îslamî ewê rewşeke awarta weke ya Lîbya bîne û ew jî dê rewşê bêhtir xira bike. Ji ber wê Emerîka çareseriyeke siyasî dixwaze. Ew çareserî jî di navbera opozisyon û rejîmê de pir dûrî hev e. 
 
Opozisyon dixwaze ku çereseriyeke siyasî bi guherîneke siyasî di nava Sûriye de bê avakirin. Û divê Beşar  barke, hinek jî dibên divê Beşar here dadgehê û heq jê bê stendin. Ev kuştin hemû di stûyê wî û hevalbendên wî de ye. Rejîm dibêje eme hikumeteke hevbeş di bins erokatiya Beşar de ava bikin û emê vê distûra xwe bikin weke distûreke xwe bikin weke reşik di xalên ku hun dixwazin guhertin tê de çê bibe. 
 
Rejîm nayê Cenêvê jî ku ji opozisyonê re bêje emê Sûriye bidin we û Beşar û hevalbendên wî bibin dadgehê. Ya opozisyonê jî pir zehmet dibînin ku piştî kuştina 400 hezar kes, rewixandina 3 milyon mal, nexweşxane û hwd. ku vegerin û bêjin emê li hevûdin bên û Beşar serokê me ye. Ew durbûn bêguman zehmet e û heta ku hêza netewî bi giranî nakeve bin xala 7 de û leşker nekeve peymanekê wê çareserî pêk neyê. Heta ku bi leşkerî peymanek pêk neyê, bi guftigoyan tu çareserî di vî warî de nabin.
 
Hem ew xalên ku hun diêjin, hem têçûna agirbestê û hem jî bê encamiya Cinêvê destê opozisyonê lawaztir nake gelo?
 
Bêguman îro tiştê ku he ye, hevalbendên rejîmê Rûsya û Îran û hinek hêzên şiî û Hizbûllah bi giranî li hêla rejîmê disekinin. Di warê leşkerî, siyasî, dîplomasî de, di warê aborî de nahêlin ku rejîm qels bibe. Li hêla din ew piştgirî ji opozisyonê re nayê.
 
Ew çekên pêwîst û mûşekên ku karibin ji dûr ve li firokeyan bixwe û debaba wan biherifîne Emerîka nahêle bu bidinê. Ji bo wê jî hêza leşkerî ya opozisyonê her roj kêm dibe. Lê çiqas lawaz jî bibe wê rejîm nikaribe li opozisyonê bixe. Çawa ku coxraya li ber rejîmê fireh dibe, qeweta wê jî belav dibe û zeîf dibe. Ji ber vê jî bi ya mi wê krîz berdewam bike heta ku hêza netewî bi rengekî xurt derbas nebe û nebê je ezê li yên ku vê peymanê nekim bidim.
 
Ew rewşa ku we qal kir, li ser têkiliyên beşa kurd û beşa ereb di nava opozisyonê de çi bandorê dike?
 
Niha di nava opozisyonê de, di navbera me û wan de peymanek heye. Di warê kurdî de zelal e ku bi çi rengî ye. Emê çareser bikin pirsgirêka kurdî. Xaleke cûda di navbera me û wan de heye. Li gorî me çareserî, Sûriye'ke federal e. Divê herêmeke federal a kurdî jî hebe. Divê ew jî bi hevalbendiya kurd, suryan û pêkhateyên din be. Ew heta îro ne di wê baweriyê de bûn. Ew tiştekî cûda ye di navbera me de. Lê heta niha em rengekî aştiyane bi hev re guftigo dikin. 
 
Em di wê baweriyê de ne ku ewê bigîhijin wê qonaxê. Ev tişt di navbera me û opozisyona Riyadê de nîn e. Bes gotinên fireh û xetê stûr hene. Em dibên divê mafên netewan di Sûriye'ya bê de bêne parastin. Weke peymaneke cûda ku me bi îhtilafê re kiriye bi ewên din re nîn e. Ji ber vê em pir zehmetiyan dibînin di warê danûstandina bi wan re. Dibên me peymana we û îhtilafê nedî ye. Ev cihê guftigoyeke mezin e. 
 
Carina di navbera me û wan de deng jî bilind dibe. Cirane qebûl nakin û dengbilindî di nava me herdû aliyan de çê dibe. Le em di wê baweriyê de ne ku ewê bi tevahî bigîhin wê baweriya me ku ger ku Sûriya bê ne Sûriyeke federal be wê tu carî çareseriyekê nebîne. Eger ew rewşa îro berdewam bike wê Sûriye ber bi perçebûnê here. Îraq jî ketiye rewşeke xirab di vî warî de. Ê me jî metirsiyên me hene ku ew nebe dewledeke federal, wê dewleta merkezî berdewam be û wê dîsa dîktatoriyek pêk were. Ew ji bo me metirsî ye û emê qebûl nekin ku Sûriye careke din bibe cihê dîktatoriyê kum e 50 salî zulm jê dîtiye. 
 
Nûnerên opozisyonê yên ereb heta niha di derheqê mafê kurdan yê federalîzmê de tu tiştekî zelal negotine. Me jî gelek caran ji wan pirs kiriye lê li ser vê meseleyê qet pêşniyazeke wan a zelal nîn e. Gelo îxtimal çi ye ku ew rewş di dahatuyê de di navbera we û bêşa ereb de bibe sedema krîzên nû?
 
Ez dixwazim bêjim ku di vî warî de metirsî li ser herdû aliyan jî heye. Metirsiya wan ev e ku vê gavê weke gaveke ji bo perçebûnê dibînin. Û dibê wê ew daxwaz Sûriye'yê berv bi perçebûnê ve bibe. Wek mînak jî mijarê her tînin ser Kurdistana Başûr û İraqê. Dibên wan jî berî 13 salan federalî xwestin û îro jî dibên emê herin serxwebûnê. Ev metirsiya wan e. Ê me jî metirsî heye ku ev rejîm bê rewixandin û rejîmeke ji ya heyî xirabtir bê. Ev metirsiyênh erdû hêlan divê çareser bibin bi rengekî diyalogê. 
 
Divê em wan qanî bikin ku mebesta me ne perçekirina Sûriye'yê ye û divê ew jî me qanî bikin ku piştî ku rejîma heyî rewixî wê dîsa rejîmeke dîktatorî neyê. Heta îro di cihê guftigoyan de gelek kes nêzikî vê baweriyê ne lê bi mêranî nikarin bînin ziman. Ji ber ku ew dizanin federalî ne perçebûn e. Û dizanin federalî dizanin rengekî ji rejîmê ye û li cîhanê ji sedî 80 kes li gorî rejîma federaliyê jiyana xwe didomînin. Lê wê mêraniyê hîna nakin ku bêjin federalî ew çareserî ye. Em kar dikin ku em metirsiya wan hilînin. Armanaca me ji doza federaliyê ne perçebûn e lê çareseriyeke ji pirsgirêka Sûriyê re, çeresiriyeke ji pirsgirêka netewe û olên di hundirê Sûriye'yê de.
 
Dema ku şerê li hemberî DAIŞ'ê germ bû û tenê kurdan karî ku rê li ber DAIŞê bigire, prestîja kurdan li cîhanê belav bû. Kurd li cîhanê bûn miletekî rêzdar û wê demê nêzikahiya beşa ereb ya di nava opozisyonê de jî  li hemberî beşa kurd ji niha germtir bû. Lê piştî ku ew mesele sar bû, germahiya beşa ereb jî li holê nema. Ew rastî wê din ava herdû aliyên opozisyonê de çi biçîne?
 
Ez dikarim bêjim ku pirsgirêka kurd, perçeyek ji pirsgirêka Rojhilata Navîn e. Pirsgirêka Tirkiye, Îran, İraq û Suriye'yê ye. Ev dewlet sed salî li hemberî pirsgirêka kurd, bi hevûdin re bûn. Çi pirsgirêkê wan hebana jî dema ku mesele diha ser kurdan, dibûn hevalbendên hev. Îro ev hevalbendî tê herifandin.  
 
Îro berjewendiyên wan dibînin ku ew rewş nema berdewam dibe.  Ji ber ku pirsgirêka kurdî ji Rojhilata Navîn derket û bû pirsgirêka cîhanî, ew dewlet jî dixwazin hevalbendiya hêzên kurdî bikin. Îran dixwaze têkiliyên xwe bi PKK re hebin, Tirkiye dixwaze bi PDK re têkiliyên wan hebin.  Ew dizanin di rêya PDK re wê têkiliyên wan bi ENKS re jî hebin. Ew grêbenda ku weke kontrolkirina pirsgirêka kurd bû vebû. Bû pirsgirêka hemûyan. Niha herkes li pirsgirêka li cem xwe dinêre. Berê dema kum e li cem kesên ereb digot pirsgirêka kurdan heye digotin pirsgirêka çi ye. digotin em hemû weke hev in. Îro ketine wê baweriyê ku pirsgirêk heye lê ewê çawa çareser bibe. Ketine tirsa perçebûnê. Fêkiyek heye em jê re dibên dubelan. Ew dubelan dema ku payîzê brûsk venede, biharê şîn nabe. 
 
Dema ku Rojhilata Navîn li hev nekeve û rewş xirab nebe, pirsgirêka kurdî wê veşartî bimîne. Rojhilata navîn li hev ketiye û îro ev dubelan erdê diçirîne. Lê divê di vî warî de stratejiyeke Kurdistanî hebûya.  Stratejiya Kurdistanî dikarî ku qonaxa çareseriyê nêzik bike. Divê em zanibin ku emê bi çi zimanî bi tirk, ereb û farisan re biaxivin. Pirsgirêka me ev e. Mixabin ev tuneye.
 
Nakokiyên wan dewlatan ketine nava me. Destê xwe avêtine nava me û me her yekî bi hêlekê de dikêşin û em li bin guhê hev dikevin. Îro di vê rewşê de ev ne ji berjewendiya gelê kurd e. Ew rewş jî qnaxa ku bi ya me qonaxa çareseriya pirsgirêka kurd e, bi dûr dixe.
 
Heger rejîma heyî li Sûriye têk biçe û mixalefet bi serkeve û Sûriye bibe federal wê li Rojava çi biqewime? Ji ber ku niha PYD federasyonek ragihandiye ji xwe. Wê demê hun û PYD hunê li ser kîjan rêyê bin? Ew nakokî dê çi bîne?
 
Bêguman ev herêm niha di destê PYD'ê de ye. Lê PYD di warê siyasî de nayê qebûlkirin. Ji du hêlan de nayê qebûlkirin. Yek ew e ku PYD şaxeke ji PKK. PKK jî li cem Ewropa û Emerîka weke rêxistineke terorî tê qebûlkirin. Herkes jî zane ku ewê tu caran nehêlin ku 700 kêlometre sînorê Tirkiye di destê PKK de be. Tirkiye dewletek e di nava NATO de. Ya din, PYD bi ereban re kete nava dijminatiyeke kûr. 
 
Ew laşên ku li Efrînê hatin teşhîrkirin, xelk zû bi zû ji bîr nake.  PYD di warê siyasî de têk çûye. Rast e cografya girt lê di warê siyasî de ketiye cihekî teng. Tenê rêyek li ber PYD heye. Neçare ku lêvegerekê li ser siyaseta xwe bike. Ew lêveger divê li du qanaxan be. Yek, divê bi zelalî bêje ku ez bêşek im ji tevgera kurdên Sûrî û wê têkiliya xwe bi PKK re bibire. Ya diduyon, divê danûstandinek ciddî bike û li ENKS'ê vegere. Li peymanên ku bi ENKSê re kirine vegere. Hewlêra yekem, ya duyem, Dihok… divê li hersêyan vegere û van peymanan pêşxe. Divê qebûl bike ku em karin bi hev re bixebitin. 
 
Em karin wê demê ji hêzên dewlî re bêjin, PYD xwedî nêrîneke siyasî ya ji bo Sûriye ke demokrat e. Wê demê ewê jî PYD qebûl bikin. Lê dema ku rejîm bi serkeve wê ji PYD re bêjin 'Lîstik bi dawî hat' divê hun çekan dêynin. Heger herdû li hev bikin jî ewê bêjin lîstik bi dawî hatiye ji bo herkesî. Ji ber ku biryara ku hemû miletê Sûrî li hev kiriye ev e ku divê tenê hêzek li nava Sûrî hebe. Hêzeke netewî hebe û yên din bi temamî çekan dêynin. Ku nebe ewê ji PYD re bêjin çekan dêynin. Ger ku PYD bêje na, ew lêxin. Ger ku PYD çekan dêyne, divê dakeve qada seyasetê û hilbijartinê. Ew xweş zanin ku li hemberî gelê bi ENKS'ê re wê cihê wan hebe lê ew dizanin ku wê dema wan kurt be.
 
Hem ji bo lêvegera Peymana Hewlêr û Dihokê û hem jî ji bo vegera Peşmergeyên Roj, pêwendî an jî danûstandineke we ya nû heye li gel PYD?
 
Mixabin heta niha tune ye. Peymana Dihokê zelal bû. Divê Peşmerge vegerin û komîteyek hevbeş di navbera YPG û Pêşmerge de bê avakirin û em karibin di warê siyasî de bi yek nêrîn karibin kar bikin û di warê îdarî de jî li gel hev kar bikin. Lê ew qonax mixabin têk çû. Ew nikarin qabûl  bikin hatine Pêşmerge. Ji bo me jî heta ku Pêşmerge neyê, tu sedem ji bo peymanên nû nîn in. Divê zarokên me vegerin û berxwedanê di ber gelê me de bikin. 
 
Divê PYD lêvegerekê çêke di vî warî de. Ewê di berjewendiya PYD'ê de be jî û di berjewendiya gelê kurd de be jî. Wê demê emê karibin ji Emerîka re, ji Rûsya, Tirkiye, Îran û ereban re bêjin ku em hêzên kurd yek in, nêrîna me ya siyasî ev û doza me ev e. Wê demê ewê gelek tişt bêne qezenckirin.
Ev nûçe 1193 caran hatiye xwendin