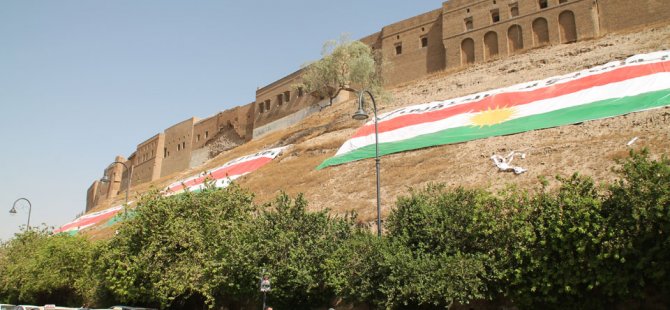 Êdî bê ku ez bibim xwedî bask, dikarim herim Kurdistan!
Şeyhmus Özzengin
Em bi grûbek heval re li firokxaneya Tegel a Berlîn/Elmanya li belafirê suwar bûn. Heyecanek mezin bi min re hebû. Ji ber ku qederê 34 salane ku min Kurdistan û axa Kurdistan nedîtibû. Jiyana min a surgûn û koçberî helbet ne 34 sale..ji vê beşek zîndane û yê mayî jî surgûne. Ji ber ku zîndanîya min jî ji xeynî zîndana Amed, yên din di nav xwînxwarên tirkan de di surgûna zîndanîyan de li zîndan a Mersin, Eskîşehîr û Aydin derbas bû.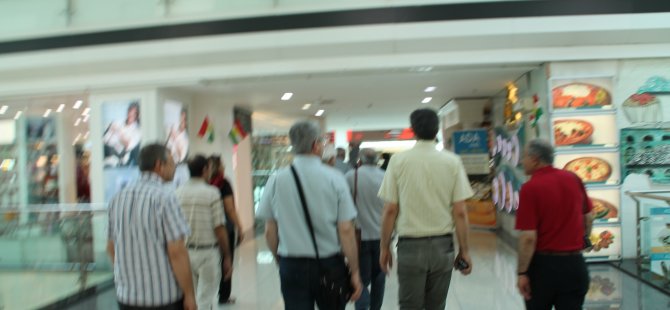 Em dirêj nekin; li Berlîn/Firokxane yaTegel piştî em ji kontrolê  derbas bûn, me berê xwe da belafirê û em suwar bûn. Hinek dereng rabûna belafirê hîn bêtir kelkela dilê me bilind dikir. Tibbetiba dilê min bû, dikarî ji qesefa sînga min derkeve.
Belafira me lebitî û firîya bi rê ket. Belafir bilind bû û bilind bû. Min li rewşa bilindbûna fira wê nêrî; 11 hezar û tiştek bilid û di seatê de jî 786 km. bibez diçû.
Piştî 5 seat û tiştekî em li firokxaneya Hevlêr a navdewletî daketin. Me berê xwe da kontrolê. Tiştê ku bala min kişand; kontrol bi warekî profesyonel û ji xwe emîn dimeşîya. Ez cara yekem di kontrola dewletek Kurdan re bi polîsên kurdan re rûbirû dibûm. Min hin wek rêwî di sirê de li dora xwe dinêrî û hin jî li kontrolê mêze dikir bê ka çawa derbas dibe.
Sira hat min û min pasporta xwe dirêj kir. Ji ber ku peseporta min ya penaberî bû, min pêşî nasname neda polîs..tenê pasport dayê..piştî bi kamera li min û li sûretê pasportê mêze kir..sûret kişand û suretê tilîya min girt..Ji min re got ka nasnama te jî..Min nasname ji berê de amade kiribû. Ji ber ku min dizanî pasporta min bê nasname derbas nabe..Divê bi hevre bin. Min dirêjî polîsê Kurdistan kir..Herdû dan ber hev û got "spas dikim". Tu ji bo çi hatîye vir..Min got ez kurdim û ji bona referandûmê hatime. Li min bi ken mêze kir, pasport û nasnama min dirêjî min kir û got "keremke!". Min jî got spas û derbas bûm.
Ez li hawîrdorên xwe mêze dikim..Bi ala rengîn xemilandî. Dengê muzîka kurdî tê..serbilindîyek pêpa min digirt. Min û hevalan me baholên xwe girt û em derketin derve..Otobusa ku me dibe dervê belafirgehê amade bû, em lê suwar hatin û çûn cîhê sekna mêvan û geştîyaran. Min xwest ku pera bidim şifêrê otobusê, got; " na belaşe, bêpere ye qurban"(!)
Em daketin û me berê xwe da cîhê texsiya. Ez, Sidik Olçer, kurê wî Newroz û Sedat Gunçekti bûn. Li her welatî şofêrên texsîyan dişibin hev. Ji bona ku pênc kuruşan zêde ji me bistînin serî li hereketên erzan dixistin. Jinek geştîyar ji Kurdistan, ji me re got; "hun bikaribin qederê 300 metrokî bimeşin, li wir texsîyên navbajêr hene, pir erzanin. Evana yên firokxanê ne û pir buha ne!"
Me, bi gotina wê jina geştîyar kir û em çûn cîhê ku ji me re gotibû..Me ji polîsên ku li ser rê, nokta kontrolê girtibûn re got; hun dikarin texsîyekê ji me re vegerînin, emê herin Hevlêr..Got; "li kêleka rê rawestin, ezê ji we re bişînim." 
Piştî çend xuleqan texsîk hat ber me sekinî. Em lê suwar hatin û me berê xwe da Hevlêr. Adresa Hotêlê di hendiya min de bû..Min pêş şifêr kir, Got temam, ev hotel li ser rêya Sêmetrîk a kêleka Nawenda Wezareta Şehîda ye.
Qederê nivkathejmêrekê em gîhan ber hotêla xwe. Me perê texsîajo dayê û derketin hotêlê. Navên me berê dabûn xwedîyê otêlê..Qeyda me çêkirin û çentê me derxistin odeyên me.
Ji heyecan û kêfa xewa me nedihat. Ez û hevalek bi navê Sidik Olçer, em derketin derve û me xwest ku hinek bimeşin. Piştî çend gavan me dît ku pêşmergeyek bi çek li ber derîyê avahîyek mezin natorîyê dike. Me silav lêkir û pirsî; vir çiye, tu çima li vir natorîyê dike? Got; "evder Navenda wezareta Şehîdan e!"
Li Kurdistan bi serê xwe, ji bona karûbarên malbatên şehîdan; wezaretek ji bona şehîdan û malbatên wan hatîye avakirin. Helbet sebebek vê a girîng ji ber ku bi dehhezaran şehîdên Kurdistan, malbatên şehîdan hene û bi serê xwe karûbarên wan yên fermî bi destê vê wezaretê têt meşandin. Ev jî qîmet û taybetîya karûbarê şehîdan û pîrozîya wan dide nîşan. Kurdistan şehîdên xwe, cangorîyên xwe, xwebexşerên xwe bi taybetîyekê hinbêz dike.
Em hinek din çûn pesajek mezin û modern derket ber me. Li wir jî yek sivîl û sê pêşmerge nobet digirtin. Me silav li wan kir û xwe bi wan da naskirin..Pir kêfa wan hat û kursîyên xwe dan me, ji me re vexwarinek cemidî anîn û ew jî li kêleka me rûniştin. Yê bi cilê medenî got; ez li Swêdê dimam, bi hatina DAÎŞ re min xwe gîhand Kurdistan. Ez niha polîsê medenî me, ev der pasajek mezine. Em asayîşê diparêzin li vir." Seat 01 bû. Min pîrsî; ma dizî livir heye?
Got; "nexêr li vir dizî nabe. Em ne ji bona dizîyê livirin..Em hêzên ewlekarîyê ne. Ji bona ewlekarîya asayîşê livirin. Wek ku hun dibînin, derîyê dikanên pasajê jî vekirîne..Li Kurdistan tiştê herî hindik dizî ye."
Min ji pêşmergan pirsî ka hun ji ku ne? Yek ji wan ji Duhok bû, yek ji Hevlêr û yê din jî ji mintîqa Soran bû.
Min ji bona referandûmê li rewşa wan pirsî. Hinek ji Silêmanî û xelepçe ne piştrast bûn û gotin; "heta niha hîn jî Tevgera Goran û komel îslamî helwesta xwe diyar nekirine. Ev jî ji bona serkevtina referandûmê metirsîyek e"(!)
Hewlêr paytextê Kurdistane û yek ji bajarên herî mezin ê Kurdistanê ye. Li Hewlêr zêdeyi du milyon kes dijîn. Hewlêr di dîrokê de gelek caran bûye qada şer. Dîroka wê digihije hetanî 1800 salî zêdetir.
Di navenda bajêr de kela Hevlêr, wek navika zikê jinek bi ducanan di navenda Hevlêr de ava bûye û bajar jî, li derdora kelê daîre li ser daîrê gilover hatîye avakirin. Sîmetrîke û rêyên wê li gor van sîmetrîkan bi hev ve hatine girêdan.
Pişti şerê sala 1991 herêm ketîye bin kontrola kurdan û di sala 1992an de ji bo cara pêşîn Parlementa Herêmê hate hilbijartin.
Dema ku Balafirgeha Navnetewî ya Hevlêr (Hevlêr International Airport) vebû, dê aliyê bazirganiyê de Hewlêr pir bi nav û deng û zengîn bû ye. Cûre cûre şîrket, kampanîa pere li Hevlêr rijandine û li bingehek bezirganî ji xwe re gerîya ne. Çanda rojhilat û a Asya dûr tevlihev difûre ser rîkê mirovan. Warên Ewrûpayî û modern jî wek pesaj û hotêlan jî berbiçav xuya dikin. Lê di nerîna min de Hevlêr; her çiqa paytextê Kurdistan be jî, ew hîn gundekî mezine û çanda şahredarî û jiyana gundan tevlihev derdikeve holê. Helbet ev jî bi jiyana Kurd a dirêjahiya dehsalan a şer û dagirkerîya ku wek zilmek mezin bandora xwe li ser çanda Kurdistan kirîye ve girêdayî ye. Ev jî bûye sebebê çanda bajarî ku, li gor rengê neyaran cîh ji xwe re çêke û ew fîlozofîya Kurdistan a pîroz derbê bixwe.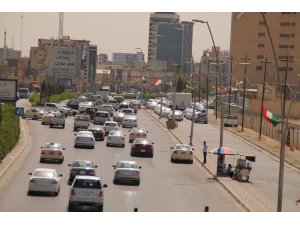 Başûrê Kurdistan Dewletek Neîlankirî ye!
Li Hevlêr, Asayîş û ewlekarî bi şiweyek balkêş û di qadek bilind de serkevtîye. Mirov li kuçe û suk, hotel, bazar û restorantên Hevlêr bi şîweyek bêtirs, ji xwe razî digere. Li hawîrdorê Kurdistan şerê mezhebî, olî netewî, hêzên terorê cirîdan davêjin. Mezheb mezelê mezheban dikole. Lê Hevlêr, paytextê Kurdistan bi serbsilindî xwedîyê ewlekarî û asayîşek serkevtî û balkêşe. Ev serkevtina hikumetê, hêzên ewlekarîyê û asayîşê derdixe pêş me ku, wê Referandûm serkevtî û bêbele û qede derbas bibe.
Dîtira rojê min, serî li çend hotêlên ku mêvan û şopînerên referandûma Kurdistan lê dimînin xist. Pir heval, dost û nas lê tije bûn. Her di kulîsan de hesret bi hev re derbas dikirin û sohbetên li ser rewşa referandûmê geş dikirin. Ji herçar beşên Kurdistan: Hemû hêz, partî û rêxistin, kesên serbixwe, ronak-rewşerbîr û siyasetmedar; bi hezaran rahiştibûn çentên xwe û hatibûn Hevlêr û derdorê. Dixwestin ku bibin hevparê bêhn û heyecana referandûm û serxwebûnê Kurdistan. Min pir dost û hevalên qedîm dîtin û me bi hev re hesret derbas kir.
Ji hotêlê, piştî dîtinê Xetîce Yaşar, hevaleke me ya qedîme ku me pir salên xedar bi hev re derbas kirîye; me wexwendî xwarinê kir. Em qederê 15 kesan çûn bi hev re restoranta ku Xecê ji me re rezerwe kiribû. Xwarinek xweş û bi germîya hesreta salan, pirsohbet me xwarina xwe xwar.
Ji bona çûna Duhok ez bi Baran û Sulêman re peyivîm. Baran got êvarê em bi hev re biçin cîhekî rûnên û emê çûnê jî program bikin.
Êvarê dereng, em bi hev re li du ereban suwarbûn û ji hotêla Darîn derketin û çûn restorantekê. Nasên Baran bûn. Me xwar vexwar û sohbetek xweş bi henek û zeka Baran re derbas kir. Baran pir rexne û nukteyên balkêş yên dema zaroktîya xwe û di wê demê de bi çavên zaroktî rexnên xwe dikir û yê me jî, ji ken hêsir di çavên me de davêt. Me çûna Duhok jî program kir. Wê piştî nîvro Baran û Suleyman min bi seyarê ji hotêlê bigirtana û me yê berê xwe bida Duhok.
Programa min Dihoka navdar bû. Ji serî de min ji hevalên xwe re gotibû; ez roja referandûmê li Duhok im. Ew Duhoka ku her bûye kela serhildan û piştevanê doza Kurd û Kurdistan. Ji destpêka şoreşa Başûrê Kurdistan û heta ev roj, Duhok, Barzan û Zaxo serî netewandine. Eşîr û malbatên Duhok wek qorzîbirên avakirina Kurdistan serbilind û xwedî doz mane. Devêrên ku bi 100 hezaran cangorî û xwebexşer jê derketine û her bûne xwedîyê doza Kurdistan, ev deverin. Dîtira rojê min xwe amade kir ku herim Dihok.
Mixabin Di 24.09.2017 da de li Hotel Sîpanê dostê PAK (Partîya Azadîya Kurdistan)ê şevek hevdîtinê amade kiribûn. Min jî vexwendibûn vê şevê. Şev bi xwarin û vexwarin bû. Lê ji ber ku ez rêwîyê Duhokê bûm, wê şevê ne li Hevlêr bûm, beşdarî şevê nebûm. Dema min kin bû û min lêborîna xwe ji dostan xwest. Li gor agahîyên ku hatin ji min re û suretên ku min dîtin; bi sedan Kurdperwer beşdarî şevê bibûn û pir serkevtî derbas bibû.
Ez mazûbanê malbat û dostên xwe yên qedîm Baran û Rustem Aslan bûm. Dayîka wan Rabîa Xan jî ji ber sebeba Referandûm û dîtina min hatibû Duhok. Rustem serbazekî Hêzên Zerevanî ye. Baran jî karên avahîyan dimeşand. Lê piştî qeyrana darayî bêkar maye. Ji 1984an de me hevûdû nedîtibû. Têkilîyên me bi hesreta ku rojek em rûbirû hevûdû bibînin her bi telefonan meşîya bû. Ez û Silêman Petekkaya û Baran li ereba Baran suwar hatin û di 24.09.2017 an de, me ji Hevlêr berê xwe da Duhok.
Ji Hevlêr çûna deveran Riya yekem, ji Duhokê dest pê dike û ber bi Zaxo ve diçe Xabûra derîyê bakurê Kurdistan.  Li derdorên Duhok alîyek Laleş û Amedîyê, hêla din Zaxo û di bin re jî avbenda Musil e, cîhên nêzîkî sînorên bakurê Kurdistan in. Eşîrên mezin yên Kurdistan di perçekirina Kurdistan de, ev eşîr jî bi sînoran jihev hatine perçekirin. Pir eşîr nîvê wan li Bakur, nîvê wan li axa başûrê Kurdistan mane.
Rêya duyem jî ji Duhok diçe Elkeş, Musil, Kelek û dadikeve Hevlêr.
Duhok bi sînûrê Amêdîyê, Zaxo û Sêmêl hatîye dorpêçkirin. Li Dihokê digel navceyên wê Zaxo, Amedî, Sêmêl, Şêxan û gundên wê ji 2 milyon lê dijîn. Ji wan %90 misilman û ji %10 jî filleh û Êzdî ne. Hejmara bajêr bi xwe nêzî milîyonekê ye.
Du çem di nav bajar de diçin.  Yek jê çemê Duhokê ye, ji jora bajar, ku serekaniya wî li nêzîkî gundê Xazyava dizê û yê duyem jî, biçûktir e, navê wî, Hişkerû ye ku, serekaniya wî, ji rojhelatê bajêr, li nêzîkî gundê Berêbuharê dizê. Li ser çemê Duhokê, berî bigîhê gelî, sikrekê avê hatiye çêkirin. Dûra herdû çema, ku di nav bajar re diçin, bi baxçe û dehlên fêkî: hinar, hejîr, hilîk, mijmij, bihîv, sêv, tireqî, tirî, hirmîka xemlandi ye.
Li bakurê Duhokê kelheya Firun e. Rojhelat kelheya Şedayê, li başurê Çiyaye Reş e.
Germek xweş di rê de dida rûkê me. Pirêzên geniman, gîhayên hişk bi rengekî zêrîn û di nav de hinek deverên şênayî, rez, darûber deşt dixemilandin. Suleyman li min dinêre ku ez bibalkêş li derdorê ax û zerîeta Kurdistan dinêrim. Ji min re got: "Axa Kurdistan, axek dewlemend e. Ku bi alîkarîya zanistî ev ax bêt çandin, tenê bi serê xwe, bê ku em hesabê neftê û gazê bikin, dikare Kurdistan xwedî bike!"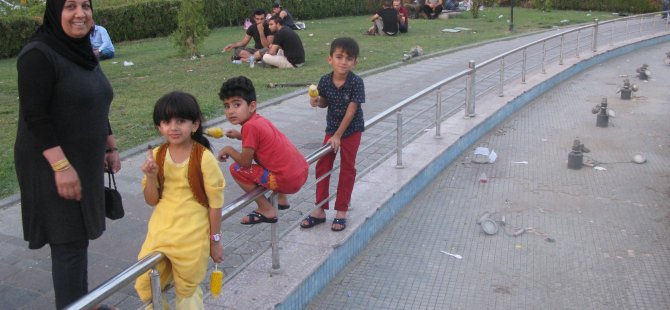 Axa Kurdistan 
Gundî û bexçevanan berhemên xwe di kêlekên rê de, di bin sîwan û çardaran de difrotin. Min li kelûpelên wan mêze dikir; her tişt dinav de hebû: Zebeş, petêx, balcanên sor û reş, îsot, bamîya, kundir, fasûlîyên şîn, sêv, cûre cûre tirî, hirmî, hejîr, xox, guhîj, bihiv û tiştên din. Ji ber ku bi hawayekî modern û bi alîkarîya kooperatîfan ev kar li gundan nehatîye organîze kirin, malê gundîyan di destê wan de dimîne. Ji bona ticaran jî komkirina van kelûpelan hin buha rûdinê û hin jî zahmet te. Ji bona bajaran kelûpel ji dervê Kurdistan tên, lê berhemên gundîyên Kurdistan jî didestê gundîyan de telef dibe. Ev rewş li benda dîtina çaraserîyekê ye.
Axa Kurdistan; ji şerê yekem yê cîhanê û heta niha her dibin lingê heramîyan de bi xwînê hatîye avdan. Di her goncalekê de, li ser her taht û kevirekî, li ber her devî û berqefekê de xwîna cangorîyekî, xwebexşekî  Kurdistan tev li vê axê bûye. Ji ber wê jî ez li Suleyman vedigerînim û dibêjim ev ax pîroze. Me xwedî dike, me diparêze, stara me ye. Divê em bi mejûyekî teze û zanîstî xwedî lê derkevin û  biparêzin ji destên qirêj.
Piştî 2003 an Kurdistan dest bi jiyanek nû kirîye. Di hevparîya federal a dewleta İraq de para Kurdistan a ji butçeya Baxda ji %17, mûçe yên karmend û pêşmergan, fînansekirina perwerdeyê hatîye dan. Kurdistan bi dahata vê re, dest bi avakirinê kirîye. Rêyên modern, pir û projeyên gundan, yên avdana herêmên bêav bi hawayekî lezûbez û modern destpê kirîye. Pir proje serkevtî hatine qedandin û hinek ji wan jî nîvco mane. Bi rê de em pir li van projeyên nîvco rast hatin ku; hinek esasên wan hatîye avêtin, hinek betona wan qedîyaye û hinek pirr jî lingên wan hatine danîn û nivco mane. Ev rewş di nava bajaran de, di nava gundan de û di ber riyan de bi şîweyek eşkere dide nîşan ku; Kurdistan dest bi avakirina welatekî azad kirîye û dewleta navend ya İraqê ev gava Kurdistan ferq kirîye. Nehiştîye ku Kurdistan biser keve. Kêr li damarên xwîna Kurdistan xistîye bi şiweyek dijminane û hertişt nîvco, terkî fetisandinê, gelê Kurdistan terkî birçîbûnê, mahkûmî nediyarîyek pêşerojê kirîye. Lê di virde jî ev hewlên dewleta İraq yên neyarî biser neketine. Kurdistan di bin vê bandorê de xwe amadeyî gavên hîn mezintir kirîye û teslîm nebûye. Li her derê amadekarîya Referandûma serxwebûna Kurdistan gavek ji van e. 
Neyartî ne karekî medenîye. Her di nav hest û ramanan de metodên hov û xwînrij xwedî dike. Kurdan hin serdestîya Sunneyan û hin jî ya Şîe yan ceribandîye. Dema ku Sunne serdest bûn bi Enfal, komkujî û çekên kîmyewî Kurdistan û netewa Kurd ceza kirine. Şieyan jî bi qutkirina dahatên Kurdistan, xwestine Kurdistan terbîye bikin. Ji xeynî van metodên hov û xwînrij, ti metodên din bikar neanîne, ji ber ku dijminin û her bi vî çavî li Kurd û Kurdistan nerîne.
Di dema ku Sunne li ser hikum bûn, di dema dîktatorîya Seddam de; van metodan li henber Erebên Şîe jî hatîye bikaranîn. Mixabin, dema ku Şîe bûne xwedî îktîdar û serdest; dest bi metodên Sunneyan kirine û bi eynî neyarî xwestine Kurdan bi birçîbûnê terbiye bikin. Suneyan bi Enfal, koçberî, bi komkujîyan, bi çekên Kîmyewî quweta îktîdara xwe derxistine pêşberî kurdan. Şîeya jî ji ber ku hêza leşkerî wenda kirine, bi kuweta biryarên parlemenê û hêza îktîdarê, bi şîweyek neyasayî xwestine Kurdan bînin rêzê. Makezagona hevpar û yasa binpê kirine.
Siyasetmedar û pêşengên Kurdistan, hin kirinên dewleta İraq baş nirxandine û hin jî bi siyasetek serkevtî li henber her gava dewleta İraq a bi mezhebî şîîst ya İraq, gavek din ya mezin û serkevtî avêtine. Dewleta Şîist a İraq, dema bi qutkirina nifqê Kurd û Kurdistanîyan, bi birçîbûnê herêma Kurdistan tehdît kirine: pêşengên Kurdistan jî dest danîye ser petrola Kurdistan û li henber van biryarên dewleta şîist a İraq bikar anîne û nehiştine ku ev biryarên dewleta şîîst bibin sebebê şikenandinan. Her çiqa hinek hêzên nav YNK , Tevgera Goran û Komela İslamî li henber van gavan rawest girtîne jî, serkevtî nebûne û di bin serokatîya birêz Mesud Barzanî de li henber van kirinan helwestek Kurd û û Kurdistanî, bi rûmet û serkevtî meşandine. Demek hatîye ku pir hêzên siyasî yên Kurdistan rastîya vê helwestê dîtine û li dor vê siyaseta netewî û Kurdistanî helwest girtine.
Di siyasetê de kî, pêşeroja xwe rast binirxîne û risq bide ber çavan, ew dibe beşek ji dîroka welatê xwe. Li Kurdistan jî ev helwest bi helwest û biwarîya Birêz Mesud Barzanî û hêza derdorê ev rastî hatîye honandin û bûye pêşengê gavên dîrokî. Me ev restî bi çavên serê xwedît ku pêla festîwal, xwepêşandanên li dîyaspora Kurdistan hatin avakirin ku; çawa bi pêlên dehqat, bîst qat, bi sedhezaran di Karnewal û xwepêşandanên Zaxo, Duhok, Soran, Kerkuk, Silêmanî û Hevlêr de  ev piştgirî dan siyaseta pêşengên projeya serxwebûna Kurdistan.
Berî ku DAÎŞ êrîşî Kurdistan bike, bangek Birêz Mesud Barzanî hebû; eşkere got; "piştgirîya min bikin ezê gavên referandûm û serxwebûnê bevêjim"(!) ji herçar perçên Kurdistan, dengekî zeîf derket û ew pêştgirîya ku îro derket holê, ew dem tirsonek, bêhonandin û kêmbawerî bû. Bi serkevtinên şerê li henber DAÎŞ û honandina têkilîyên dîplomasîyek serkevtî ev pêla serxwebûnxwaz hat honandin û herikî kuçe û meydanan. Mizgîna serkevtina referandûm û serxwebûna Kurdistan û jikestina dijraberên referandûm û serxwebûna Kurdistan jî di wan rojên geş de zelal bibû. Êdî referandûm jî bibû teferuat.
Berê me berbi Duhoka rengîn de, bi rêberî û şifêrtîya Baran û hevaltîya min û Suleyman dom dike. Di rêya her gund û bajarên ku em tê re derbas dibin de, kontrola pêşmergan bi hawayekî rehet û ji xwe bawer; seyaran didin sekinandin û li navçavên rêwîyan dinêrin û dipirsin; "hun ji ku tên û bi kude diçin?" Car caran li nasnameyan jî dinêrin û begajên seyaran kontrol dikin, bê ku rêwîyan rehetsiz bikin, bi zimanekî hurmetkar û nerm spasîya xwe dikin û dibêjin "Oxir" be ji we re. Baran û Suleyman hînî van rîyan û kontrolan bûne, lê ez cara yekem ku şahidê kontrolên Pêşmerge û polîsên Kurdistan dibim. Ji ber ku ez cara yekem dibim şahidê beşek ji axa Kurdistan a azad. Ev jî, heyecan û serbilindîya min dike ku, bibe perûbask ji min re.
Em di devera Şêxan û herêmên Ku Kurdên Êzdî lê pirin re derbas bûn û cîhên îbadetxaneyên Kurdên Êzdî û cîh û kargehên gazê, yên bîrên neftê di kêlekên rê de xuya dikirin. Min ji Baran dipirsî û bersîva min dida. Ji ber ku Baran xwedî şîrketek avahîyan bû ji min re tanî ziman ku "ev nêzî sêsalan e ku avahî û pêşkevtin sekinîye, her tiş di halê xwe de maye!" Bi qutkirina nifqê Kurdistan, dewleta İraq derbek mezin li avakirin û pêşvebirina Kurdistan xistî ye!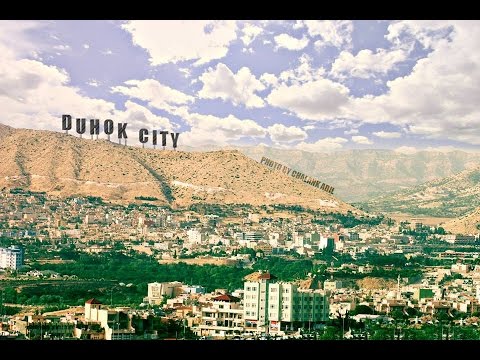 Bi şev em gîhan Duhok:
Duhok; di navbera  rêza du çîyayên çep û rast girtî û di newalek fireh de mexel ji xwe re çêkirîye. Bi şev wek çemekî zêrîn ku di newalek fireh û kûr de biherike, şewqa wê dida çavên min. Çep-rast rêza çiyayên ku Duhok dorpêç kiribûn, bi şev wek bircên parastinê xuya dikirin. Hawîrdor, serê çîyan, xemlên ser rêyan û avahî, mal hemû bi ala rengîn û bi afîşên  "Encûmena Referandûmê", bi pêkerên şervanan, qahremanên doza Kurdistan û posterên wan xemilandî bûn. Bi bêhn û helwestek Kurd û kurdistanî ew germa xweş dida rûkê me. Min kamera xwe girtibû destê xwe û dixwest her pêker, her al û her kevirî bikişînim û têxim serê xwe. Bi heyecan bûm û bêsebir bûm. Keda bi sedansalan wek wêneya hunermendekî navdar, bi avêtina her firçeyekê ku hîn temam nebûye derdiket ber min û min jî ev nivcotîya wê xulaqe bi xuleqe dikişand.
24.09.2017 an de em ketin nav Duhok. Bêhna şervanên qedîm, bêhna wan eşîrên kedkar û ku ticaran serî ji zilma dagirkeran re dananîne, biserbilindîya nemir Mustefa Barzanî ji Duhok, ji çiyayên derdorê difûrîya ser rûkê min. Li Duhok jî her tişt nîvco, dewleta İraq bi qutkirina dahatên Kurdistan, neşterek li damara xwîna wê xistibû, lê bi rûmet li ser ling, jiyan geş bû û bixwe bawer xuya dikir. Li henber neyartîya Bexda, bêminet û serfiraz xuya dikir Duhok.
Em li ber derîyê Baran sekinîn. Baran Kurê M. Emîn Aslan ku malbatek di jiya min a siyasî de, di demên herî xerab de xwedî bandorek mezine. Beşek ji jiyana min û M. Emîn jî wek xalê min, xanima cenabê wî jî wek dayîka min xwedî bandor û hezkirinik dehan salan e. Dema ku ez hatim girtin û ketim zîndanê Rustem û Baran du zarok bûn. Baran 7 salî û Rustem jî 4 salî bû. Lê ev herdû kurên şîrhelal û kurdperwer, bi wê zaroktîya xwe jî dev ji min bernedan û her ew hezkirina zarokî bi hatina zîyareta zîndanê û heta îro dom kir.
Malbat; bi heyecan, bi bûk, zarok û bi heyecana di dilê Dayîka min a manewî Rabia û Rustem re min pêşewazî kirin.
Derîyê malê vebû û me hevûdû hinbêz kir. Bi hesreta 34 salan ew hezkirina ku dijminan bi hemû hêza xwe nikarîbû ji dil derxe, bi kenogirî û xwezîya ku dîrokê ev roj jî pêş me kirin, dom kir. Wek berî 34 salan ku carek din dîrok dubare bibe; lê ev car ne li Amed, li Duhok hat nûkirin. Xortên serkevtî, bûkên qîmetbilind û devliken, zarokên wan yên ku tu dibê qey ev sedsale ez di ruhê wan de me û dayîka ku bêhn, ked û hêsrên dehsalan daqurtandîye û hîn wek çîyakî ji çiyayên Sipî yê ku Duhok pişta xwe sipartîyê, min pêşewazî kirin.
Di jiyana xwe de her min xwestîye ku baskên min hebin û di ser sînoran de bifirim ku hidût û sînorên dagirkeran derbas bikim bê ku pasporta min hebe! Ev hesret û fantezîya surgûn û koçberîya xerîbîyê bû. Lê vê carê keda sedsalan a nemir û xwebexşên Kurdistan, ez bêbask, lê  bi pasport anîm Kurdistan, anîm Duhoka serbilind, nav hesreta dehsalan, nav cangorî û xwebexşên axa pîroz.
Berî ku ez bêm Kurdistan, min nivîsek rexnê li ser Dr. Arzû Yimaz ku, di Zanîngeha Amarerîka a Duhokê de, berpirsiyarê kursîya "Beşa Têkilîyên Navnetewî" nivîsî bû. Bi navê Rizgar Kestewî hevalek li min gerîya û nivîsa min a Dr. Arzu Yilmaz ji min xwestibû û gotibû "ez kesek nêzî Zanîngehê me û wê jinê jî baş nas dikim. Dixwazim tu bi Kurdî hinek naveroka nivîsa Dr. Arzu Yılmaz û rexna xwe bihev re ji min re bişîne. Min jê re şandibû û min jê re gotibû; ez dema referandûmê dê bêm Duhok. Telefona xwe dabû min û gotibû; "ku tu li min bigere û em hevûdû bibînin ezê xweşhal bibim." Çend caran not ji min re şandibû û ji min pirsîbû "ez hatime, an na." Min telefona Rizgar Kestewî da Baran û got bêje wa mêvanê me hatîye, ku hez bike dikare were. Derket telefonê û kêfxweş bû. Piştê kathejmêrekê ew jî hat, me demek kurt bi hev re derbas kir. Wextê cenabê wî kêm bû û zû rabû. Lê bi derfeta ku em carek din hevûdû bibînin û wextekî bihev re derbas bikin. Mixabin ne wextê min û ne jî wextê cenabê Rizgar derfet da ku em carek din hevûdû bibînin.
Me bi şev heta dereng, Di bexçê mala Baran, di bin ala 8 metro çarkoşe de ku ji qatê sêem heta jêr dalqandî de; şevbihêrkek xweş, bihesret û têr sohbet derbas kir. Nîvî şevê, ez, Rustem, xanima wî Bêrîvan û kurê wanî delal Jîr, bi xanima h.îsmail re, em çûn mala wan. Wê şevê me çend seatan xew kir; ji ber ku sîbê referandûm bû û heyecana wê nedihişt ku em xew bikin. Bêrîvan û Xanima H. Îmail Aslan ji me re taştêyek pircûre û kurdistanî amade kiribûn. Rustem cilên xwe yên serbazî li xwe kiribûn. Sê stêrk li ser milê wî û demança xwe girê dabû. Min texmîn kir ku emê berbi deverên bitehlûke de herin.
Em rûniştin, me taştê xwar û ez û Rustem û jîr daketin garajê, li erebê suwar hatin û birê ketin. Berê me berbi Avbenda Musil, cîhên ku ketibûn destê terorîstên DAÎŞ. Piştî demekê li çepên rê gund wek ku zerzele li wan çêbûne, hilweşandî, mezelên makine û tenqan di ber çavên me re derbas bû. Min texmîn kir ku şerên dijwar li van deveran çêbûne. Min ji Rustem pirsî. Rustem li min vegerand û got; "keko li van deveran DAÎŞ kevir li ser kevir nehiştîye. Me pişta wan şikenand, lê wan jî wek ku tu dibîne hemû dever hilweşandîne."(!)
Em di çend noktên kontrola pêşmergan re derbas bûn. Li alîyê rastê li serê girekî bingehek leşkerî derket pêşîya me. Rustem got; "ev navendek Hêzên pêşmergên Roj beşa jina ye."
Berbi Sêmêlkê û bi jêr de em daketin. Em derbasî nav Sêmêl bûn, me cîhek ku sindoqa referandûmê ji bona pêşmergan hatibû dayîn zîyaret kir. Bi sedan pêşmerge liber sira xwe bûn ku bêjin "erê, belê ji bo serxwebûna Kurdistan"! Min hin têra xwe sûret kişand û hin jî pêşmergan re sûret kişand. Ji ber ku referandum bû, tenê asayîş biçek bû. Yên din bêçek bûn.
Rustem ji min re got; " li vê deverê 5 hezar pêşmerge yên hêzên Zerevanî hene. Ev der cîhê min e jî. Lê ez nikarim li vir rayê bavêjim, sira pire û divê bi seatan em di bin vê germê de di sirê de bimînin. A baş ewe ku di vegerê de ez bi malbata xwe re, li Duhok raya xwe bavêjim."
Me têra xwe wan deveran di berçavan re derbas kir. Hêla Bendava Musil, derdorên nêzî Musil û em bipaş de vegerîyan. Wek ku min li jor gotibû: DAÎŞ wek wahşekî ketîye deverê û herder hilweşandîye. Barbar bi çi navî û bi çi olî despê bikin, qet ferq nake, her barbarin û yên xerakirinê ne. Lê, hatina DAÎŞ a ser axa Kurdistan û ev kirinên DAÎŞ li ser axa Kurdistan; bi destê xwe, ecelê xwe anîye û mezelê xwe jî bi destê xwe kolaye.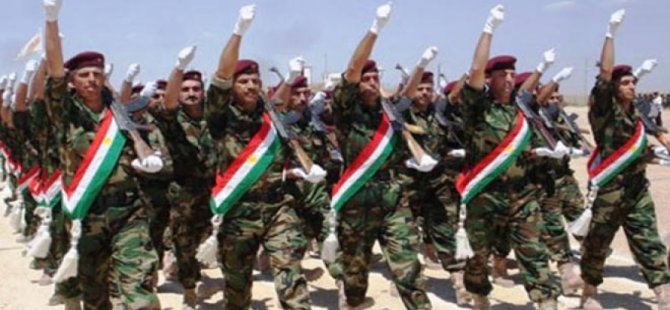 Bi hezaran serpêhatî, qahremanî û serkevtinên Pêşmergan hene
 Bi hezaran serpêhatî, qahremanî û serkevtinên Pêşmergan hene di vî şerî de. Hêjaye ku bi taybet, ev serpêhatî û ev şexsîyetên xwebexşer, cangorên Kurdistan, bên tomarkirin ji zarokên me re ku, vê keda hempa nas bikin û neyên jibîrkirin..
Li ser riya xwe, me çend deverên din yên ku sindoqên referandûmê lê danîne ziyaret kir. Bi hawayekî aşitîyane, rehet û serkevtî rayê dihatin avêtin. Her kesê ku raya xwe davêt bi ser bilindî tilîya xwe bilin dikir û digot "ji bo Kurdistan e."
Me çend cîh li nav Duhok jî di ber çevan re derbas kirin û min xwest bibim şahidê referandûmê bê ka bi çi şîweyê dimeşe. Paşê em gîhan mala Baran, me xwarina xwe xwar û bi malbatî em çûn ku rayên xwe bavêjin. Min mekîna Sureta da destê Senger kurê Baran û pêş wî kir ku çawa tê kişandin. Senger, bi kêf  mekîne avêt sutûyê xwe..
Em derbasî hindir bûn û ketin sirê, me nasnameyên xwe dan berpirsiyaran û dor hat me. Me bi serbilindîyek mezin û heyecanek bêpa ji bona serxwebûna Kurdistan, raya xwe bikar anî. Em derketin devê derî û Senger me xist sirê û tilîyên me da bilindkirin û suretên me kişand. Di jiyana xwe de cara yekem ku ez rayê bikar tînim. Ev jî tenê ji bona Serxwebûna Kurdistan bû.
Em dîsa vegerîyan mal; serkevtin û kêf ji rûkê me dibarîya. Li benda encamên referandûmê man. Sindoq bi dûhev de vebûn û encamên sindoqan xuleqe bi xuleqe, kathejmêr bi qathejmêr eşkere bûn. Berî ku ez herim axa azad li gor kenaeta min ji % 85-90 wê "erê" bigotana. Ev texmîn bi çend hejmaran derbas kir.
Piştî ku serkevtina "erê, belê" bi ferqek pir mezin û bê bûyer, bê qeze û bela pesend bû. Di nava bajêr de bayê şahî û kêfê, yê pêşewazîkirina serxwebûn û serkevtina referandûmê hat. Em jî seyarên xwe suwar bûn û derketin nav bajêr. Ala rengîn di destê zarokan de, qîre qîra wan, bi muzîka Şivan Perwer û hunermendên din, em ketin nav kerwanê serxwebûnê.
Piştî demek kurt; gel û seyarê wek rehîla avê ji mala derketin û xwe berdan kuçe, tar, sikak û meydanan. Ji seyaran, bajar kilît bû. Nema tiştek dilebitî. Herkesî derîyên seyarên xwe vekirin, alên xwe bilind kirin û bi yek dengî "bijî dewletbûn, bijî serxwebûn" gotin û govend girtin. Ev sahneyên li berçav, jikenandina nîrê koledarî, bidawîanîna zilma sedsalan bû. Ev heyecana Duhok hêjayî dîtinê bû. Wek pêla serhildana Kawayê hesinker ku, di Newroz a pîroz de stemkarîya Dehaq bidawî anî, bi kêf û geş bû. Di pacên seyaran de porên keç-bûk û xortên kurdan û ala rengîn diketin hinbêza bayê serxwebûnê û biba dibûn. Gume guma dilê min bû bi def û zirna serxwebûnê re.  Ez şahidê beşek ji serxwebûna Kurdistan bûm û ji jiyana min rojek ku xewna emrekî ku bi bextîyartirek mezin bibû rastîya jiyana min. Serxwebûna Kurdistan êdî ne xewy û ne xeyal bû, rastî bû û ez di hinbêza vê rastîyê de serxweşê vê heyecanê me. Heta ku ji min hat min xwest ku vê heyecanê bijîm û di tora civakî de parvebikim. Çi ji min hat min kir di vî warî de.
Em heta berdestê sibê bi vî haweyî man. Hêdî hêdî hereket çêbû û seyare meşîyan. Di nava bajêr de komên muzîkê û govendan, grûbên ku derdiketin ser seyare û pîqaban û govend digirtin, di balkonên avahîyan de şîrqîna keleşan û kêf û serxweşîya serxwebûnê bû. Bi 100 hezaran jin, zarok mêr, kal û pîr derketibûn kuçe û rêyan. Yek bûyer, pêzê yek Mirovî jî xwîn nebû. Dikan vekirî lê xwedîyên dikanan jî di nav şahîya serxwebûnê de bûn. Yek dizî, an tiştek xerab ne min dît û ne jî min bihîst. Asayîş bi her haweyî berkemal bû û di nav gel de wan jî şahîya serxwebûna Kurdistan pîroz dikirin.
Cangorîyên Kurdistan wê şevê di qebrên xwe de aram û bi Rêbazîya Birêz Nemir Mustefa Barzanî re, di dîlê her yekî Duhokî, di dilê her yek Kurd û Kurdistanî de; di nav şahîya serxwebûna Kurdistan de serbilind bûn. Çîyayên Derdorê Duhok, çemên bêdeng û axa sar, ew cangorî di qebrên xwe de hinbêz kiribûn û dengê şahîya serxwebûn, mizgînîya serbazîya sedsalan û serkevtin digihîşt wan, digihîşt cîhanê. Kurdistan berhemên serkevtinê, berhemên siyasetek rast û netewî, Kurdistanî bi ked û xwîna nemiran, bi pêşengîya pêşengek siyasî tomar dikir. Deynê xwe, berpirsiyarîya xwe pêşkêşî nemir û xwebexşên xwe, pêşkêşî netewa xwe dikir. Netewa Kurd û Kurdistanîyan ev car dîrok bi destê xwe dinivîsî, bê ku şik têde mabe.
 Em bi van gavan piştrast, serbilind vegerîyan mal. Heta ku em gîhan mal, seat bibû 04 û bêrawest heta sibê ku şefeqê lêxist jî dengê korneyên seyara dihat guhê me. Du şevan bê xew û rawest gelê Duhokê liser ling serkevtina referandûmê û serxwebûna Kurdistan pîroz kir.
Dîtira Rojê programa min û Rustem hêla Laleş û Amedîyê bû. Me dîsa taştê xwer û em birê ketin. Germ bû û germê li ber çavên me rewrewk çêdikir. Me berê xwe da gelî, çîyayên serbilind, warê têkoşînê.
26.09.2017an ji Duhok derketin. Me benzîna xwe girt û berbi Laleş de birê ketin. Em di ber Telwa û Beatrê re derbas bûn. Çîya bi daristanên darê berû û darên fêkîyên bejî, bexçe û rezan xemilandî bû. Ji dema Birêz Nemir Şêx Ehmet Barzanî de qutkirina daran û kujtin û seyda ajalan hatibû qedexe kirin. Çiyayên Derdorê Duhok, Telwa, Beatrê û Laleş, Amedîyê bi darûber xemilandî. Erdnîgarîya Kurdistan, dewlemendîya wê, û di nav vê dewlemendîyê de rewşa gundîyan pir zelal û bi jiyana xwe serbilind derdiket ber me. Jiyana gundîyan zahmet, lê ji ya bajaran hîn mesûttir û bêşik Kurdistanî derdiket ber me. Hemû fêkî û kelûpelên herêmê bîo (organîk), bi silavek germ kêfxweş, serkevtin ji rûyê wan difûrîya. Dema ku min ji wan pirs dikir; ka referandûm çawa derbas bû; hema tiliya xwe a bihibir nîşanî min dikirin û dikenîyan û digotin; "ev car temame, kesek nikare me ji gava me bipaş de vegerîne"(!)
Ev hêla Duhok ku heta Amedêyê diçe ava, şên û bibereket berçav xuya dikir. Min bêrîya tirî û hejîrên çiyayê Kurdistan kiribû. Min ji Rustem re got di vegerê de em ji xwe re hejîr û tirî bikirin ji van gundan.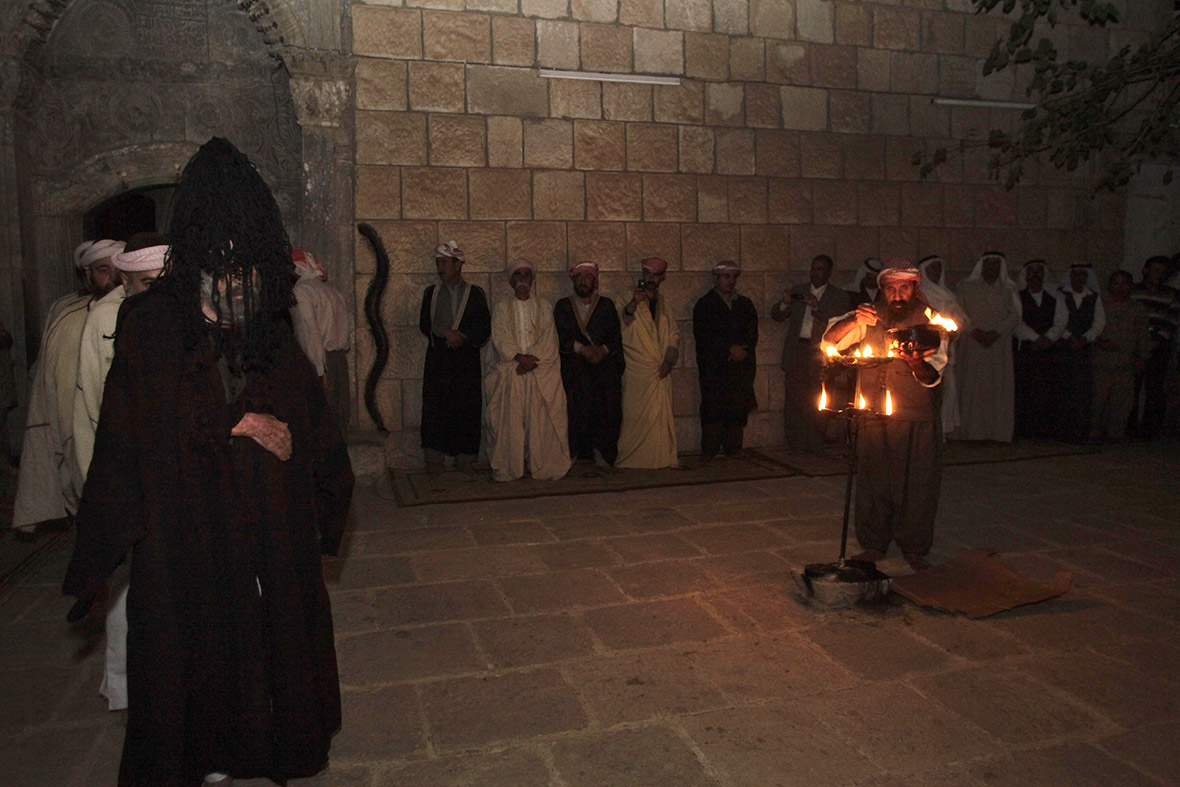 Me Laleş tewaf kir 
Em ji Gelîyê Çolî derbas bûn û sêrêyek, wek çetelekî derketin ber me. Rustem got; "keko, pêşî em herin Amedîyê û dû re vegerin Laleş, an em pêşî herin Laleş û dû re herin Amedêyê?" Min got em pêşî herin Laleş. Laleşa Nûranî wek ku bi hesreta dîtina salan li hêvîya me bû ku, min nexwest ez wê bêtir rawetînim. Em ketin rîya Laleşê û piştî demek kurt, Laleş ji me xuya kir. Me seyara xwe park kir, solên xwe ji lingên xwe derxist û tena gora meşîyan. Xortekî emrê wî 14-15 salî mîmandarî ji me re kir. Darên sedsalan. Kevirên birrî û avahîyên nû kevnar dinav hev de Pîrozîya ola Êzdî a hezar salan, bi dîroka darên tûwan ku ji xwe razî xemla Laleşê bûn re şopa vê ola pesen a Kurdan li ber çavên min bû. Em daketin mabet û mezelên şêxên vê olê, cîhên ayînde û kelûpelên kevnar. Min yek bi yek da ber devê mekîna wêneker û kişand. Her ol di navenda xwe a despêkê de şopek pîroz ji oldarên xwe re dihêle ku, ew ol zû bi zû nemire. Laleş jî yek ji wan e. Hêjaye ku em xwedî li vî cîhê pîroz derkevin û biparêzin. Dewlemendîya çanda Kurd û Kurdistan e.
Di derheqa Kevnarîya Darên Tûwan û emrê avahîyên kevnar yên Laleş de min xwest ku hinek agahîyan kom bikim û bînim berhev. Mixabin pirsên min bêbersîv man û kesekî emrê darên berû ji min re negotin. Li gor texmîna min ew darên Tûwan li dor 400-500 salan bûn. Lê divê bi destê pîsporan bêt hesabkirin û her darek emrê wê liser bêt nivîsandin. Ev kêmasîyek mezin bû, lê nizanim çima heta niha ev kar ji bona geştîyaran nehatîye kirin.
Me Laleş tewaf kir û dîsa em vegerîyan cem seyara xwe. Me solên xwe xistin lingên xwe û dîsa bi rê ketin. Berê me berbi Şikevta navdar a Înişkê de, dinav gelî û gundên derdorê re derbas bûn. Rêyên vê deverê nebaş û pir caran teng û tije kelûkort bûn. Gelîyê dewlemend û bidar û berên xwe şên yê dibin lingê Şikevtâ Înşkê de wek bircek ku hukmê xwe li gelî bike derket ber me. Cîh bi cîh Dîwar û avahîyên geştyarî, kanîyên avê ji pêsîrên gelî diherikîn. Rustem dît ku ev bala min dikişîne, ji min re got; "keko piştî ku otonomîya 1975 an şikestin xwer, Saddam ev dever wek deverên geştyarî ji xwe re wek ceneta ereban ava kirîye. Ev gelî havîngeha wan bû"(!)
Bi kaş de, di ber dik û dîwarên rez û bexçan de hêdî hêdî em derketin Şikefta Înîşkê. Ev Şikeft di dema salê 1970an de ji pêşmergên qahreman re wek nexweşxane hatîye bikar anîn. Ez bawerim ku mirov li huzûrê bigere, ev gelî û Şikefta Înîşkê wek deverek wargeha huzûrê xwe bi mirovan dide qebûlkirin. Dibe ku ji ber vê balkêşî û pîrozbahîya vî gelî ev der ji bona birîndarên şervanên Kurdistan wek nexweşxane hatîye neqandin.
Di orta gelî de girikên ku di nav dar û beran de, bi qesr û avahîyan xemla gelî, dibin lingê Şikefta Înîşkê de dikeve hinbêza me. Hêjaye ku ev gelî bêt dîtin. Ez çiqas pesnê vî gelîyê bêpa bidim jî, ez bawerim wê kêmayî têde hebe. Hema heger cennet hebe, ev gelî perçek ji cennetê ye.
Şikeft wek restorantek geştiyarî hatîye amade kirin û dema ku em gihîştin ber şikevtê, me seyara xwe park kir û bi lingan em hilkişîyan ber derîyê şikevtê. Sê xebatkarên restorantê ji xwe re xwarin çêkiribûn û xwarina xwe dixwarin. Me silav li wan kir, ji cîhên xwe rabûn û bi dilxweşîyek baş, rûbiken li me vegerandin û gotin; "keremkin bi me re xwarinê bixwin, niha hûn birçî ne!"
Me nexwest ku em wan aciz bikin; min çend sûretên şikevtê kişand û em hatin cem wan rûniştin. Xwestin ku çayê îkramî me bikin. Me av xwest. Du şûşe av îkramî me kirin.
Min pirsî çima restorant vala ye? Ji min re gotin "piranî mêvanên me geştîyarin. Vê demê geştîyar nayên. Ji ber wê jî em vala ne.
Min xwarin pirsî! Min û Rustem dixwest ku xwarinekê li vê restorantê bixwin. Mixabin ji me re gotin; "xwarina me tineye, lê hun bixwazin, em dikarin ji vê xwarina ku me ji xwe re amade kirîye, ji we re jî amade bikin!" Me mêze kir ku emê dereng bimînin, me spasîya xwe ji wan re pêşkêş kir û ji wan pirsî; li van deran Referandûm çawa derbas bû? Hersê xortan jî tilîyên xwe yên bi hibir pêşme kirin û kenîyan. Min mesaja xwe girtibû. Me izin xwest û em dîsa birê ketin.
Min carek din li gelî mêze kir. Gelo hosteyekî ku firça xwe bigire destê xwe û li ser tuwala xwe cîhekî di xeyalên xwe de binexşîne, wê ji vî gelîyê xeyalan xweşiktir be an na?
Di eynî riyê de em daketin jêr û me berê xwe da Amedîyê. Piştî demek kurt Amedîyê wek Bûkeka Kurdistan bi taca zêrîn û xemlek rengîn ji me xuya kir. Di serê çîyakî ku bilindîya wê li dor 1100 metro bilind û di firehîha sîmetrîyek mezinde hatîye avakirin. Bajarokê Amêdiyê "dikeve bakurê rojihelatê senterê Parêzgeha Duhokê.  Bi dûriya 70 km. Bajarekî dîrokî û balkêşe. Dîroknas Ibn el-Esîr[çavkanî pêwîst e] çendîn caran navê Amêdiyê înaye ev bajêre toşî ne aramiyê bûye heta ku mîrên mîrgeha Sêvdîna kurdî kiriye paytextê desthelatê xwe li nêzîk sala 740'ê koçî (1339'ê zayînî) mişextî û libin desthelata wan ev cihe pêşkefit û berdewam ma paytextê mîrgeha Behdîna heta sala 1842'an a zayinê. Demê ji layê Mihmed Ance Beyireqdar[çavkanî pêwîst e] ve hatiye dagîrkirin paşî sultanê osmanî Mihmudê dûyê sîstemê nawendî yê raste û xwe li wîlayetên Osmanî li ser sepand û bi yek car dest bi ser mîrgehên kurdî da girt û bi wîlayeta Colemêrgê paşî wîlayeta Mûsilê ve hate girîdan."
Wek her bajar û bajarokên Kurdistan, Amedîyê jî tûşî êrîş û degirkeran bûye, lê îro azad û serbixwe xwemla xwe li xwe kirîye. Ji nû ve, xwe wek bûkek li hêvîya berbûyan amadeyî serxwebûna Kurdistan dike.
Amedîyê bi axa xwe û bi deverên xwe yên geştîyarî pir dewlemende. Her çika deverên çandinîyê lê kêmbin jî; axa wê bi fêkî û darûberên xwe dewlemende. Piranîyên  dar û berên Amêdiyê bi ava kaniyan dihête avdan, ev bajarokê bi sazkariyên millî navdare, wek ku guskên axê û çendîn karên dî yên destî di hên çêkirin nexasme li gundê Dirignê hindek taybetmendî bi sazkariyên axê hene; dibêjin ev cihe qutabxaneka ser bixwe û avabû, jibilî van karan jî xelkê vê deverê yan ku Amêdiyê karê çandin û xwedîkirina teriş û kewalî û karên bazirganiyê dikin. Bêhna bezirganî û hunermendîya zenaat ji Amedîyê difûrîya. Kêleka rê ya rastê ku her Restorant û dikanên geştîyarî bûn. Bajêr bixwe bi bazarekê bazirganî têt nasîn. li deverê eşikereye ku Amêdiyê hemî muzexaneke çendîn cih û avahiyên keltur û şînewar lê hene û heta nûke di beriz û aşikirane çîroka berebabên yek li dû yekê vediguhêzin û rêveberiya şînwara li Duhokê 34 cihên şînwara lê tomar kirîne. Axir Amedîyê hêjaye pesindanê ye.
Li Kurdistanê dizî tineye, tiştekî herî şerme
Em bi seyarê derketin nava bajêr. Wek sîmetrîyekê me tûrek di nava bajêr de avêt. Yek rêya wê hebû û ji alîyekî de dikeve nava bajar û ji alîyê din de têt cîhê derketinê. Bi çanda bajarî, bi xemla xwe û bi wargeha bingeha bezirganîya xwe Amedîyê xwedî nav û xwedî pesin e. Tişta herî berçav ewe ku amedîyê; wek ku kesekî biyanî negire nav xwe û taybetîya xwe ji dagirkeran biparêze, hatîye avakirin. Hîn jî ev tayebetîya Amedîyê li ber çav, ji pîsporan re derdê xwe bi hebûna xwe, eşkere dike û sebeba avakirina bajêr li vî cîhê watebilind derdixe ber çavan.
Me tûra xwe avêt û em vegerîyan. Dikanek li ser rê vekirî lê kes lê nebû. Me xwest ku em hinek tehîn, ava hinaran û Dimsa Amedîyê bikirin. Me ji dikandarê hember xwe pirsî ka xwedîyê dikanê li ku ye? Ji me got "çûye mal xewke. Niha nayê!" Ez şaş mam, çawa dikan tije tişt, derî vekirî hiştîye û çûye mal! Dikandarê henber me li me vegerand û got; "li Kurdistanê dizî tineye, tiştekî herî şerme. Ji ber wê jî em dikanên xwe nagirin, qet derîyên dikanan nayên girtin. Yek ku bilez tiştek jê re lazim be jî, digire dibe û dîtira rojê perê dikandar tîne dide wî!"
Hêjaye gotin û pesindanê ye ku di orta Ewrupa de jî, tiştekî wilo tineye. Derîyên dikandarên Ewrûpa bi çendîn kilîtan û bi çendîn kamera têt parastin, dîsa jî dizî lê dibe. Lê di orta şerê mezhebî, qirêjîya dijmina de, bi du milîyon eware û penaberan re, Kurdistan ev çand û ev serbilindî, ewlekarî avakirîye!
Rûberê qeza Amedîyê 93 km², hijmara gundên rex û derdorên wê 24 gund bûn û  hemû hatîbûn wêrankirin. Lê piştî damezirandina hikûmeta herêmê, piranîyên gundan hatine avakirin.
Gundên bi ser Amedîyê ve: 1-Dizge. 2-Bebû. 3-Sernî. 4-Hêşetî. 5-Bêznorî. 6-Sipêrî. 7-sînî. 8-Bêromanî. 9-Zêweyi. 10-Kareyi. 11-Zêwa serî. 12-Başê. 13-Wêle. 14-sakî. 15-Kanî Sarkê, 16-Elihê. 17-carmendê. 18-erijê. 19-Şiûukoyî. 20-Tovî. 21-Bêtfe. 22-Dutazayî. 23-Şîvî û 24-zêrî ye.
Me ji dikana alîyêdin î rê çend şûşe tehîn, ava hineran û dimsa Amedîyê kirî û em hatin cîhê ku restorantên geştîyarî lê hene. Em birçî bibûn û li cîhekî berbiçav rûniştin. Me xwarin ji xwe re xwest û dîsa min çend sûret kişandin. Ji masa kêleka me yek hat û silav li me kir, got ez jî Amed(Diyabekir)ê me û xwarinçêkerê vê restorantê me. Hun bi xêr hatine!" Min pirsî çend sale ku tu ji Amed hatîye li vir dixebite?
Got; " ev bû 7 sal ku ez livirim." Ji xwe razî û bi kêf pirsî hun ji Amedê hatine?" Min got na ez ji Elmanya û hevalê min jî Duhokî ye. Xwest ku tiştekî îkramî me bike. Mingot zor spas dikim. Me xwarin ji xwe re xwestîye. Çayê ji me re anî.
Xwarina me hat. Xwarina herî meşhûr goşt û sawar e. Lê berî ku xwerin bêt, ser masê tije meze dibe. Ji mast û qeymax, tehîn û zeytûnan bigire, heta selete û fasûlûyan hat ser masê bi nanê tenûrê re. Selate bi rûnê zeytê û bi ava hinarên Amedîyê hatibû çêkirin. Xwerin jî hat û me dest bi xwarina xwe kir. Pir xweş bû û bêhna metbexa Kurdistan a navdar difûrî ser pozê me.
Ecela me hebû divê em ewqes rê jî bipaşde vegerîyana. Carek din çayê ji me re hat û me perê xwerina xwe da û dîsa birê ketin.
Bi rê de me selikek Tirî û yek hejîr ji gundîyên fîkîfiroşên ser rê kirî. Min hinek xwest kû di derheqa rewşa gundan de agahîyan ji wî fêkîfiroşê xwedî rez bistînim. Min ji Rustem re got em ji vir fêkî bistînin. Rustem seyare ajot kêleka rê û park kir. Em ji seyarê daketin û ber bi dezgehê fêkîfiroş de çûn. Di dezgehê wî de hejîrên rihanî, du cûre tirîyên reş û sor, petêx, zebeş, kundir, xiyar,balcanên sor, guhîj û xox hebûn. Min li buhaya wan pirsî. Dûre jî li halê wî? Got; "ev fêkî ji rez û bîstanên mine. Em car caran nabin bajaran li me buha rûdinê. Em  derdixin ser rê û difroşin. Başe. Axa Kurdistan biberekete, mixabin bazar kême û pir caran didestê me de dimîne. Derfeta ku em vî fêkîyê delal derxin derve tineye."(!) Fêkî hemû organîk (Bio) bû tama wî hêjayî pesindanê bû.
Em berêvarkî vegerîyan Duhok. Wê hinek Hevalên min yên Qedîm jî wê êvarî bihata Duhok û sibê jî ji wir derbasî bakurê Kurdistan bibûna.
Piştî demekê ew hevalên ku bi salane me hevûdû nedîtibû, ew jî hatin. Seher Erol, H. Îsmaîl Aslan, Necmettin Alp. Me hevûdû hinbêz kir û şevik xweş bi hev re li mala Baran derbas kir.
Serê sibê ez, Suleyman û Rustem dîsa berê me ket Hevlêr. Rabia Xan, Seher Xan, Îsmail, Xanima wî, keça wî û Necmetin jî berê xwe dan Zaxo, derîyê Xabûr û wê biçûna bakurê Kurdistan.
Vê carê Rustem me di rêyek din re bir Hevlêr. Rêyek bi çiv û teng bû. Piştî ku em ketin deştê, hinek rehettir bû.Li hawîrdorên rê avahîyên nîvco, pirên nîvco bi hawayekî zêde û berbiçav rewşa aborîya piştî ku Bexda dahat û mûçeyên herêma Kurdistan qutkirîye derdiket ber me. Deştek ku kulmek axa wê wek kulmek zêr biqîmet û dewlemend derket ber me. Mixabin, karê zerîetê piranî li ser genim hatîye meşandin. Dever dever nêzî şaxê ava Zêyê avdan jî hebû. Di hinek cîhan de bi şîweyek modern zerîet hatibû herêmê, lê ne pir bû. Perçên bexçe û bîstanan liber çav hebûn. Lê ne di warekî bezirganî, di warê ku "zêde bimîne em difroşin"(!) de xuya dikir. Ev dahl, rez û bexçeyên ku hebûn. Zerîetek modern ku di herêmê de bêt bikaranîn, ev ax dikare du dewletan xwedî bike.
Çemê Zêyê ji hêla Çolemêrg derdikeve û bi pir şaxan xurt dibe. Di jêra Mêrgesor de şaxek jê diqete û xwe bera deşta Herîrê dide, wek ava Gewre û li binya Hevlêr tev li Zêyê dibe. Di deşta Hevlêr re diherike û li binya Hemam Elil tev li Dicle dibe.
Li ser milê rastê kampên ewareyên şer û penaberan hebûn. Me seyare li kêleka rê sekinand û çen sûretên kampê kişand. Hin di çûna Duhok de û hin di vegera Hevlêr de em liqî pir kampên eware û penaberan bûn. Li vê herêmê piranî; ewareyên Şingal û Rojavayên Kurdistan di kampan de diman.
Deştek zer, di rengê zêr de bi germek Zuha wek rivêna agir, rewrewk çêdikir û pêl bi pêl ji kûraya deştê, berbi me de dihat û hesin disincirand. Heger kilîma di seyaran de tinebe, ev germ dibe ezab ji mirovan re. Di vê germê de ti şensê şênayîyên ku herroj neyên avdan tineye, derhal dibin pûş.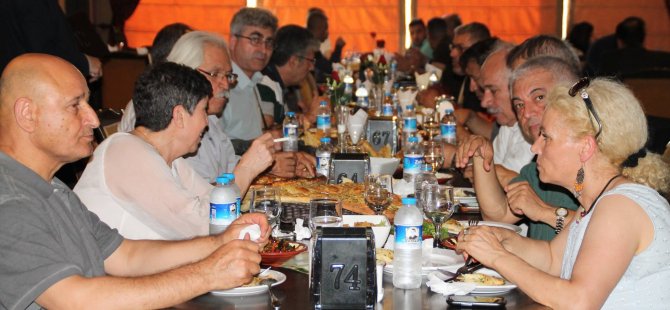 Em gihan Hewlêr 
Em gihan Hewlêr. Me Suleyman li Hotêla Sîpan danî û me berê xwe da hotêla min. Hevalên min Sidik Olçer û kûrê xwe Newroz çûbûn Zaxo, Rony Kaya jî derketibû derve.
Rustem got karê min heye. Ez derketim Hotêlê bi şertê ku êvarê em hevûdû bibînin. Min dûşek hênik girt, televîzyon vekir û hinek li nûçeya guhdar kir. Di wê navberê de Suleyman li min gerîya û got; "Bi hevalan re êvarê hun mêvanên minin." Min rewşa hevalan jê re got û hişt ku deng ji hevalan derkeve. Koroğlu Karaaslan telefon kir û hat hotêlê. Di wê navberê de Xalê Mêhdî Zana û Laleş Qaso jî telefon kirin û cîhek ji min re gotin ku em li wir hevûdû bibînin. Ez û Koroğlu li seyara wî suwarbûn û çûn cem wan. Me kahweyek bi hev re vexwar û hinek sohbet kir. Suleyman carek din gerîya û me vexwend hotêla Sîpan xwarinê. Em bi hev re rabûn û çûn hotêlê. Me têkilî bi Rony re jî danî û ew jî hat. Me şevek têr henek û sohbet bi hev re derbas kir. Herkesî xatir ji hev xwestin ku em êdî ji hev diqetiyan û wê herkes berê xwe bida oxira xwe.
Em dîsa vegerîyan Hotêlê.
Serê sibê ez û Rony em derketin hinek li nav Hevlêr gerîyan. Me kuçe, sûk diber çavan re derbas kir. Hinek Dînar ji me re lazim bûn. Em di ber dezgehên serafan re derbas bûn. Me pirsî ka Ewro bi çend Dînare.
Bi milîyonan pere li ser masên wan, li kêleka rê ev seraf rêz bûne  û karên xwe dikin. Nêzî yekî bûm û min pirsî karê we çawa ye? Got; "van rojan ji ber referandûma Kurdistan pir kes hatin Hevlêr, helbet peran jî hûr dikin!"
Mi jê pirsî; tirsa we tineye, hun ewqes pere datînin ser masê û bê ewlekarî vî karî dikin?
Got; "çima baba, evder Kurdistan e. Dizî, xwarina perê yekî din bi dizî, ne karekî rewa têt dîtin bequrban. Dizî li cem me şerm e!" Ez carek din ecêb mam ku Kurdistan ev felsefa han çawa heta îro parastîye!
Nêzî 2 milîyonan eware û penaber hene li Kurdistan. Bêkarî ji %70 ye. Qeyranek darayî a herî mezin heye û têsîra xwe li beşek mezin ya girsê dike. Lê yek bûyer dizî û karên din tineye û "şerm" têt dîtin. Ev jî cûdahîyek, taybetîyek Kurd û Kurdistan e.
Em di çend pasajan re derbas bûn û me li halê wan, rewşa piştî referandûmê pirsî; hinek ne zelalbûn û ji banga İraq, Îran û Tirkîye hinek dudil bûn. Lê piranîyên esnafên ku min ji wan pirsî, mineta dijminên Kurdistan davêt ser çiyayên Kurdistan û digotin; "Hevlêr, Kurdistan biryara xwe  di roja 25an de da. Kesek ji vê biryarê venagere. Ewên ku îradeya gelê Kurd binpê dikin wê wunda bikin"!
Di hinek pesaj û sûkên Hevlêr de: Pêkerên jinên qedirbilind û navdar birêzê, bi ked, cangorî û xwebexşerîya wan hatibûn çêkirin. Pêkerên van jinên Kurdistan yên navdar û serbilindîya wan dikir ku em carek din li ber wan bejnê bitewînin. Her yek bi ked, huner û serkevtinên xwe di rûpelê dîroka Kurdistan de cîhên xwe girtibûn. Ji Margaret George, Leyla Qasim, Heta Pakîza Rafîk Hilmî û Aismat Khanem di vê govenda pêkeran de cîhên xwe girtibûn. Her yek bi keda xwe, xwedî rûpelek ji dîroka berxwedanê ya Kurdistan in.
Ji hêla aborî de jî hêvîya wan hebû ku Kurdistan bibe dewlet, "wê hemû pirsgirêk çareser bibin. Dewleta Bexda naxwaze Kurd serkevtî û serbixwe bin. Tiştên ku ew nikarin bikin, Kurd serkevtî dikin û çavnebarîya wan ji vê ye. Bexda naxwaze ku yeka me bibe dudo. Dît ku em serkevtî ne û welatekî avadikin, xwîna me qutkirin!"
Me hinek tişt ji xwe re kirîn û em vegerîyan hotêlê. Me dît ku Sidiq û Newroz jî ji Zaxo hatine. Me hinek li serpêhatîyên wan yên çûna Zaxo guhdarîkir. Nasekî min bi navê Murat Ekincî di "Kurdistan24 Tv." de dixebitî. Min jê re notek şand ku wextê wî hebe em bi hev re kahwekê vexwun. Li min vegerand û got bi şev li dor kathejmêr 22.30 kar diqede û em dikarin hevûdû bibînin. Di dema xwe de hat hotêlê, em li ereba wî suwarbûn û çûn pasaja "Familly Mall" û me kahwek qizwanên Kurdistan bi hev re vexwar.
Murat civanekî jîr, bimeraq û serkevtî ye. Di karê xwe de jidil li berxwe dide ku xizmetek baş ji Kurdistan re bike. Ji rojnamegerî û nûçegerî bêtir, wek her Kurdî, bala wî bêtir biser siyasetê ve ye. Merak dike û her tiştî dipirse, dixwaze hinek pirsên serê xwe zelal bike. Ka çima siyaseta bakurê Kurdistan îro di vî halî de ye?Xortekî ji xwe bawer û serkevtîye.
Seat 24 derbas dikir û Pasaja "Familly Mall" dihat girtin. Xwedîyê kahwexanê hat û got "em digirin, bû dereng."
A rastî em jî sibê zû radibûn û divê herî dereng kathejmêr di 09 an de li firokxanê bûna. Balefira me jî 29.09.2017an, kathejmêr di 11 an de radibû. Wê piştî kathejmêr 18an jî li ser firokxaneya Hevlêr û Silêmanî yên navdewletî bloqê destpê bikira.
Neyar û dilnexwazên Kurd û Kurdistan, tenê riya zor û zilmê dizanin. Îradeya netewa Kurd û Kurdistan binpêkirin, karekî barbarî û hovaneye. Ev karesat  jî her bûne para dijminên me. Tirk, Ereb û Faris carek din wek peymana Cezayîr dixwazin hov û barbarîya xwe pêş me bikin. Lê Kurdistan ti caran pişt dananîye û serî ne tewandîye, dîrok şahidê vê ye.
 Murat me anî li hotêlê danî. Me xatir ji hev xwest û em ji hev qetîyan.
Serê sibê zû jî me taştiya xwe xwar û me rahişt baholên xwe, em daketin jêr, li texsîyekê suwarbûn û me xatir ji Hevlêr, ji Kurdistan xwest û me berê xwe da Firokxaneya Hevlêr a navnetewî.
03.10.217
Ev nûçe 2754 caran hatiye xwendin