Li gel ku Qutî wergera min a ewil e ku çap bûye, ev nêzîkî heft sal in ez bi karê wergerê re mijûl dibim.Ez ji xwendinê hiz dikim, wextê min î ku li derveyî kar dimîne, ez piranî ji xwendinê re vediqetînim. Pirtûkên ku dixweynim bi giranî edebiyat e. Dema ku ez pirtûkekê dixwînim hertim li paş mêjiyê min fikrek heye ku ev pirtûk bi kurdî bûna wê çiqas xweş bûya. Min dizanibû ev fikir wê rojek ji rojan min bike wergêr. Romana Qutî encama vê fikrê ye.
Dema min romana Qutî xwend, min bê dudilî biryar da ku ez ê vê pirtûkê wergerînim kurdî. Nivîskara Qutîyê Helena Sigander bi zimanekî hêsan û bi rêya dîyalogên di navbera qehremanên xwe de rewşa civaka Swêd ya destpêka 1905an pir xweş pêşkeşî xwendevanan dike. Ez ê hewil bidim bi çend xalan behsa naveroka pirtûkê bikim ku bûne sedema min ya wergerê.
Sedema sereke ya wergerê ji bo min ew bû ku meriv bi awakî piralî dîroka Swêd di Qutîyê de dibîne. Rewşa civakî, ferqîyetên sinifî/çînî, civatek patrîyarkalî, têkilîyên jin û mêr, heqê dengdanê ji bo jinan. Rewşa keçeke di huvdeh salîya xwe de bêyî dê û bav dimîne û zehmetîyên ku rûbirû tê. Xeyalên wê, hêvîyên wê, bêçarebûna wê... Têkoşînek li hemberî neheqîyên civakî yê li hember jinan ku serî hildide di dilê qehramana Qutîyê, Helgayê de şîn dibe û şax dide. Yekîtîya Swêd û Norwecê û serîhildana Norwecê ji bo dawîlêanîna vê yekîtîyê...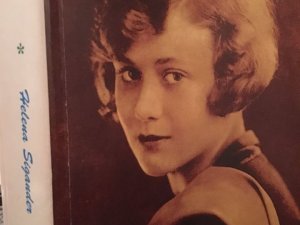 Civatek Patrîyarkalî û têkilîyên jin û mêran: Qehramana romanê Helga li kîjan alî dizivire, rûbirûyê zehmetîyên jîyanê dibe. Zehmetîyên keçeke ciwan, nahşî û bi tena serê xwe di civatek patrîyarkalî ku di wê demê de li Swêdê xwedî bandor bû. Mêrên ku rastî Helgayê tên (Karl-Evert, keşîş Gregorius, doxtor Glas, Frîtz), hemû jî bi yek devî li hember perwerdekirin an li derveyî malê xebatkirina wê derdikevin û dibêjin şadîya mêrê mirov divê wezîfa jinekê be û ew şadîya divê têrê wê bike. Li gel ku Karl-Evert ku yê herî lîberal e, ew jî naxwaze Helga xwe perwerde bike an bixebite. Dema Helga dixwaze bi wî re sohbeta civakî bike, Karl-Evert her bi awakî wan sohbetan kurt dibire.
Ferqîyeta sinifî/çînî: Helena Sîgander ferqîyetên di nav sinifên civakê de bi rêya keşîş Gregorius, Andersê çermçêker û doxtor Glas pêşkeşî xwendevanan dike. Her sê camêr jî ku ji sinifa dewlemend in her hewil didin ku wê statûya xwe û ferqîyeta xwe biparêzên. Li gel ku doxtor Glas û keşîş Gregorius ji hevdu hez nakin jî di mesela ferqîyeta sinifên civakî û bi taybetî de jî di nêrînên xwe yên di derheqê jinan de weke hev difikirin û bîrûbawerîya wan pir nêzî hev e. Helena Sîgander bi rêya Andersê çermçêker balê dikêşe ser mesela însestê yanî têkilîyên cinsî di navbera endamên malbatê de û nêrîna wî ya li ser jinan... Li gel ku civat bi mesela însestê haydar be jî, ji ber statûya wî ya aborî û civakî çav li bûyerên hundirê malbata Andersê çermçêker de digirtin.
Têkilîyên jin û mêr û heqê dengdanê: Li gel ferqîyeta di nav sinifên civakî de, û di hundirê sinifan de jî jin di asta herî nizm de ne. Helena Sîgander vê mijara bi awakî hêsan dinivîsîne ku di kombûn û xwepêşandaneke li Hötorgetê de pêk tê. Di diyaloga ku di navbêra mêr û jineka ji tebaqa karker ya civakî ye, meriv vekirî dibîne ku dîsa mêr dixwazin xwe bidin pêşîya jinan û dibêjin bila berê mêr heqê dengdanê werbigirin. Mêr di wê bawerîyê de ne ku jin jî daxwaza heqê dengdanê bikin ew ê ji bo mêran astengî derkeve.
Li gel ku têkoşîna heqê jinan di destpêka 1900î de dest pê kir, heqê dengdanê pir salan şûnda hate dayîn. Biryara heqê dengdanê di sala 1919an de hat girtin lê dengdayîn di sala 1921ê de pêk hat.
Dema ez di 1980yî de hatim Swêdê, ji min re wusa dihat ku civata Swêd bi sedan sal e her wusa pêşketî ye. Wekhevîya di navbêra jin û mêran de bi xetên mezin (bêyî ku têkevim nav problem û astengîyên detayî) ku min di destpêka salên 1980 de li Swêdê dît, li gor civata ku ez jê dihatim gelekî baştir bû.
Ji me hemûyan re malûm e ku kurd bi xwe weke civat her bindest bûne. Bindestîya jinan her duqatê ya mêran bûye. Lê jinê di mesulîyeta xwe ya malê û civatê de herdem ji para xwe zêdetir kirîye.
Meriv xwe bi her awayî di dema 1900î ya Stockholmê de dibîne... Rewşa civaka me ne pir ji wê demê dûr e. Li gel ku ev bi dehan sal e keç û jinên kurd di têkoşîna azadî û serxwebûnê de li gel mêran mil bi mil şer jî dikin, hîna jî di civatê te keçên nereşîd bi mêrên dewlemend û bi sal re tên zewicandin, weke rewşa Helgayê û Gregorious.
Keçikek huvdesalî bi hêvî ye ku xwe perwerde bike, mesulîyeta xwe ya civakî bi kêfxweşî bîne cîh û zewacek bi hezkirî û şehwet bijî... Lê di her qada jîyanê de rastî astengîyan tê û mecbûr dimîne bi keşîşê ji wê 30 sal mezintir e bizewice.
Keçikek din Karolînaya keça Andersê çermçêker ku di malê de hêsîr e û ji bo xelasbûnê xwe bi her awayî xwe li her derîyî dixe...
Ev nimûneyên keçan ne pir ji civata me jî dûr e...
Di sohbeta min a bi nivîskara Helgayê Helena Sîganderê re min pirsî ka xwe çawa amadeyê wê demê kirîye. Helenayê dîyar kir ku berê ew dest bi nivîsandina Qutîyê bike , demeke dirêj di derheqa dema rewşa civata Swêdê ya destpêka 1900ê xwendîye û di çîroka Helga Gregorius de li hev hûnaye û pêşkeşî xwendevanan kiriye. Min jî got ya entresan ew e ku ev Qutî bi awayekî hêvîya pêşketineke baştir ya ji bo jinan dide mirov. Li gel ewqas astengîyên ku Helga her roj rûbirû tê, dîsa jî ji bo pêşerojan bi hêvîye. Ji têkoşîna dengdayinê heta îro pir tişt hatine guhertin di civata Swêdê de. Di 1995an de Swêd bi hejmara herî bilind ya jinan ku di parlementoyê de hatibûn hilbijartin di cîhanê de di rêza yekemîn de bû.
Yekîtîya Swêd û Norwecê: Nivîskar dîsa bi diyalogên di navbera qehramanên xwe de behsa yekîtîya Swêd û Norwecê dike. Di diyalogan de meriv bîrûbawerîyên li gel û li dij dibîne. Xwendevan şahîdîya hazirîya şerê navxweyî dike. Swêd nimûneya yekem e li dunyayê ku bêyî şer û bêyî rijandina xwînê serxwebûna Norwecê daye. Qutî di rêzeromana çîroka Helga Gregoriusê de ya pêşîne. Qasî ku min ji nivîskara Qutîyê Helena Sîganderê fehm kir, detayên fesihkirina yekîtîya Swêd û Norwecê ew ê di beşa duduyan de were nivîsandin.
Ev xalên min bi kurtasî behs kir, bûn sebebê ku min xwest ez Qutîyê wergerînim kurdî û weke kurdeka ku ji edebîyatê hez dike min xwest bila kurdên bi swêdî nizanin bi me ra derkevin rêwîtîya kuçe û kolanên Stockholma salên 1900î. Û em binêrin ka ew çi dibînin di vê rêwîtîya bi Helgayê û qehramanên din yên di Qutîyê de...