Tahlîla xwînê ku ew ê karibe nexweşîya Alhzeimerê di destpêkê da aşkera bike hat dìtin.
Grûbeke lêkolîner gihîştin netîceya ku merov karibe nexweşîna alhzeimerê pir berî ku nexweşîn xwe nîşan bide, bi tahlîlên xwînê kifş bikin. Lê ev nayê wê maneyê ku wê karibin nexweşîyê bidin sekinandin. Ev cara yekem e ku gavek weha mezin tê avêtin.
Alhzeimer piştî ku zerarê bide mêjî, nexweşîya xwe nîşan dide, lê êdî dereng e. Piştî vê testê kifş kirin wê rehettir be ku lêkolînan li ser mêjî çêkin.
Di dunyayê da 46,8 milyon insanên bi demens hene ku sebebeke wê jî nexweşîya alhzeimerê ye, ku heta niha jî ji vê nexweşîyê ra çareyek nehatîye dîtin. Li dunyayê derdora 20 milyon nexweşên alhzeimerê hene. Niha grûbek lekolîner ji Rowan University, li New Jersey ji bo ku zora vê nexweşîya xedar bibin, di lêgerîn û lêkolîneka li ser alhzeimerê de gelek pêş ve çûne.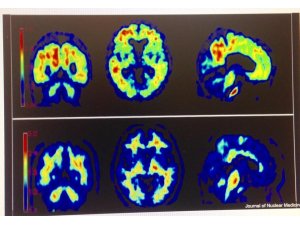 Ev lêkolîn bi testa xwînê hinek îşaretan dide ku meriv dikare berî ku nexweşîya alzheimerê xwe rê bide, nexweşîyê tesbît bike. Ev testa/azmûna xwînê bi alîkarîya "autoantibody"an (antikoran) tê kirin, autoantibody cûreyek ji antîkoran e ku sîstema immuna laşê mirovî li hemberî şaneyên (hucreyên) xwe yên xerab wan çêdike.
Nexweşîya alhzeimerê mirovan hêdî hêdî ji der û dora xwe dûr dixîne, di dawîyê de wusa dike ku êdî tiştek nayê bîra merivan û mirov gelek fonksîyonên xwe yên fizîkî winda dike. Ev nexweşîyeke neorolojîk e lê pirî caran bi nexweşîya pisîkolojik ve jî tê tevlihevkirin. Nexweşîya alhzeimerê bi jibîrkirinê dest pê dike, lê nayê wê maneyê ku her jibîrkirin jî ji ber nexweşîya alhzeimerê ye. Hucreyên mêjî hêdî hêdî dimirin û mêjî biçûk dibe û fonksîyona xwe winda dike. Meriv pêşî tiştên niha ji bîr ve dike, di destpêka nexweşîyê de meriv vê kêmasîyê ferq dike û hêdî hêdî heta zaroktîya xwe diçe û meriv di dawîyê de xwe jî nas nake.
Bi giştî kesên pîr û kal bi vê nexweşîyê dikevin. Tesîra temen/emr heye, carna jî dikare genetîk be. Û pir hindik be jî di kesên derdora sî salî de jî xwe nîşan daye. Her weha kesên ku ji serê xwe pir darbe xwaribin, bi taybetî boksêr, ew jî bi vê nexweşîyê dikevin.
Sebeba Alzheimerê
Di nava mêjî de li devera bîranînê proteînên wek "beta-amyloid" û "tau" zêde dibin û pişt re ev proteîn xwe dikin wek girêkan û ew girêk dibin wek jahr û dibin sebeba mirina hucreyên mêjîyê mirovan.
Heta niha ji bo ku vê zêdebûna proteînan paqij bikin û mirina hucreyan bidin rawestandin, gelek xebat û lêkolîn çêbûne û ev cara yekem e ku di vî warî de pêşveçûneke weha mezin çêbûye.